Advertisement

Apple engineer turned entrepreneur Vashist Vasanthakumar introduces a state of the art Tyffyn boxes to keep food fresh and hot….reports Asian Lite International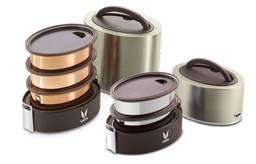 "The Vaya Tyffyn is a fresh blend of modern day style and technology with a subtle reference to our Indian heritage., said Mr Vasanthakumar. "Taking your lunch in our Tyffyn to work or anywhere on-the-go means you make the food you love and then eat a healthy meal, at the right temperature and time that works for you. The lunchboxes have been very popular in India, the US, Malaysia, Australia and Germany and we hope that UK consumers will love them too."
Vaya Life Pvt. Ltd. is founded by Mr Vasanthakumar after leaving his Apple job. It aims to redefine the everyday life by revolutionising the way people carry meals. With a strong vision to significantly improve people's lives, the company promises "life, improved" by redesigning everyday products that are an integral part of routine and continuously innovating new products and ranges.
These sleek lunchboxes come in a plethora of designs such as cheetah print, ombre, magical unicorns and classic white to suit all different personalities. They are as stylish as they are functional. The vacuum-insulated lunchboxes enable optimum temperature to carry warm or cold fresh home-cooked meals for up to six hours. This means no more fighting for shared refrigerator space at the office or waiting for your turn at the microwave to reheat your lunch. So regardless of whether you're a professional at your desk or always on-the-go, the Vaya Tyffyn is perfect for everyone.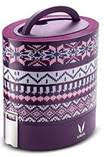 Various partitions allow your curries, pasta and leftovers from last night's meal without ending up in a sloppy mess by mid-morning. The 600ml lunchbox has two spill-proof containers that allow you to carry up to four dishes, and the 1000ml one has three containers that can accommodate up to six dishes. What's more – once used, the lunchbox can be compacted down to an easy space-saving format.
As the temperature drops, it's time to swap your salads for warm, hearty soups and comfort food. The Vaya Tyffyn greets the season with a range of new stylish designs which will revolutionise eating 'al desko' forever.
Vaya Tyffns are available for £43 (600ml) and £54 (1000ml) in the UK via Amazon or Vaya's website.
Product specifications:
Dimensions: 1000mL or 600mL
Convenient collapsible handle
VacuTherm insulation to keep your food hot or cold for 5-6 hours*
Made from stainless steel slim body to easily fit in your bag
Leak-proof lids with integrated gaskets for easier cleaning
Partitions – Carry more than one dish in each container
Safe and eco-friendly: BPA-free, non-toxic, leak-resistant containers that are top-rack dishwasher safe
Heat-protective finger grip
Pressurising latches: to keep outer and inner containers locked together