Advertisement

British Prime Minister Theresa May has hailed the draft agreement on post-Brexit relations as "right for the whole of the UK" and insisted a deal "is within our grasp"…reports Asian Lite News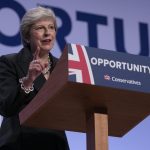 The political declaration — outlining how UK-EU trade, security and other issues will work — has been "agreed in principle", the European Council said.
London and Brussels have already agreed the draft terms of the UK's exit from the EU on March 29, 2019.
May told MPs it would deliver the Brexit people voted for.
The political declaration is a separate document to the 585-page withdrawal agreement, published last week, which covers the UK's 39 billion pounds "divorce bill", citizens' rights after Brexit and the thorny issue of the Northern Ireland "backstop" – how to avoid the need for a manned border on the island of Ireland.
The withdrawal agreement is legally-binding – the political declaration is not.
It sets out broad aspirations for the kind of relationship the UK and the EU will have after Brexit. Some of the wording of it is non-committal and allows both sides to keep their options open.
"The negotiations (on the political declaration) are now at a critical moment and all our efforts must be focused on working with our European partners to bring this process to a final conclusion in the interests of all our people," said the PM.
"The British people want Brexit to be settled, they want a good deal that sets us on a course for a brighter future, and they want us to come together as a country and to move on to focus on the big issues at home, like our NHS.
"The deal that will enable us to do this is now within our grasp. In these crucial 72 hours ahead, I will do everything possible to deliver it for the British people."
But Labour Leader Jeremy Corbyn described the agreement as "26 pages of waffle" which "could have been written two years ago".
"This is the blindfold Brexit we all feared – a leap in the dark. It falls short of Labour's six tests," he added. "What on earth have the government been doing for the past two years?"
Lib Dem leader Sir Vince Cable, who is campaigning for another referendum, described it as an "agreement to have an agreement" that was "full of worryingly vague aspirations".