Advertisement

The EU an emergency aid package worth two million euros to help victims of typhoon Mangkhut in the Philippines…reports Asian Lite News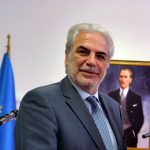 The funds will be given to humanitarian organizations already working in affected areas and "will address the most urgent needs of the communities stricken by the typhoon."
"The EU is supporting those in need in the Philippines, many of whom are suffering the devastating effects of the cyclone," said European Commissioner for Humanitarian Aid and Crisis Management, Christos Stylianides.
"Our contribution will provide shelter, emergency relief items distribution, water and sanitation, food security for the most vulnerable among those who have lost their homes," he added.
The European Commission's emergency satellite mapping service Copernicus was being used to map the most affected areas and a humanitarian expert had been deployed to assess the needs on the ground, according to the statement.
On Tuesday, the death toll due to Mangkhut climbed to 74 in the Philippines as rescue teams continued to search for dozens of people buried in an abandoned mine, which collapsed owing to landslides.
Mangkhut, the strongest typhoon of the season, had lashed parts of Luzon island on the northernmost tip of the Philippines.