Advertisement

The UK can cancel Brexit without the permission of the other 27 EU members, the European Court of Justice ruled on Monday….reports Asian Lite News
The court in a statement said: "When a member state has notified the European Council of its intention to withdraw from the EU, as the UK has done, that member state is free to revoke unilaterally that notification."
"That possibility exists for as long as a withdrawal agreement concluded between the EU and that member state has not entered into force or, if no such agreement has been concluded, for as the two-year period from the date of the notification of the intention to withdraw from the EU, and any possible extension, has not expired," stated the ruling tweeted by the court.
Mr Chris Leslie MP, Labour, who is campaigning for a second EU referendum, described the ruling as a "massive, game-changing moment".
He told Sky News: "If the British people, potentially through a people's vote, want to reverse out of this process, they now have that right.
"And that, I think, will electrify the debate, certainly in parliament.
"This notion that the prime minister has put up which somehow is an ultimatum, you have to take her deal or there's no deal, that is no longer the case.
"It is now legally certain that, if the British people want, they can change their minds."
Meanwhile, leading Brexiteer and Environment Secretary Michael Gove said the ruling would not prevent the UK leaving the EU next year.
"We don't want to stay in the EU. We voted very clearly – 17.4million people sent a clear message that we want to leave the EU and that means also leaving the jurisdiction of the European Court of Justice," he told BBC Radio 4's Today programme.
"So, this case is all very well but it doesn't alter either the referendum vote or the clear intention of the government to make sure that we leave on 29 March.
"And the most effective way of leaving is to support the deal the prime minister has proposed."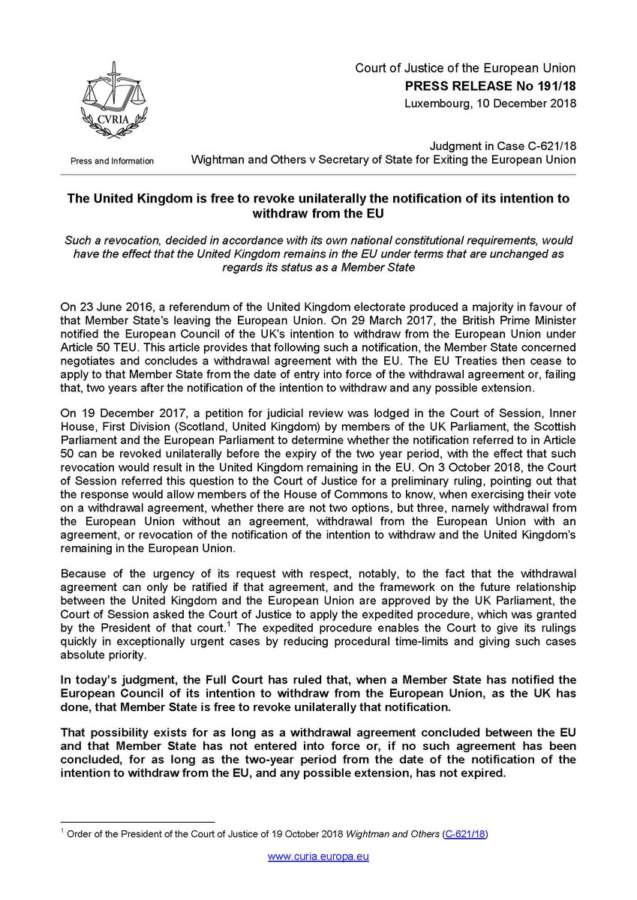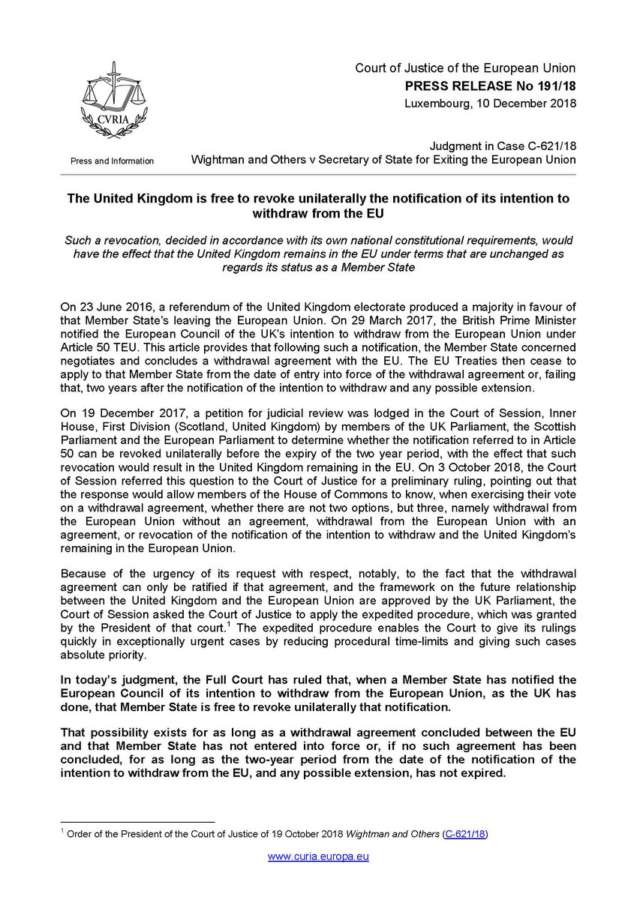 The EU court judges ruled that this could be done without altering the terms of Britain's membership. The ruling came ahead of a House of Commons vote on Prime Minister Theresa May's Brexit deal with the EU on Tuesday. The MPs are widely expected to reject her proposals, reports said.
The court rejected arguments from both the UK government and the European Commission that Article 50, the two-year-long process that triggers a member state's departure from the EU, could not be revoked unilaterally.
The court ruling matched legal advice given to the court last week by its Advocate General Manuel Campos Sánchez-Bordona, who said as a sovereign country Britain could reverse its decision even at this stage.
This legal decision is significant because it means Britain could prevent a no-deal Brexit from happening if it wanted, even if May's deal is voted down by MPs.