Advertisement

EU foreign ministers gathered for a briefing on the UK's withdrawal from the European Union and expressed optimism about the possibility that a Brexit deal was close…reports Asian Lite News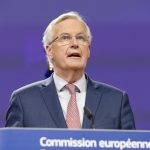 EU's chief Brexit negotiator Michel Barnier updated the top diplomats on the complicated negotiations with the UK government, which several ministers, including Belgium's Didier Reynders, said were nearing an end.
"We are trying to work hard on a good agreement and we are very close," Barnier told the media, although he warned that the UK may have to offer concessions on some topics, including on a future financial agreement.
"We are trying to convince them (the UK) that they need to move on the customs union," he said. "Until now we are waiting for news from London."
German Foreign Minister Michael Roth said swift negotiations with the UK were in everyone's interest. "The room for manoeuver is very much limited and out British friends know where the discussions are."
The EU has said it is prepared for all Brexit eventualities, including the possibility that the UK crashes out of the bloc in March 2019 without a deal.
Negotiations have become stuck on how to maintain a soft border between Northern Ireland, a UK territory, and the Republic of Ireland, an EU member, once the UK has abandoned the EU.
The EU has asked the UK government of Prime Minister Theresa May to include a so-called Irish backstop in its Brexit plans which would act as a kind of insurance policy to ensure the border remains open even in the event of a no-deal Brexit.
Exactly what such a backstop would entail, which includes the possibility of maintaining Northern Ireland in regulatory alignment with the Irish Republic, has sewn division in the government.
Some 52 per cent of the British electorate voted in favour of leaving the EU in a 2016 referendum.