Advertisement

The EU has pledged another 300 million euros ($341 million) for the protection and conservation of the oceans during a summit on the Indonesian island of Bali…reports Asian Lite News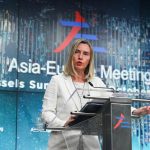 At the Our Ocean 2018 summit, the EU also announced 23 new commitments to combat marine pollution, including plastics and climate change, protect the seas and promote sustainable fishing and a blue economy.
Recognizing the importance of seas and oceans as engines driving the economy owing to their great potential for innovation and growth, is what the EU calls the blue economy.
The contribution came on top of the over 550 million euros committed by the EU, when it hosted the Our Ocean conference last year in Malta.
A fund 100 million euros will be invested in researching more environmental friendly plastics, within the European Horizon 2020 programme.
Another investment will finance conservation, decontamination and sustainable fishing projects in Africa and Asia, as well as an alliance of 200 aquariums that will launch an awareness campaign on plastic pollution next year.
The EU High Representative for Foreign Affairs and Security Policy, Federica Mogherini, said that "no country can succeed alone in this endeavour".
"It requires determination, consistency and partnerships, within and outside our EU, and it is in this spirit that today we renew the commitment to protect Our Oceans," Mogherini added.
Some 250 organizations, including governments, non-profits and multinationals like Coca-Cola, Danone and Inditex on Monday signed the New Plastics Economy Global Commitment on the sidelines of the summit, aimed at reducing the use of plastic and facilitating recycling.
Some experts predicted that at the present rate there will be more plastic than fish in the oceans by 2050.
The Our Ocean is in its fifth year and made its Asia debut in Bali this year.