Advertisement

Lawmakers in the European Parliament on Thursday threw their weight behind an European Union-wide halt in arms sales to Saudi Arabia in the wake of the killing of Saudi journalist Jamal Khashoggi in the country's consulate building in Turkey earlier this month…reports Asian Lite News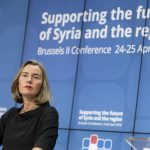 In the resolution, the MEPs said that the torture and murder of Khashoggi on October 2 was not likely to have been carried out without the knowledge of powerful Crown Prince Mohammad bin Salman, who during a financial forum on Wednesday finally spoke out about it and described it as a "revolting incident".
"MEPs condemn in the strongest possible terms the torture and killing of Saudi journalist Jamal Khashoggi in Turkey," the European Parliament said in a statement.
It called "for an impartial, international investigation to find out what actually happened inside the Saudi consulate", Efe news reported.
"Following the brutal murder, the resolution reiterates the European Parliament's previous call on all EU governments to reach a common position in order to impose an EU-wide arms embargo on Saudi Arabia," the statement continued.
The lawmakers asked the head of EU foreign policy, Federica Mogherini, to prepare possible sanctions and visa bans for Saudi nationals.
Riyadh at first distanced itself from Khashoggi's disappearance, before claiming last week that the Washington Post writer died in a brawl inside the consulate.
Saudi state prosecutors said they believed Khashoggi's killing was "premeditated", bringing its official line closer to that of the Turkish government, which said it was in possession of audio and visual evidence that the journalist was tortured and murdered in the consulate building.
Around 15 EU countries have or have recently had arms deals with Saudi Arabia. They are the US, Austria, Belgium, Bulgaria, the Czech Republic, Denmark, Finland, France, Germany, Italy, the Netherlands, Poland, Romania, Spain, Sweden and the UK, according to the most recent report released in 2016.
Meanwhile, the Elysee Palace said in a statement late Wednesday that French President Emmanuel Macron told Saudi Arabia's Crown Prince that France would take action against Riyadh if an investigation proves the kingdom was behind Khashoggi's killing.
"Macron expressed his profound indignation and asked that all light be shed on the circumstances that led to this tragedy," the Elysee added.