Advertisement

Sir Graham Brady, the gentleman Tory from the North West, said he had not received the 48 MPs' letters needed to trigger a confidence vote on Prime Minister Theresa May….writes Azeez Anasudhin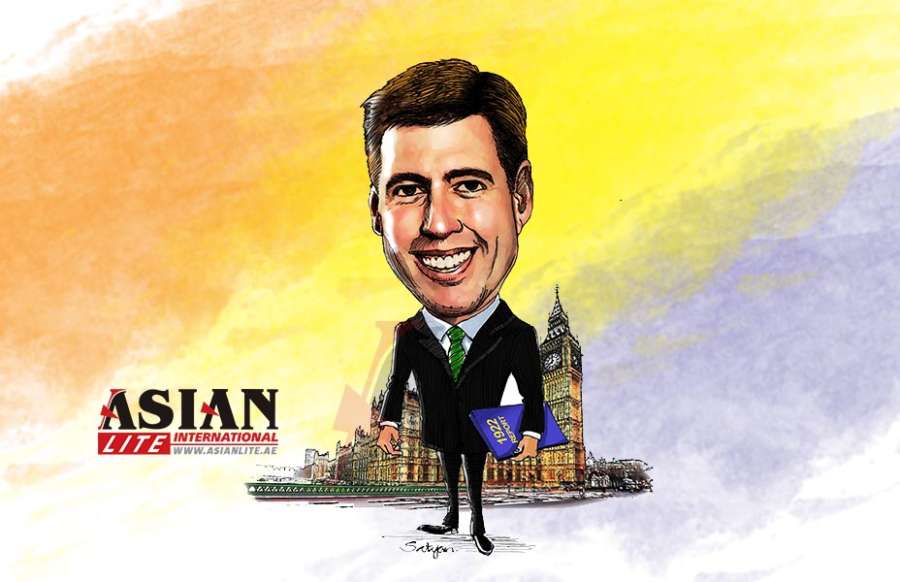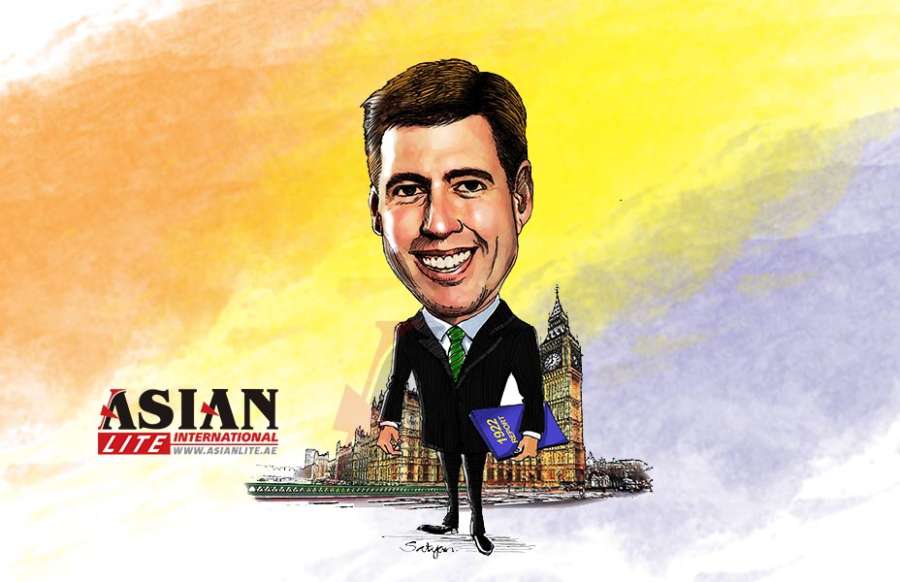 Sir Graham Brady said he had not received the 48 MPs' letters needed to trigger a confidence vote that could see Theresa May removed as Tory leader
Sir Graham Brady, the gentleman Tory from the North West, said he had not received the 48 MPs' letters needed to trigger a confidence vote on Prime Minister Theresa May.
More than 24 of the party's MPs including Conservative Friends of India co-chairman Zac Goldsmith have said publicly they have submitted letters, but the exact number sent is not known.
When asked how many letters he had received on BBC Radio 5 Live on Sunday, the chairman of the 1922 committee refused to reveal the total.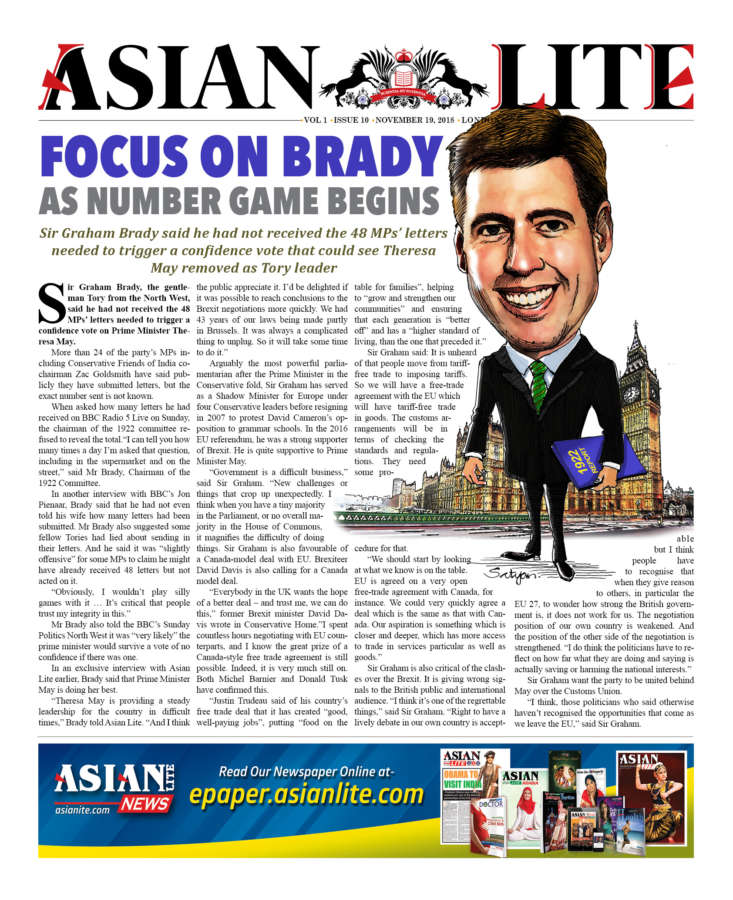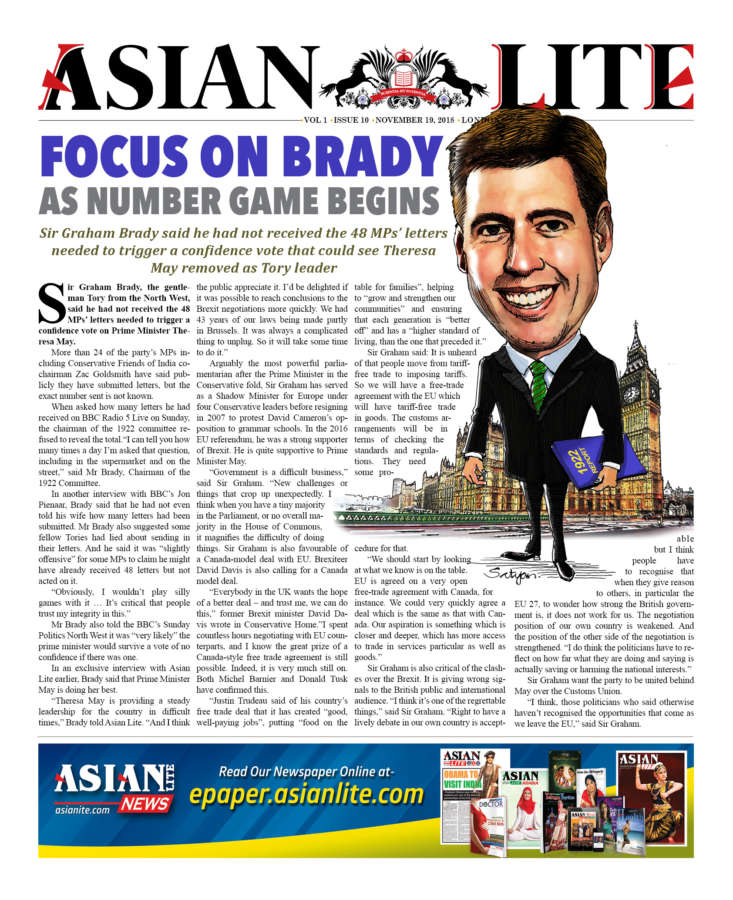 "I can tell you how many times a day I'm asked that question, including in the supermarket and on the street," said Mr Brady, Chairman of the 1922 Committee.
In another interview with BBC's Jon Pienaar, Brady said that he had not even told his wife how many letters had been submitted.
Mr Brady also suggested some fellow Tories had lied about sending in their letters.
And he said it was "slightly offensive" for some MPs to claim he might have already received 48 letters but not acted on it.
"Obviously, I wouldn't play silly games with it … It's critical that people trust my integrity in this."
Mr Brady also told the BBC's Sunday Politics North West it was "very likely" the prime minister would survive a vote of no confidence if there was one.
In an exclusive interview with Asian Lite earlier, Brady said that Prime Minister May is doing her best.
"Theresa May is providing a steady leadership for the country in difficult times," Brady told Asian Lite. "And I think the public appreciate it. I'd be delighted if it was possible to reach conclusions to the Brexit negotiations more quickly. We had 43 years of our laws being made partly in Brussels. It was always a complicated thing to unplug. So it will take some time to do it."
Arguably the most powerful parliamentarian after the Prime Minister in the Conservative fold, Sir Graham has served as a Shadow Minister for Europe under four Conservative leaders before resigning in 2007 to protest David Cameron's opposition to grammar schools. In the 2016 EU referendum, he was a strong supporter of Brexit. He is quite supportive to Prime Minister May.
"Government is a difficult business," said Sir Graham. "New challenges or things that crop up unexpectedly. I think when you have a tiny majority in the Parliament, or no overall majority in the House of Commons, it magnifies the difficulty of doing things.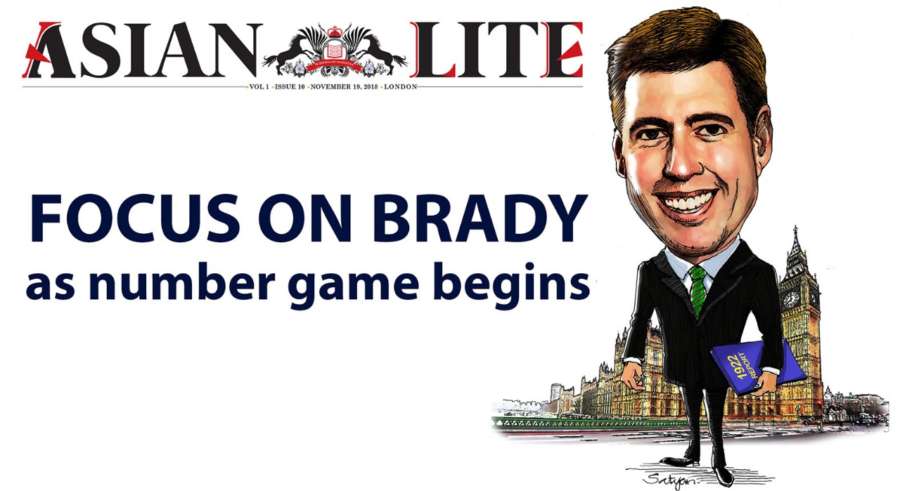 Sir Graham is also favourable of a Canada-model deal with EU. Brexiteer David Davis is also calling for a Canada model deal.
"Everybody in the UK wants the hope of a better deal – and trust me, we can do this," former Brexit minister David Davis wrote in Conservative Home."I spent countless hours negotiating with EU counterparts, and I know the great prize of a Canada-style free trade agreement is still possible. Indeed, it is very much still on. Both Michel Barnier and Donald Tusk have confirmed this.
"Justin Trudeau said of his country's free trade deal that it has created "good, well-paying jobs", putting "food on the table for families", helping to "grow and strengthen our communities" and ensuring that each generation is "better off" and has a "higher standard of living, than the one that preceded it."
Sir Graham said: It is unheard of that people move from tariff-free trade to imposing tariffs. So we will have a free-trade agreement with the EU which will have tariff-free trade in goods. The customs arrangements will be in terms of checking the standards and regulations. They need some procedure for that.
"We should start by looking at what we know is on the table. EU is agreed on a very open free-trade agreement with Canada, for instance. We could very quickly agree a deal which is the same as that with Canada. Our aspiration is something which is closer and deeper, which has more access to trade in services particular as well as goods."
Sir Graham is also critical of the clashes over the Brexit. It is giving wrong signals to the British public and international audience.
"I think it's one of the regrettable things," said Sir Graham. "Right to have a lively debate in our own country is acceptable but I think people have to recognise that when they give reason to others, in particular the EU 27, to wonder how strong the British government is, it does not work for us. The negotiation position of our own country is weakened. And the position of the other side of the negotiation is strengthened.
"I do think the politicians have to reflect on how far what they are doing and saying is actually saving or harming the national interests."
Sir Graham want the party to be united behind May over the Customs Union.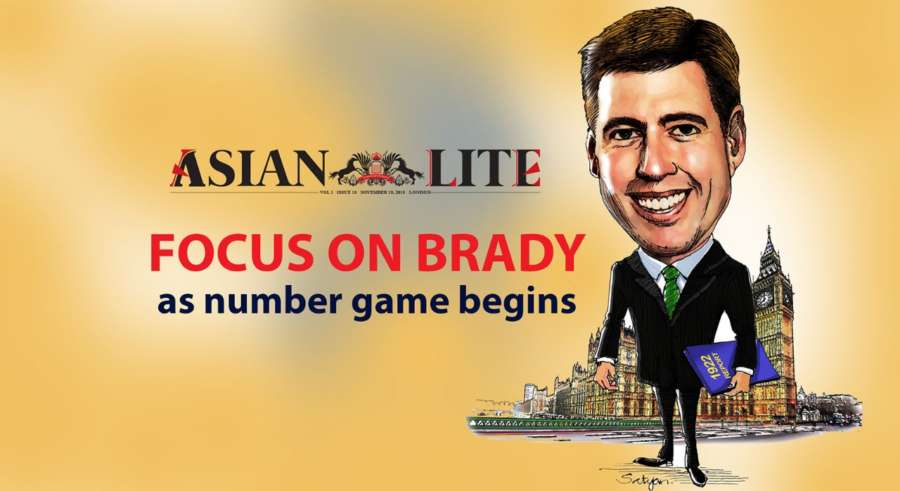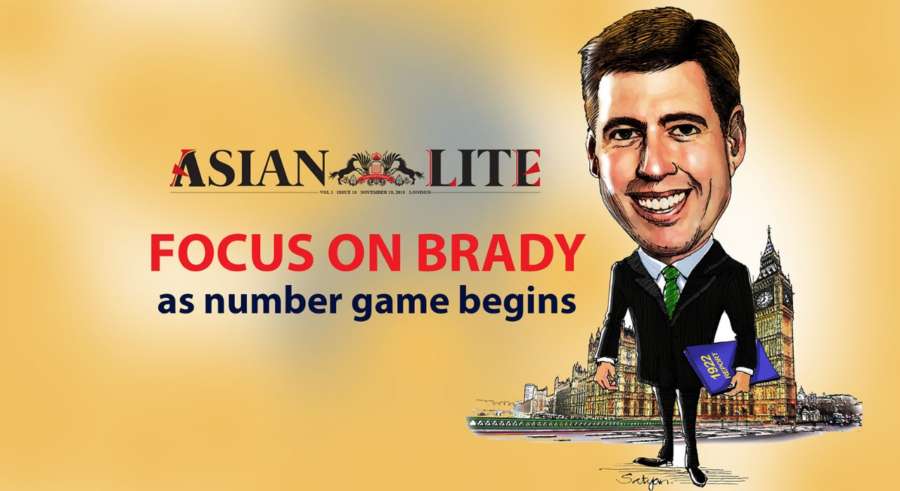 "I think, those politicians who said otherwise haven't recognised the opportunities that come as we leave the EU," said Sir Graham. "To leave the EU, but remain in the Customs Union means the inability to agree to free-trade agreements with other countries like India, China and the USA. There are many countries around the world, some of them are rapidly growing markets internationally, where the EU have been incapable of establishing a free-trade agreement.
"After leaving the EU, UK is free to make new trade arrangements with anybody. I think it's important that we have that freedom and flexibility. (Staying) outside the Customs Union is the first step towards that. So we need to unite behind May in this mission. We need to retain a very close free-trade relationship with the EU, but also have the freedom to have closer ties with the other countries of the world too."