Advertisement

A former Managing Director of the International Monetary Fund (IMF) entered a Spanish prison to begin serving a four-and-a-half year sentence for corruption linked to his management of a major Spanish lender that had to be bailed out…reports Asian Lite News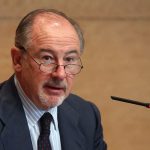 Rodrigo Rato — who headed the IMF between 2004-07 and was Spain's deputy Prime Minister and Finance Minister between 1996-2004 — walked into the Soto del Real correctional facility on the outskirts of Madrid and briefly talked to the media gathered outside.
"I apologize to society and to those people that may have felt disappointed. I accept my obligations towards society and assume the mistakes I may have committed," Rato was cited as saying by Efe news.
His entry into prison came three weeks after Spain's Supreme Court confirmed his sentence for continued asset misappropriation and fraudulent administration while heading Bankia, which came into being with the merger of seven regional savings banks in December 2010.
The court said Rato had embezzled funds through the irregular use of opaque credit cards that the bank's executives utilized to cover undeclared expenses.
In addition to the so-called "black" cards case, Rato has faced judicial probes for allegedly accepting illegal commissions from advertising agencies that had won a bid to carry out lender Bankia's publicity campaign.
Rato, once one of the most powerful figures in Spain and the right-hand man of former conservative Prime Minister José María Aznar, is currently facing another high-profile trial for alleged fraud in the initial public offering that raised investment capital for Bankia.
Spain's state prosecutor is asking the National Court to sentence Rato to five years in prison for fraud in the IPO.
Bankia was hard-hit by the financial crisis that swept Spain in the wake of a real estate bubble burst, the report said.
In May 2012, Bankia was bailed out to the tune of 19 billion euros by the Frob, Spain's state bank bailout fund.
However, by September 2012 it had to be bailed out again with 4.5 billion euros, with the Spanish government having to seek aid from Europe's rescue fund.
Some analysts calculated that one-tenth of Bankia's loans had gone bad.
His name also appeared in the so-called Panama Papers, leaked documents with the names of alleged tax evaders with offshore assets in Panama, a tax haven. Rato had denied having any accounts in Panama.