Advertisement

French Prime Minister Edouard Philippe cast doubt on the possibility to ratify a draft Brexit deal after a series of resignations by ministers made hard for British Prime Minister Theresa May to sell the divorce accord with the EU…reports Asian Lite News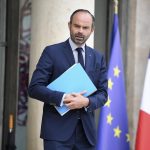 "The current political situation in Britain fuels uncertainty over the ratification of the accord," Philippe said during a visit to Dunkirk.
"Nothing allows us at this stage to know if the agreement … will ultimately be adopted. Therefore, we must be prepared for the hypothesis of a no-deal exit, which is still on the table and that we do not wish," he added.
Late on Wednesday, May said she won the backing of her senior ministers for the draft EU withdrawal deal which represented a technical breakthrough after months of tense negotiations between Britain and the EU on how London can leave the regional bloc on March 29 next year.
Hours later, Brexit Secretary Dominic Raab and Work, Pensions Minister Esther McVey, as well as two junior ministers quit, saying they could not support the draft deal. Their departure plunged Britain into a political crisis in which May could lose her leadership.
The British Prime Minister was set to speak in the Parliament later on Thursday to sell the new "divorce deal".
Meanwhile, German Chancellor Angela Merkel said she saw no reason for further Brexit negotiations with the UK given that the draft proposal on the country's withdrawal from the EU had already been approved by both sides.
Speaking at a ministerial meeting on digitalization in Potsdam, Merkel expressed her full confidence in the EU's chief Brexit negotiator Michel Barnier.
"We have a document on the table approved by the UK and the 27 remaining members of the EU," said Merkel, the current leader of the conservative Christian Democratic Union party, which governs in coalition with the Social Democrats.
"The worst and most disorderly case would be precisely if we had no deal and we have to take this alternative into account and ask whether what we have now is a foundation, and for that reason I hope it is a foundation," she added.
The EU has called an extraordinary Brexit summit for November 25.