Advertisement

More than 300 guests crowded Tividale's Shri Venkateswara Balaji Temple for the opening of the first Gandhi Peace Centre outside India…reports Asian Lite News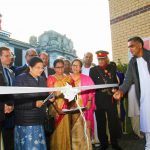 Sandwell Mayor Cllr Joy Edis welcomed dignitaries and including Mrs Rajashree Birla, chair of the Aditya Birla Group, Indian Consul General Dr Aman Puri, Lord Bikhu Parekh, Lord Popat and Mayor of the West Midlands Andy Street.
Representatives from the Gandhi Foundation and faiths across the community also joined in the celebrations.
Temple trustees including current chair Dr S Kanagaratnam and founding chair Dr Dr VP Narayan Rao hosted the event, which saw Mrs Birla cut the ribbon to open the centre, a viewing of the interactive exhibition of Gandhi's life and a series prestigious speakers.
Dr Ratnam thanked everyone who had travelled to the event and everyone who had supported development of the Centre.  He said: "If today is your first visit to the temple, please do not make it your last."
Andy Street said West Midlands Combined Authority (WMCA) was proud to support the Gandhi Peace Centre. He said Andy Street said the West Midlands was the perfect location for the first Gandhi Peace Centre in the UK.
He said: "It is so right that it should be here in the West Midlands – it couldn't have been anywhere else. The Mahatma talked of peace, reconciliation and harmony – exactly the principles by which we are trying to live and build a community that is for every faith."
The Mayor also delivered a personal message from Prime Minister Theresa May, who said Gandhi's legacy had a particular poignancy in the UK, where he had made his second home.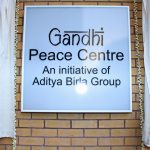 Mrs May wrote: "His values continue to resonate and we are very fortunate to now have an exhibition of his life and lessons at the Gandhi Peace Centre."
Consul General Dr Puri said Gandhi's legacy belonged to the whole world.  He said: "It is our collective obligation to ensure future generations learn about his life and teaching.
"I am certain that the Gandhi Peace Centre will enable that light of knowledge to be passed on – for the minds to be ignited and the souls to be illuminated."
Award winning author and Gandhi scholar Lord Parekh talked about Gandhi and Ahimsa as a way of life and Dr Rao said the centre opening was a dream come true for the Temple.
Following the official ceremony, the audience was treated to a packed entertainment and cultural programme, with Indian singer Mayaben performing songs specially requested by Mrs Birla.
Dr Deeraj Joshi, of the Indian Consulate, led everyone in a set of yoga and meditation exercises.
The centre is supported by the Aditya Birla Group, one of only two bodies officially recognised by the Indian Government to foster the legacy of Mahatma Gandhi.
It features a permanent exhibition of Gandhi's life and message – told via interactive exhibits, video clips and rare photographs, yoga and meditation teaching resources and a library.  There are facilities for meetings, seminars and practical activities to spread the message of peace and non-violence and foster community relations.
It is the latest addition to the temple complex, which opened in 1999, developing from a dream by the Hindu community to create a spiritual centre, through public support and a Millennium Fund grant, into one of the biggest places of worship in Europe.
The 27-acre Shri Venkateswara (Balaji) Temple site already attracts more than half a million visitors a year, including devotees, students and some 10,000 schoolchildren.