Advertisement

Gandhi's name and image evoke the "concepts of peace, restraint and passivity, even in the face of violence and extremism" as the world faces both challenges and hopes, General Assembly President Maria Fernanda Espinosa said…reports Asian Lite News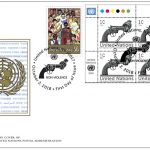 She was speaking at the Gandhi Jayanthi celebration that is observed here annually as the International Day of Nonviolence, where UN Postal System stamps were issued honouring the Gandhian concept of peace.
Secretary-General Antonio Guterres was, meanwhile, in New Delhi participating in the celebrations of the 150th anniversary of Mahatma Gandhi's birth.
Espinosa said, "At its heart, humanity yearns for peace and harmony, principles that Gandhi espoused, and recent developments have given us cause for hope."
The dialogue between the leaders of South and North Korea and the peace agreement between Djibouti and Eritrea were positive examples of trying to progress peace and an inspiration "for those countries still at odds, for those who would continue to pick up arms," she said.
"They required work and determination, they required compromise, patience, compassion and forgiveness," she said.
On the other hand, she said, "There are tragedies here too numerous to name, but on every account, it is heartbreaking."
She cited the ongoing conflicts in Syria, Yemen and Central African Republic.
She said, "While at one time such crimes would shock the world, the sheer explosion of social media and, occasionally, questionable media, has left many people desensitized to the world around them. We cannot allow this to happen, not when the suffering of our brothers and sisters continues."
There were other calamities not directly caused by conflicts such as the 124 million people facing hunger, the 140 million people needing humanitarian assistance, and the over 30 million people who were displaced, either by disasters or by conflict, she added.
Amid these challenges, "I commit to working with the General Assembly and its related committees in ways that reflect Gandhi's view of change: 'You must be the change you want to see in the world,'" she declared.
The UN stamps have a painting of Swedish artist Carl Fredrik Reutersward's sculpture, the Knotted Gun, that is located at the UN headquarters.
UN Under-Secretary-General Jan Beagle said the stamps were "miniature works of art" and seek to raise awareness of nonviolence.
UN Development Programme (UNDP) Administrator Adam Steiner said that the ideas that Gandhi represented are fundamental to the freedom of individuals and the aspirations of societies.
The relevance of Gandhi's legacy is reflected in the UN's sustainable development goals that encompass the spectrum of human condition.
Michael Nagler, the founder and president of the Metta Centre for Nonviolence, announced the launch of a year-long campaign using modern advertising techniques around the world to bring the concept of nonviolence into the mainstream, especially for the youth.
India's Deputy Permanent Representative Tanmaya Lal said that the promotions of sanitation and solar power, which were taking place at international meetings in New Delhi were reflections of Gandhi's holistic visions for society.