Advertisement

Global street artist highlights threat to biodiversity in new London solo exhibition. The exhibition will run from 
Friday 25th May to Sunday 27th May 2018….reports Asian Lite News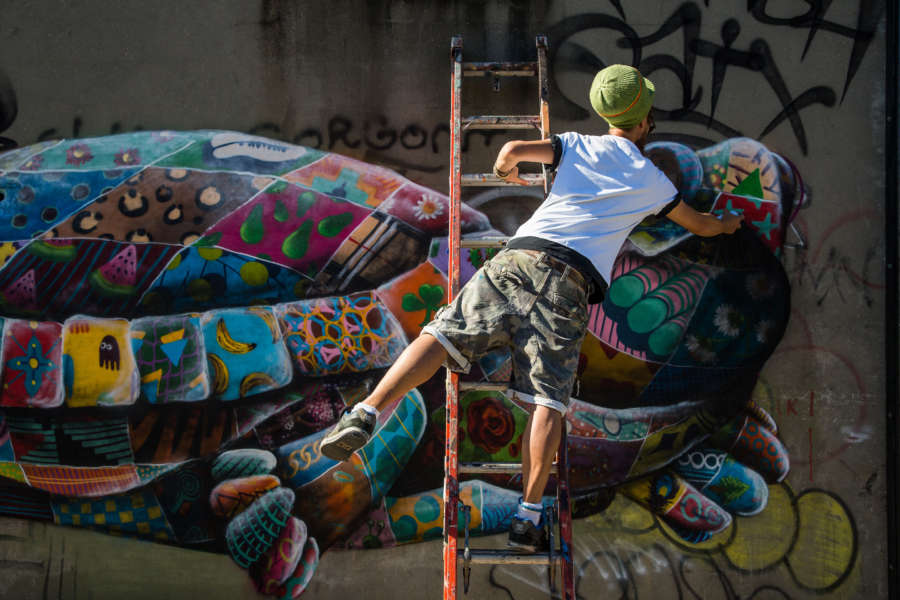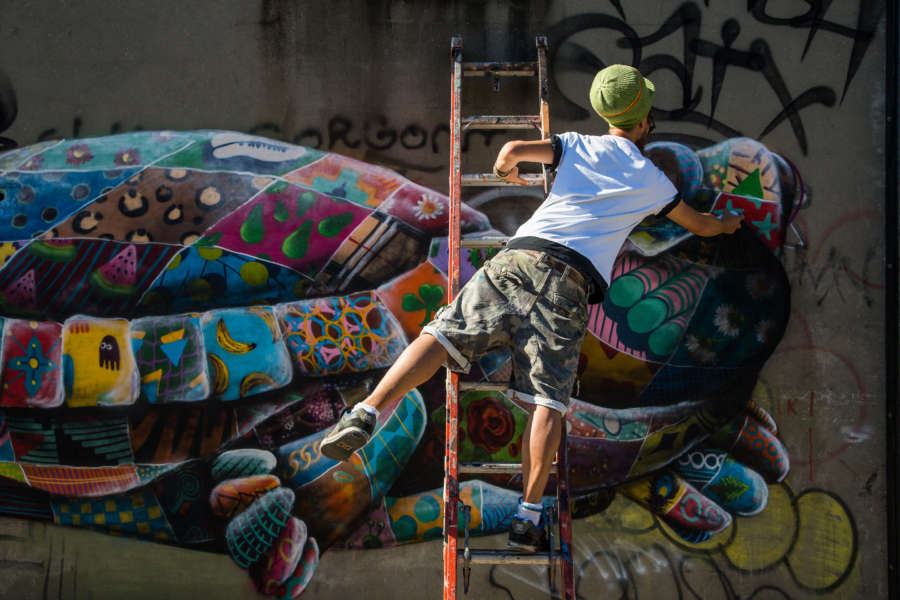 A profoundly proactive and environmentally engaged artist, Louis Masai's work touches on poignant endangerment issues, questioning our relationship to the wildlife with whom we share our world.
In his new and first solo show in London, titled Missing, Masai will show a selection of brand new works – paintings and sculptures, each with a specific continent focus through an animal indigenous to that region and now endangered, those that will soon be 'missing' from our biodiversity.
From graffiti to canvas, Masai's patchwork animals are created with a genuine passion and respect for animals in the wild, from the South African penguin to the humble bumble bee. As a painter, sculptor and muralist, Masai uses his work as a way to highlight the 6th mass extinction, climate change and species equality.
Current works deal with these endangered species, envisiged as patchwork plush toys stitched up by bees, highlighting the need for humans to pay more attention to what is happening in nature and start stitching the planet up rather than unpicking it. Masai's show follows on from a year long journey in the United States, The Art Of Beeing, where he painted over 20 murals of species under threat in 12 cities across nine states in just two months.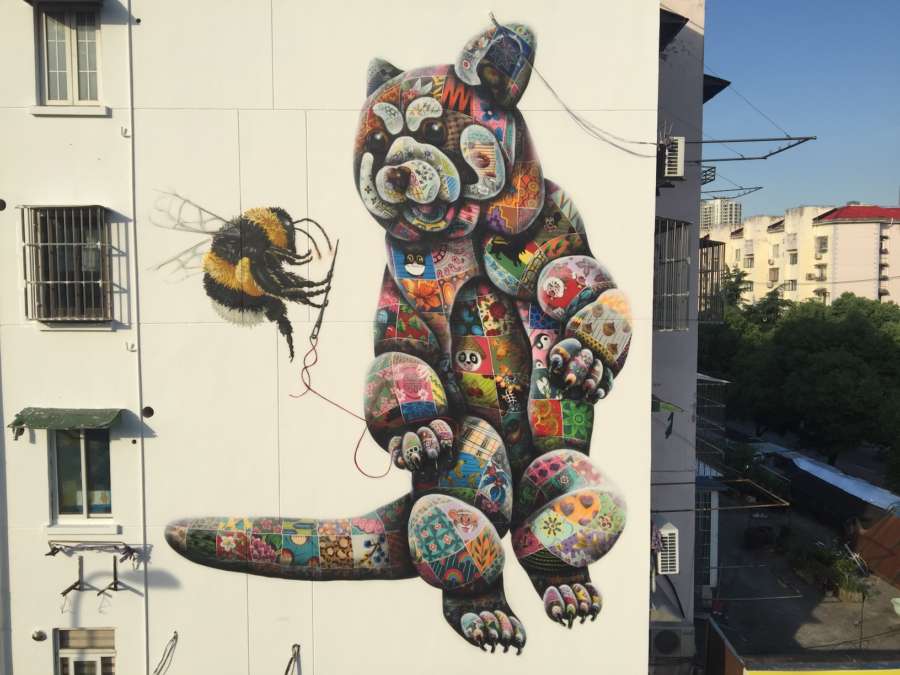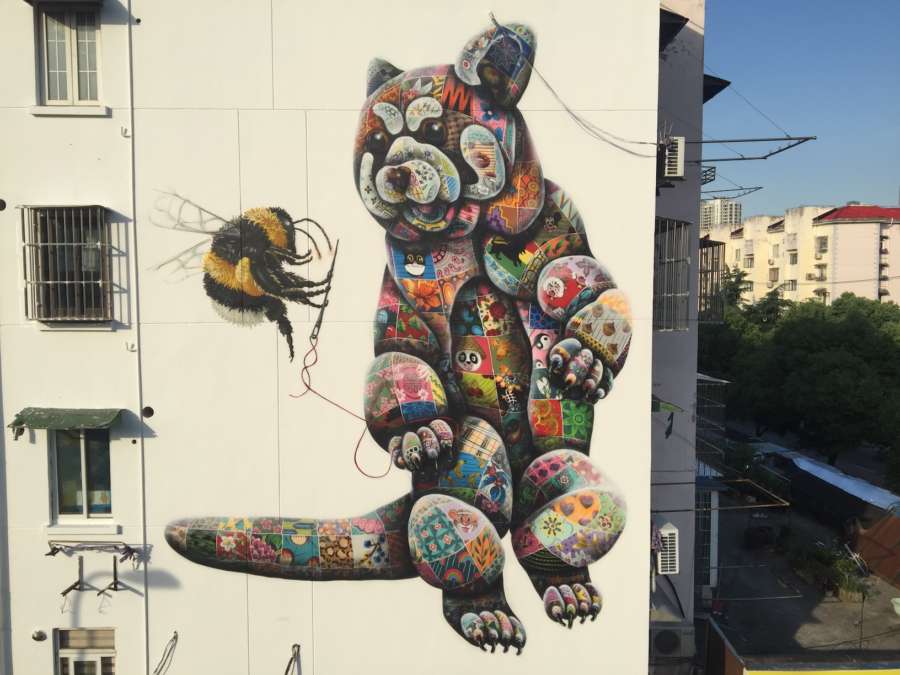 Missing highlights a selection of endangered animals from across the planet. Each piece will be created from large scale murals that Masai has created worldwide, placing each in a region where each animal is native to, from the Amazon rainforest to the streets of Shanghai. The title is also a reference to 'missing' posters seen stuck on trees, milk cartons and lampposts throughout the world, a way to engage the viewer with something we as a society normally walk past on a near daily basis.
Held in the one of the most atmospheric exhibition spaces in London, Euston's Crypt Gallery, the show will run between the 24th to the 27th May, opening to the public on the 25th. Masai will combine displayed works with elements of interaction and immersion, plunging the viewer into a forest of trees, full of the scent and buzz of live honeycombs. These elements help to highlight one of the artist's key messages, that these interventions and endangerment issues are much closer than we might otherwise think. Held in a space associated with death and burial, Masai's work takes on a poignant urgency; if we do not act, these animals too may soon be nothing more than ashes and dust.
Works in the show include a specially created animatronic penguin, built with a robotics specialist, that stands atop an oil drum, a slick black pool collected at the base. Strewn across the floor next to another work, a painted elephant, an AK47 lies surrounded by empty shells, a poignant reminder of the cost of the ivory trade. Central in the show are sculptures depicting a bee, an animal whose very existence in the ecosystem supports our own ongoing survival and is yet slaughtered in the millions through pesticide waste. Three distinct sculptural iterations of this bee stand in the gallery space, a bronze cast, a gold-plated edition and large, provocative resin transparent casts.
Speaking about the exhibition, Masai says: "Climate change is in full effect, with one of the major factors being the '6th Mass Extinction'. Species are becoming extinct or missing in our biodiverse world. This is a real issue that we face as humans, and as an artist, I feel it's my duty to draw attention to this issue. Through my work I hope to remind people of the urgency we face, highlighting our place amongst creatures who are a critical part of our delicate ecosystem".
As humans, we divide continents, we put up barriers and borders that are not understood by animals, whose survival often relies on nomadic crossbreeding. Our impact is vast, and Masai's work highlights this, expressing the true cost of our place in this world.
Missing will be in The Crypt Gallery, Euston. The exhibition will run from Friday 25th May to Sunday 27th May 2018.