Advertisement

Palu (Indonesia), Oct 4 (IANS) The death toll in the devastating 7.5-magnitude earthquake and tsunami that rocked Indonesia's Sulawesi island last week climbed to 1,424 on Thursday while the search and rescue operation was hampered by poor access to the hardest-hit areas, officials said…reports Asian Lite News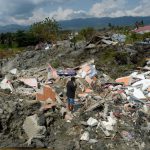 The death toll rose by 17 compared to Wednesday's count, while the number of injured rose to 2,549 with more than 70,000 displaced people. At least 113 people were still missing.
The majority of the deaths were in the city of Palu, home to 350,000 people and hardest hit by the twin disasters.
Many people were feared to be still trapped in the city and in the districts of Donggala and Sigi, said head of the planning department of the national search and rescue office Abdul Haris.
The death toll was expected to rise.
"Many roads leading to the affected-areas have been cut off so that it is difficult to bring heavy machinery equipment to the sites," Harris told a joint press conference at the National Disaster Management Agency (NDMA).
Although electricity was restored in some areas, blackout still remained in the hardest-hit areas. "In some places electricity facilities have resumed function but we still use generators to support our work," he said.
"There are houses on top of each other and bodies at the bottom," said Ali Akbar, an employee of Aksi Cepat Tanggap non-profit.
NDMA spokesperson Sutopo Purwo Nugroho said while as many as 25 heavy machinery equipment joined the rescue operation by far, 21 others were still on the way to the affected areas.
The main airport in Sulawesi resumed operation, with communication, electricity and supply of fuels returning nearly to normal level, which will pave the way for distribution of emergency aid as well as the search and rescue mission, he said.
Meanwhile, 92 people were detained for looting cars, motorcycles, cigarettes, coffee and food products on Sulawesi Island.
The UN Office for the Co-ordination of Humanitarian Affairs said there were nearly 200,000 people in urgent need of assistance, about a quarter of them children.
Military and disaster management agency's trucks were distributing relief goods along the roads in Palu, while the Red Cross distributed blankets and mattresses brought to the area by sea.
However, inhabitants of more remote, rural areas have been complaining of a lack of aid and support since the tragedy.
Several countries have announced sending aid to Indonesia. According to the Vatican on Thursday, Pope Francis sent $100,000 to help the survivors.