Advertisement

Italy's top diplomat Enzo Moavero Milanesi and his staff are fully committed to helping a Christian woman, Asia Bibi — amid fears for her safety in Pakistan following her acquittal of blasphemy after eight years on death row — the Foreign Ministry said…reports Asian Lite News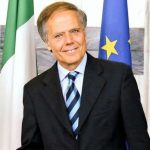 "Foreign minister Milanesi and the foreign ministry continue to follow with maximum commitment and attention the situation of Ms Asia Bibi, as many Italians have requested," the foreign ministry stated.
The ministry is "working closely with the Italian embassy in Pakistan and constantly coordinating with all the countries taking an interest in the case and is ready to follow up on any decisions the government takes," the statement concluded.
Bibi, who had been sentenced to hang, cannot leave Pakistan after violent protests by the Islamist Tehreek-e-Labbaik Pakistan party after Pakistan's Supreme Court cleared her of all charges last week.
Bibi's husband Ashiq Masih says the family could be killed by Islamists and has pleaded for asylum in the UK, US or Canada.