Advertisement

With the aim to open up travel between India and the North of England, celebrating its 25year of operations, the addition of the 5th direct service between Manchester and Mumbai makes Jet Airways the largest carrier between the UK and Mumbai. Rahul Laud who attended the announcement ceremony reports for Asian Lite news.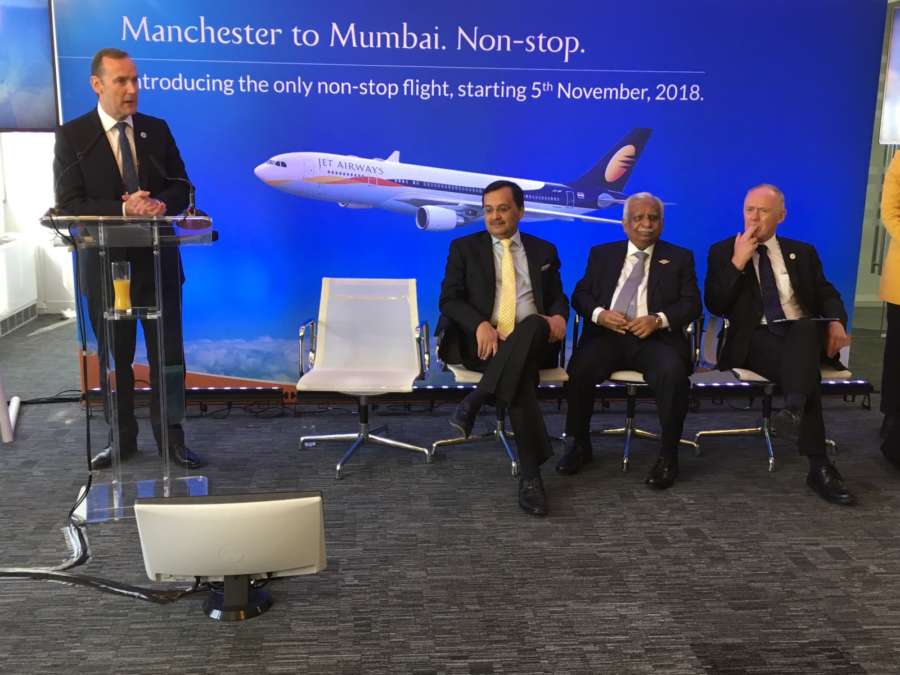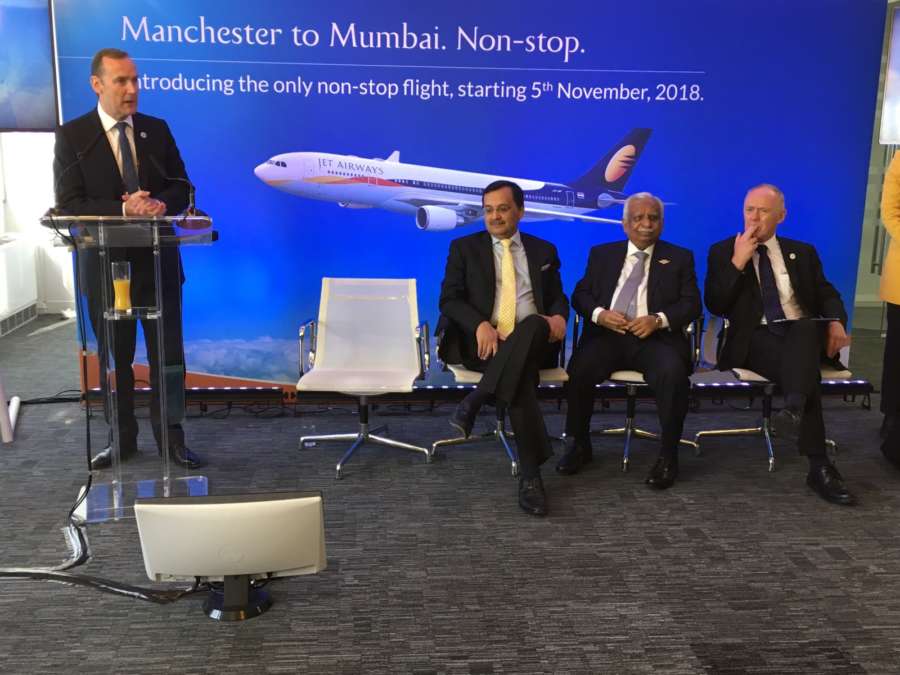 Jet Airways, India's international airline has announced that from 5th November 2018, it will launch the first non-stop service between Manchester and Mumbai. Further strengthening its flight offering in the United Kingdom and Jet Airways' commitment to opening up travel to India for UK business and leisure travellers, the service will operate four days a week including Monday, Thursday, Saturday and Sunday.
Attending the announcement ceremony that was held at the Manchester International Airport, Naresh Goyal, Chairman of Jet Airways on his way back to India travelled from Cannes Film Festival
to make this announcement. In his candid and humourous style, he said '' both cinema and airlines business does not make enough money. But he was hopeful to do good business here as the numbers are ''encouraging'' he told Asian Lite.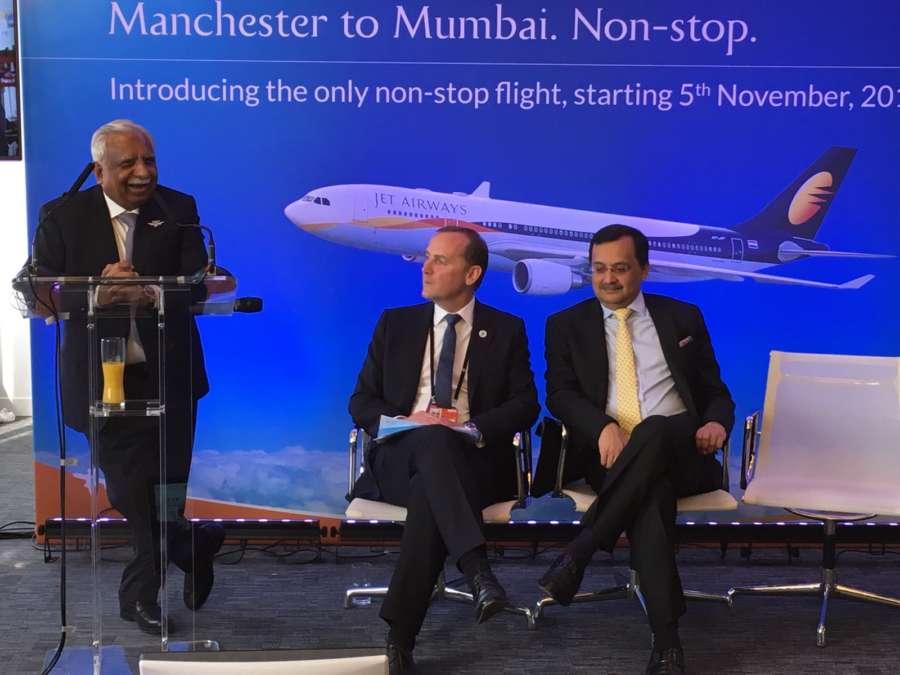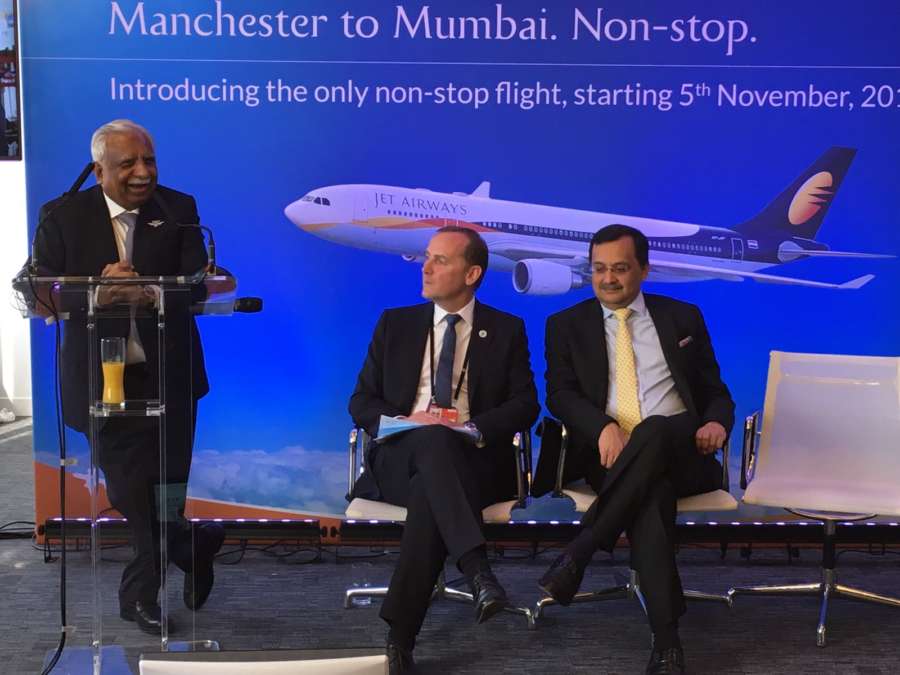 Goyal said direct flights to other destinations will also be explored as business in this sector grows. ''There are no boundaries today, with skies being open to all, '' Jet is set to soar new highs, he said.
To make it cost effective to all parties including customers he appealed to aiport authorities and fuel companies to consider Jet as their preferred client.
Manchester will become the 66th addition to the Jet Airways network and its 21st international destination. With the introduction of the new flight – the carrier's 5th non-stop service to/from the UK, Jet Airways will also become the largest carrier between Mumbai and the UK.
The launch of this new service will provide seamless connectivity to nearly 35 domestic destinations to and from India which include Ahmedabad, Vadodara, Bhuj, Bhopal, Bengaluru, Kolkata, Coimbatore, Delhi, Goa, Hyderabad, Indore, Aurangabad, Jaipur, Chennai, Nagpur, Rajkot, Raipur, Udaipur, via the airline's HUB, Mumbai.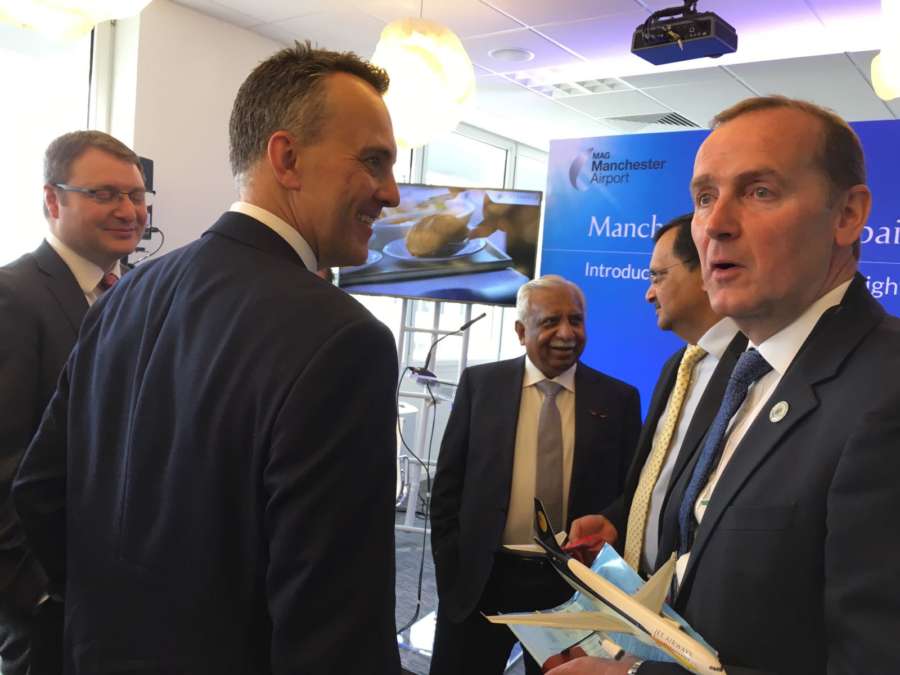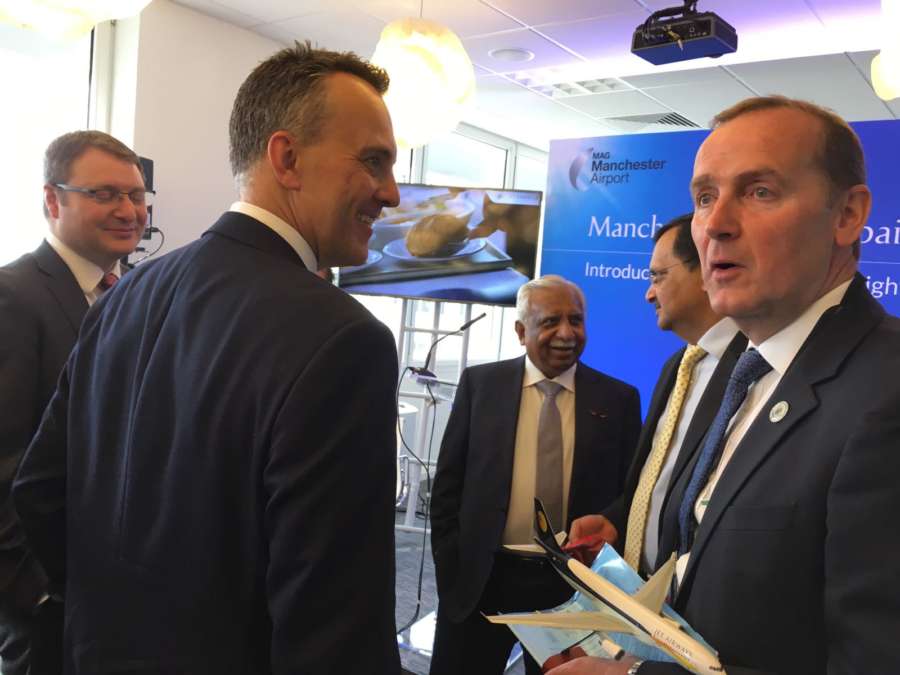 Goyal said: "We are extremely pleased to begin a new chapter in our decade-long relationship with the United Kingdom. The new service will bring Manchester into our global network, reinforcing our global footprint, as well as expanding the choice of connectivity to and from the United Kingdom for our guests with the four days a week, non-stop service.''
As to why Mumbai was chosen, Goyal informed that ''This new service will deepen both commerce and tourism ties between the two countries." '' Mumbai is known as the business capital and foresee a large growth of traffic after this direct service, ''Goyal elaborated.
Similarly, quick connections to beyond points on Jet Airways' international network such as Bangkok, Colombo, Hong Kong, Singapore, Dhaka and Kathmandu, will now be available, he said.
Given Manchester's position as Europe's second largest digital hub, the new service between Manchester and Mumbai is likely to benefit a large number of business travellers, as well as making travel more convenient for the growing Indian community, including both families and students, now residing in and around Manchester and holiday makers in the region. It will also connect surrounding cities such as Liverpool, Leeds and Sheffield to India.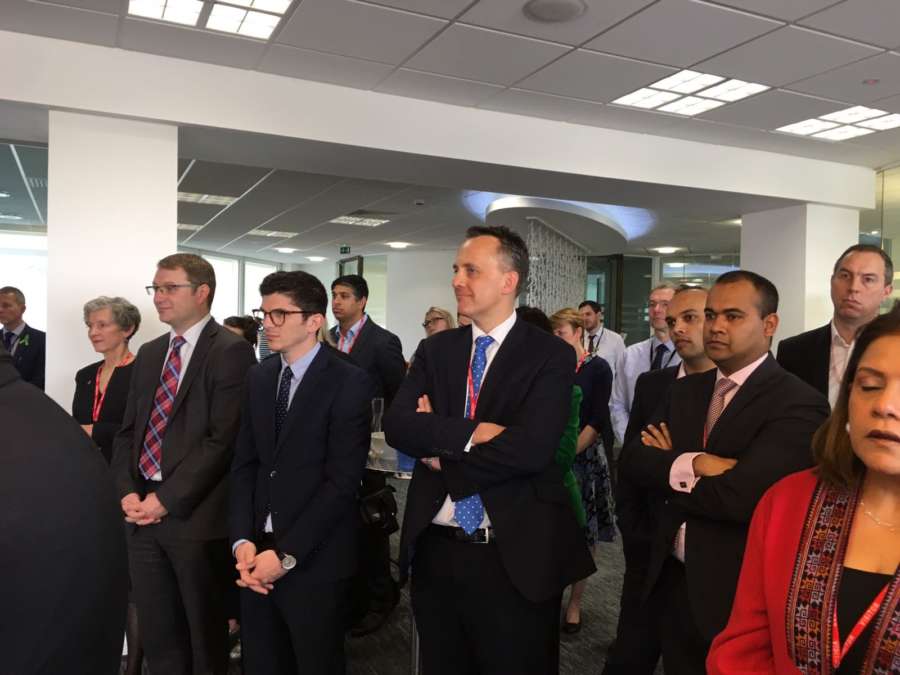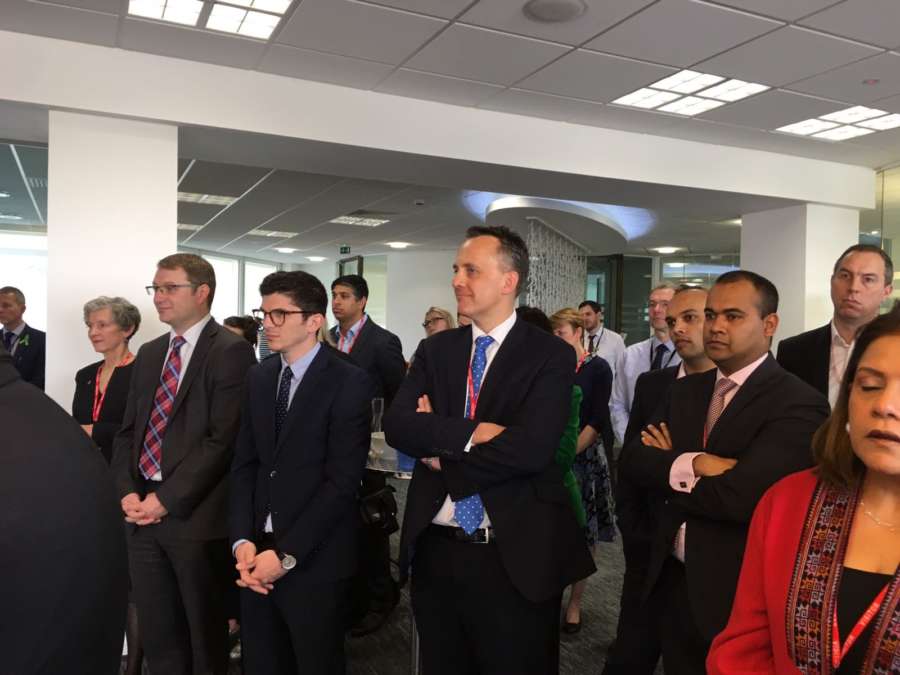 Dinesh Patnaik, Deputy High Commissioner from Indian High Commission UK office pointed out the significant contribution of Indians to the growth and economy of UK. He said '' The recently formed Manchester India Partnership is very well dovetailed in the Northern Powerhouse strategy adopted by the government of UK.'' He applauded the significant efforts of MIDAS, MIP teams in promoting this Indo-UK relationship. He said the Indian High Commission office recognises the contribution of the Indian diaspora in North England and fullest support is being offered to their regional needs.
Manchester Airport CEO Andrew Cowan, who said: "Securing a direct service to one of India's major cities is the product of a lot of hard work over a long period of time to forge closer ties between Manchester and this globally significant economy. We have worked, along with a range of partners, to create a compelling case for why our city – and the wider North – is a great place to visit, invest in and do business with. I am delighted Jet Airways have recognised this by launching what I'm sure will be a hugely popular service, not least for the 500,000 people of Indian origin living across the North. Direct connectivity to the world's most important markets is key to creating a prosperous and internationally competitive Northern economy, and a balanced and outward facing UK. This route will deliver a major boost to businesses looking to export to the world's fastest-growing economy, as well as helping to attract Indian visitors and investors to the North. We look forward to working with Jet Airways on launching the Mumbai service in the months ahead."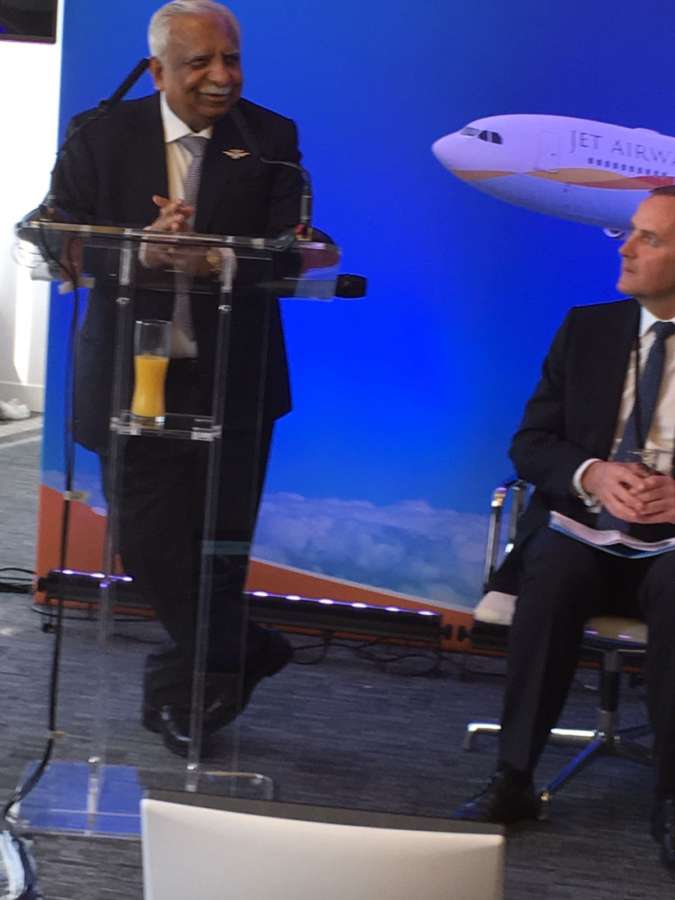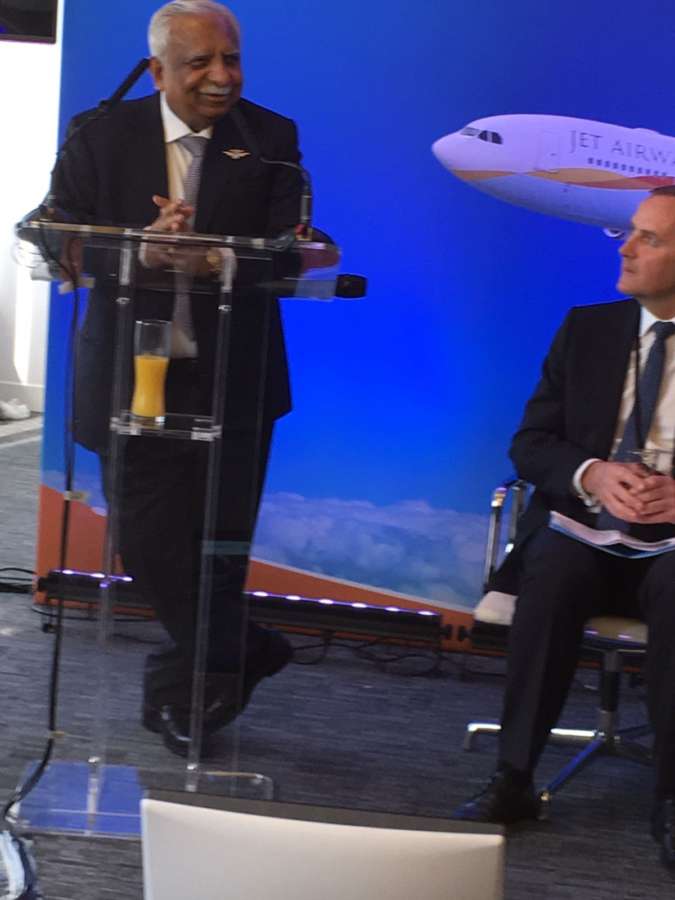 Sir Richard Leese, leader of Manchester Council and Greater Manchester lead for internationalisation present on the occasion also addressed the gathering. He said .''Mumbai being the largest business capital in India had all the commercial reasons that merits a direct flight.''
 The flight, 9W 129 will depart from Manchester Terminal 2 at 0935 hrs (Local time) and arrive in Mumbai's Terminal 2 at 0040 hrs (Local time). Return flights from Mumbai will leave at 0230 hrs (Local time) and arrive in Manchester at 0755 hrs (Local time).
Elaborating on the advantage of the service to Mumbai, Goyal further pointed out that, ''Guests arriving at Jet Airways' hub in Mumbai will be able to connect onwards to 44 domestic destinations in the airline's pan India network. They can also connect onwards to other destinations in South East Asia including Colombo, Dhaka, Kathmandu, Bangkok, Hong Kong and Singapore.''
The new flight assumes even greater importance with the 'The Manchester-India Partnership' championed by Hon'ble Prime Minister of India, Narendra Modi, to help strengthen cultural and business ties between the two economies, Goyal added. He said, ''The launch of the new service will also support with the recommendations of the UK Government, which has been promoting connectivity to other key cities in the UK, besides London Heathrow.''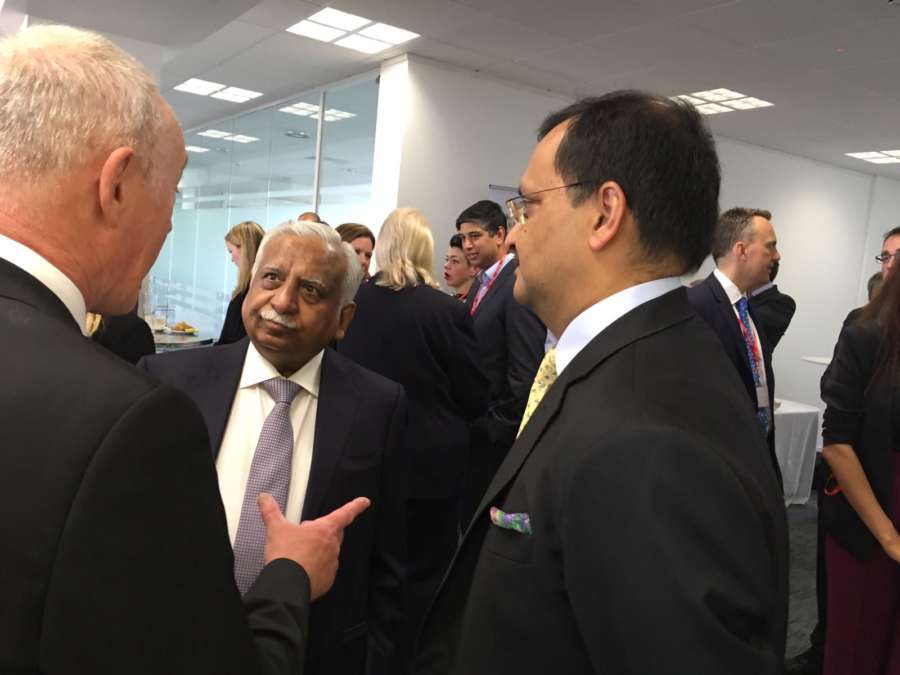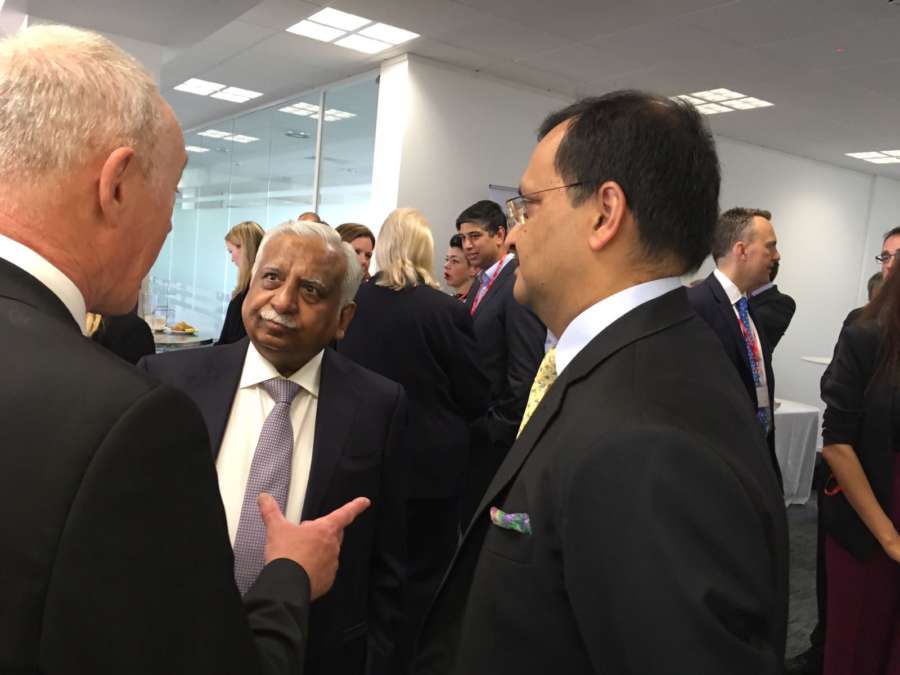 Passengers travelling on this route will be able to take advantage of the benefits of Jet Airways' A330-200 aircraft comprising of 254 seats including 18 in Premiere which will operate on this service.
Flights from Manchester to Mumbai are available to book now through jetairways.com or by downloading the Jet Airways mobile app, with fares starting at £400 (return).
————————–
pics credit – Rahul Laud