Advertisement

Leaders of prominent Kashmiri forums accused the APPG of helping a group with vexed interest to hijack Kashmir Agenda. Kashmir Valley International's Prof Raina and South Asia Watch's Dr Shabir Choudhry said there is a deliberate attempt to shadow the real situation and provide platform to those who exploit the sufferings of Kashmiris to their personal and political benefits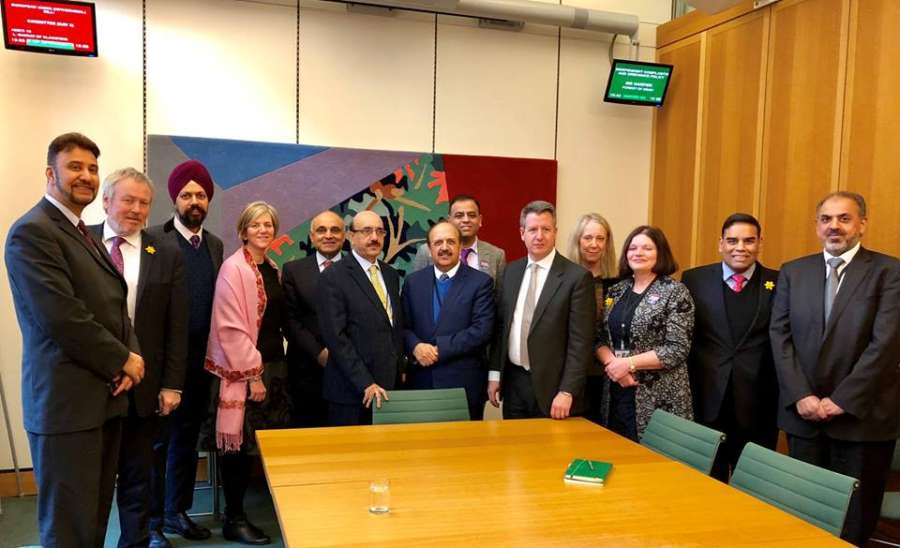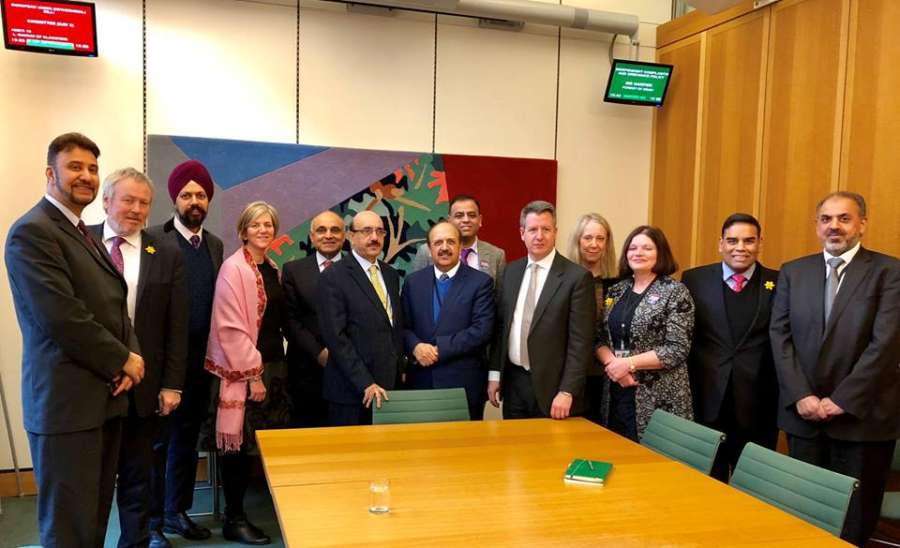 Prominent Kashmiri leaders in Britain accused the All Parties Parliamentary Group on Kashmir of ignoring the plight of real Kashmiris for political gains.
Prof. MA Raina of Kashmir Voice International and Dr Shabir Choudhry, chairman of London-based South Asia Watch, accused the politicians of hijacking the Kashmir agenda from the real Kashmiris.
The event was also attended by Pakistan High Commissioner Syed Ibne Abbas.
  "The All Party Parliamentary Group for #Kashmir met for a special session as part of our ongoing inquiry into the #HumanRights situation in Kashmir. #AJKPresident, Sardar Masood Khan, along with the #HighCommissioner for #Pakistan His Excellency Syed Ibne Abbas, gave a high-level update to MPs on developments in the region," Tan Dhesi, Labour MP from Slough, the first turban-wearing Sikh MP at British Parliament, tweeted.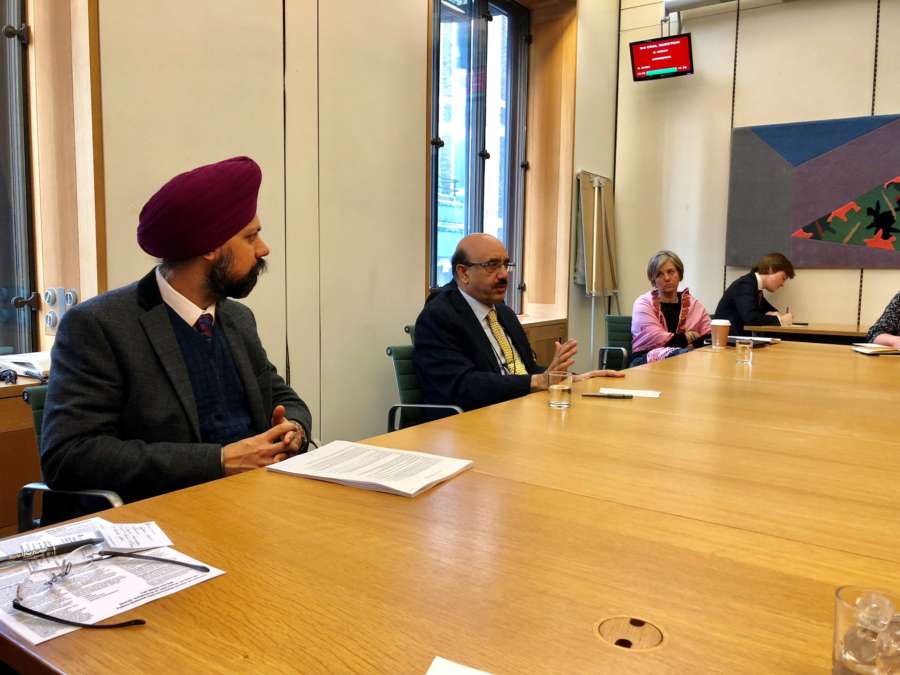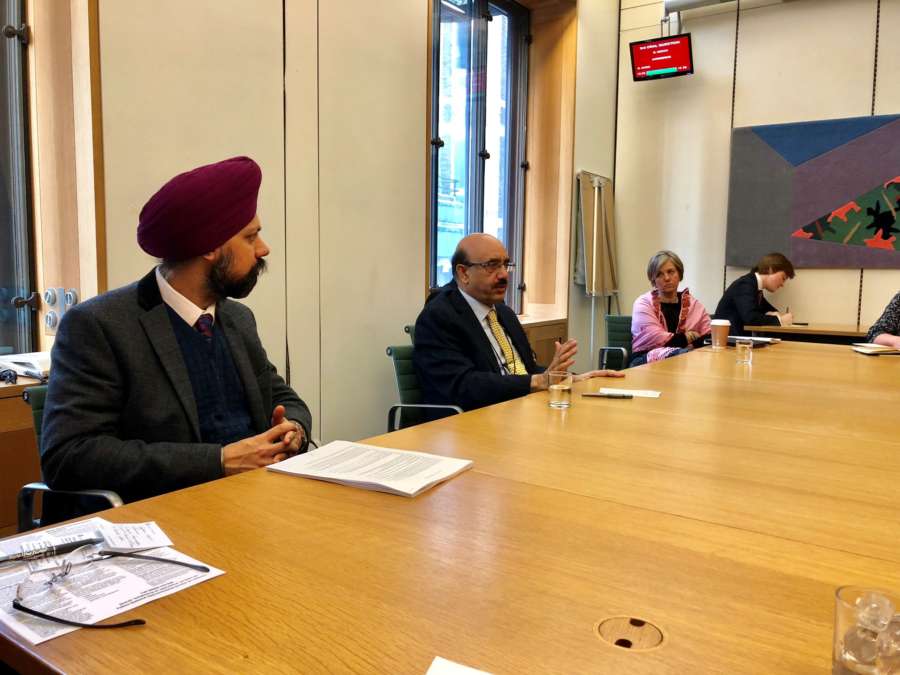 "KVI is the only Kashmir Valley Diaspora Organisation who understand and deeply feel the pain of their people," Prof. Raina tol Asian Lite. "Not inviting this organisation to APPG meetings, even after a request to participate, is a deliberate attempt to shadow the real situation and provide platform to those who exploit the sufferings of Kashmiris to their benefits."
"We people of forcibly divided Jammu and Kashmir need support of all parliamentarians, civil society and human rights activists," said Dr Shabir Choudhry, chairman of the London-based South Asia Watch. "In this context, we expect All Parties Parliamentary Group on Kashmir to represent true sentiments of the suffering people; and not represent those who occupy and suppress us."
Dr Shabir Choudhry said, it is sad to note that the way APPG operates is not satisfactory at all; and it appears that they are promoting interests of one country, and not interests of the people of Jammu and Kashmir, who are suffering on both sides of the divide.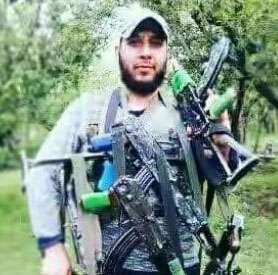 "This is a mockery of democracy," Prof. Raina added. "We are the only people from the Valley with first hand information on the issues plaguing the Valley. But we were not invited. What is the point in having a discussion with people who were never been to Valley or dubious with the credentials."
Prof. Raina said he wrote to Chris Leslie on February 15 with a request to participate in the discussions.
"The request was totally ignored," Prof. Raina said.
"I also wrote a letter to the Chairman of APPG and requested him to provide me an opportunity to present my case before the Group," Dr Shabir said. "I gave some details in the letter, as to how Pakistani authorities and secret agencies curtailed my fundamental rights."
He wrote to Chris Leslie, Chair of APPG, saying that he would like to attend the event.
'I would like to appear before the APPG or have a meeting with you that we can discuss this matter further," he wrote. "Your report cannot be complete without hearing the man who is a British citizen and who, among the Kashmiri Diaspora is the prime victim of Pakistani agencies and state."
"My letter fell on deaf ears, and no one even cared to respond to the letter," said Dr Shabir. "General feeling among the nationalists of Jammu and Kashmir is that the APPG is dominated by pro Pakistan members. The APPG, especially some of its members appear to be 'lobbyists' of Islamabad; and instead of protecting and promoting interests of the suffering people they are keen to propagate views of Islamabad.
"When I learnt that President of Pakistani Administered Kashmir, was once again, visiting Britain; and he was invited by the APPG, I wrote another letter requesting the APPG Chairman to invite me as well that I can also discuss denial of fundamental rights in Gilgit Baltistan and so called Azad Kashmir. Like last time, he did not care to respond to my letter.
"Sardar Masood Khan served Pakistan for many decades as a Pakistani diplomat. Islamabad was pleased with his services, so after his retirement, they rewarded him with another lucrative post. He was appointed President of Azad Jammu and Kashmir. He is not loyal to people of Jammu and Kashmir; his loyalty is with those who appointed him. His loyalty is apparent in his speech made during his last visit to Britain in November 2017:
"A total of 1.4 million expatriate Kashmiris and Pakistanis were living in the United Kingdom, who should jointly raise the issue at international level by highlighting the Indian atrocities in occupied Kashmir."
"Respected members of the APPG need to understand that Masood Khan's mission is to advance the agenda of Islamabad," said Dr Shabir. "It is crystal clear that he is not interested in the plight of the suffering people. He cannot, and will not speak about fundamental rights of people of Gilgit Baltistan and so called Azad Kashmir.
"If the APPG sincerely wants to find out about human rights abuses and problems of the people of Gilgit Baltistan and so called Azad Kashmir, then they need to invite citizens of Jammu and Kashmir who aspire for united and independent Jammu and Kashmir. If they want to please certain quarters, and satisfy their voters then they are already doing a good job."