Advertisement

The body of Saudi journalist Jamal Khashoggi was "dissolved" in acid after it was dismembered at the kingdom's consulate in Istanbul, an adviser to Turkish President Recep Tayyip Erdogan said…reports Asian Lite News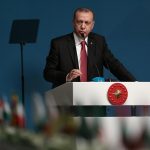 "We now see that it wasn't just cut up; (the Saudi suspects) got rid of the body by dissolving it," Erdogan's adviser Yasin Aktay told Hurriyet Daily News.
"According to the latest information we have, the reason they cut up the body is it was easier to dissolve it. They aimed to ensure no sign of the body was left," said Aktay, who was a friend of the dissident Saudi writer.
"Killing an innocent person is one crime, the treatment and extent of what was done to the body is another crime and dishonour."
Khashoggi, a Washington Post columnist and a supporter-turned-critic of Saudi Crown Prince Mohammad Bin Salman, was killed inside the consulate after he went there on October 2 to get documents for his forthcoming marriage.
The remarks represented the first official statement from a Turkish authority about what allegedly happened to Khashoggi's body.
The claim came as Khashoggi's fiancée, Hatice Cengiz, called on world leaders to "bring the perpetrators to justice", in an editorial for five newspapers, including the Guardian and the Washington Post.
Istanbul's prosecutor confirmed on Wednesday that the writer was strangled. Turkish investigators had been trying to determine whether Khashoggi's remains could have been dissolved in acid at the nearby consul general's house.
An unnamed official also told the Washington Post that "biological evidence" in the consulate's garden suggested that because of acid "Khashoggi's body was not in need of burying".
However, no forensic evidence has been provided yet to support the claim that the body was dissolved, the BBC reported.
Meanwhile, the Saudi Crown Prince described the murdered journalist as a "dangerous Islamist" in a phone call with President Donald Trump's son-in-law Jared Kushner and National Security Adviser John Bolton, the US media reported.
The reported phone call to the White House came before Saudi Arabia admitted Khashoggi had been killed inside the kingdom's consulate in Istanbul.
However, Saudi Arabia denied the comments were made or that its royal family was involved in the killing and said it was "determined to find out all the facts".
In a statement to the Post, Khashoggi's family called the characterisation of the murdered columnist as a "dangerous Islamist" as inaccurate.
The attempt to criticise Khashoggi in private stands in contrast to the Saudi government's later public statements decrying his death as a "terrible mistake" and "terrible tragedy", the Post cited sources as saying.
"The incident that happened is very painful, for all Saudis," the Crown Prince said during a panel discussion last week.
"The incident is not justifiable."
The Kingdom initially said Khashoggi walked out of the consulate unharmed but then said Saudi agents had accidentally killed him in a fistfight, and more recently announced that it had evidence that his killing was "premeditated".