Advertisement

North Korea is apparently preparing for a possible visit by international inspectors to verify the shutdown of its nuclear test site, Seoul's spy agency said during a parliamentary audit…reports Asian Lite News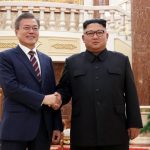 "Signs have been detected that North Korea is conducting some preparations and intelligence-related activity over a possible visit by outside experts," the National Intelligence Service told lawmakers.
In May, following the first summit between North Korean leader Kim Jong-un and South Korean President Moon Jae-in, the North Korean military had destroyed tunnels at its Punggye-ri nuclear test site in the presence of foreign media, although nuclear experts were not present at the event.
Pyongyang had carried out all of its six nuclear tests at Punggye-ri and assured that the facility had not been in use since it signed an agreement with Seoul for the complete denuclearization of the peninsula after the first bilateral summit.
US Secretary of State Mike Pompeo had said after his latest Pyongyang visit in October that Kim had assured him of allowing foreign inspectors in Punggye-ri, as soon as a series of logistical issues were resolved.
During his latest summit with Moon in September, Kim had also promised access to the Sohae missile launch base, in the northwest of the country, which was used to develop intercontinental ballistic missiles and where key installations have been dismantled recently.
South Korean lawmaker, Rep. Kim Min-ki of the ruling party, said that the the spy agency was closely monitoring North Korea's nuclear and missile facilities, including the Yongbyon nuclear complex, and no big changes were detected.
In September, Kim had also offered to dismantle Yongbyon, the epicentre of the North Korean nuclear programme, in exchange for security guarantees by the US as agreed upon by both countries at the Singapore summit in June between US President Donald Trump and Kim.
Since the June summit, Pyongyang has repeatedly demanded a permanent peace treaty with South Korea to replace the armistice that ended the Korean War in the 1950s.
It has also demanded that sanctions against it be lifted to allow it to continue to dismantle its weapons programme.