Advertisement

Nobel laureate Malala Yousafzai joins a pantheon of eminents in London.  Her portrait by Iranian-born artist and filmmaker, Shirin Neshat, has gone on public display at the National Portrait Gallery, London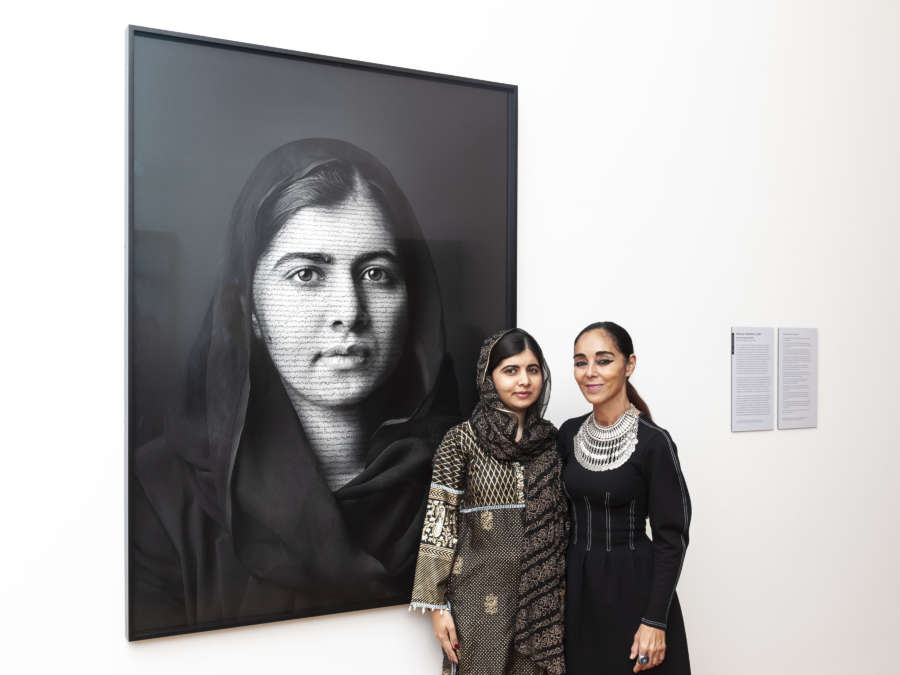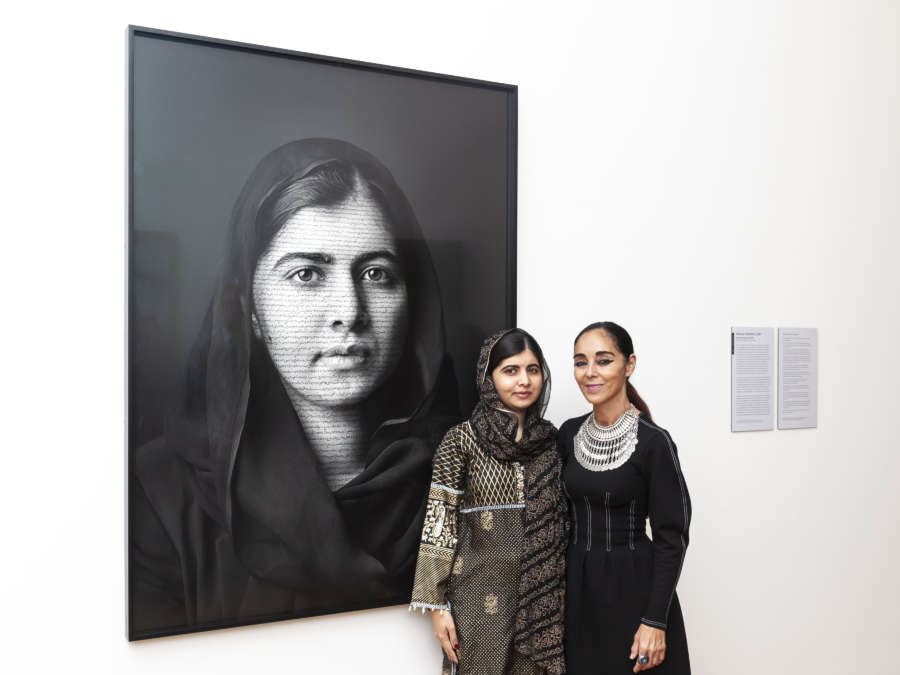 The work is one of a pair of portraits of Yousafzai by Neshat, acquired for the National Portrait Gallery Collection. Neshat took a series of photographs during a sitting in London in March 2018. From this the artist and the Gallery selected two photographs, onto which Neshat has hand inscribed in calligraphy a poem, MALALA II: (Malala Yousafzai), by the Pushto poet Rahman Shah Sayel from Peshawar, written in 2011 when Malala had already become a well-known activist for education.
The poem addresses the legendary Malala of Maiwand and praises Malala Yousafzai, while making connections between the two young women. The second portrait of Malala seated at a school desk with an open book will travel to Birmingham Museums, where it will be unveiled in 2020 as part of
Coming Home – a new initiative, which will see fifty portraits from the National Portrait Gallery's collection travel to places across the UK they are closely associated with.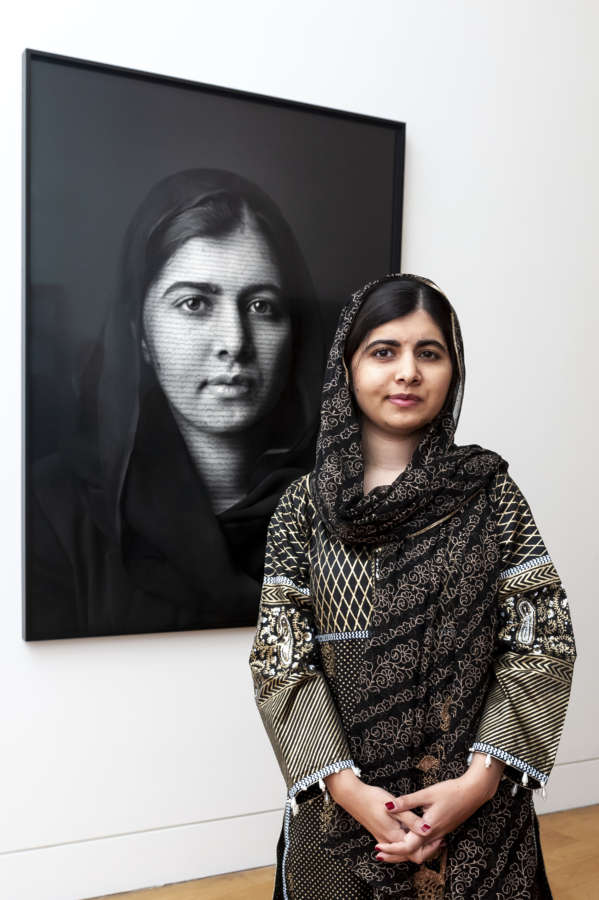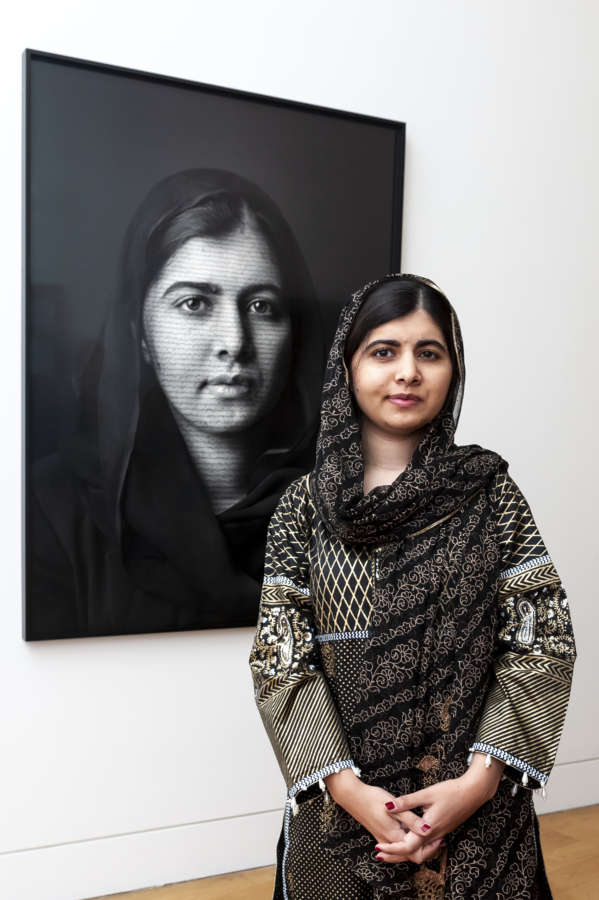 Born in Mingora, Pakistan in 1997, Malala Yousafzai first came to prominence in 2009 after writing about her life during the Taliban occupation of Swat Valley, and the ban on girls' education. In October 2012, Malala was shot in the head in an attack by a Taliban gunman on her school bus. She recovered in Birmingham where she chose to remain with her family. In 2013, Malala was awarded the International Children's Peace Prize and co-founded the Malala Fund to champion every girl's right to 12 years of free, safe, quality education.
In 2014, Malala became the youngest recipient of the Nobel Peace Prize with Indian activist Kailash Satyarthi. She is currently studying Philosophy, Politics and Economics at Oxford University.
Dr Nicholas Cullinan, Director, National Portrait Gallery said: "We are delighted to have commissioned these powerful new portraits, which represent an historic coming together of an inspirational and fearless young woman, who has had a profound impact on the education and welfare of girls throughout the world, with a leading international artist known for her unique and pioneering work. I am extremely grateful to Outset Contemporary Art Fund for their generous support in making this possible."
Malala Yousafzai said: "I am honoured to have my portrait included in the National Portrait Gallery alongside some of Britain's most influential writers, artists and leaders. I hope it will remind visitors that girls everywhere are fighting for change in their communities and countries — their stories must also be heard."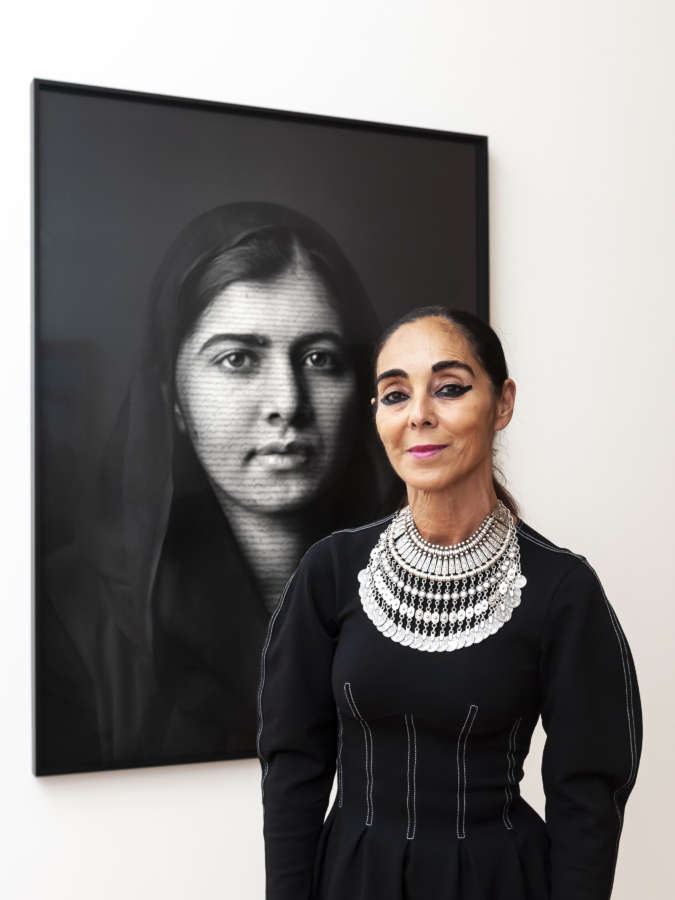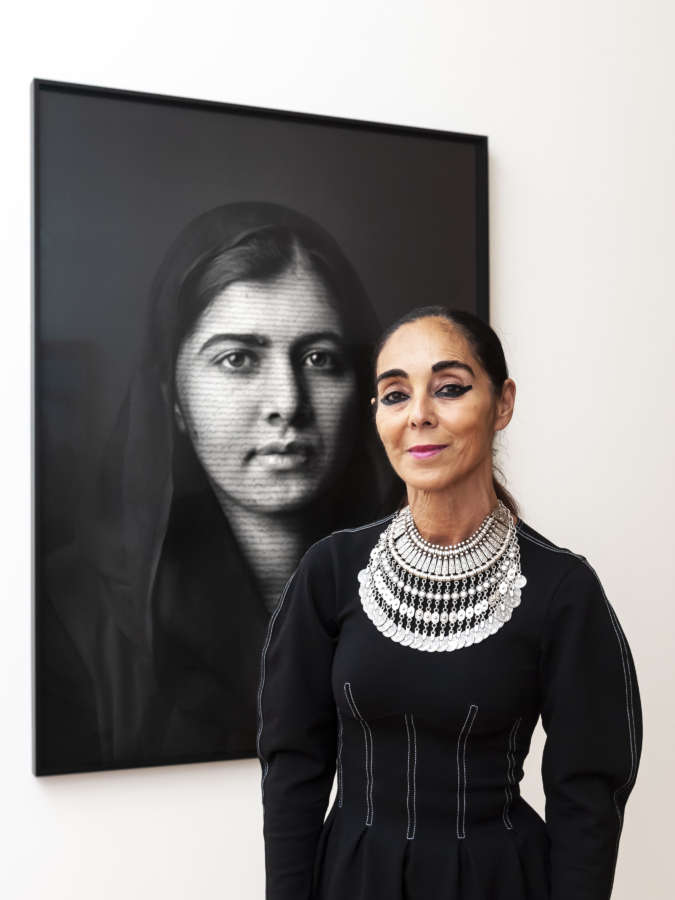 Shirin Neshat, artist said: "I knew of Malala as an extraordinary young woman who had marvelled the world by her victory over death; her fierce fight for women's education and for winning the Nobel Peace Prize, all before she turned twenty years old. It was impossible not to feel intimidated … Yet as she arrived at the studio to be photographed, I was immediately taken aback by her timid, gentle and innocent demeanour. To this day, when I look back on our encounter, I am left with impressions of humility, wisdom and a rare sense of inner beauty."
Dr Ellen McAdam, Director, Birmingham Museums Trust, said: "The people of Birmingham welcomed Malala when she made the city her home, so we are thrilled to be partnering with the National Portrait Gallery on this initiative to bring this internationally significant work to Birmingham for them to see in 2020."
Shirin Neshat's early photographic works explored questions of gender in relation to Islamic culture. Her subsequent video works departed from overtly political content or critique in favour of more poetic imagery and complex human narratives. In 1999 Neshat was the recipient of the Golden Lion Award at the Venice Biennial. In 2009, she directed her first feature-length film, Women Without Men, which received the Silver Lion Award for Best Director at the Venice International Film Festival. Her most recent feature film Looking for Oum Kulthum was released in 2017.