Advertisement

British Prime Minister Theresa May sought to downplay fears that her Brexit deal with the European Union would make landing a future bilateral trade deal with the United States tricky…reports Asian Lite News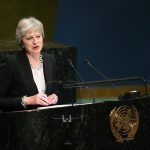 Theresa May recorded a statement in Wales after US President Donald Trump decided to weigh in on the conservative leader's progress on the UK's withdrawal from the bloc, which he said appeared to be a great deal for the EU but was not attractive to his administration.
"As regards to the United States, we've already been talking to them about the sort of agreement we could have with them in the future," May said. "We've got a working group set up which is working very well, has met several times," she said.
May's bill must still pass through the UK's lower chamber of parliament, the House of Commons, which is looking like an increasingly difficult task given a high level cross-party opposition to her policy, a mean feat confounded by the fact that members of the Northern Irish DUP, which props up her minority executive, had also protested the deal.
Trump opined on the UK's state of affairs in an interview on Monday. "Sounds like a great deal for the EU," he said. "Right now, if you look at the deal, they may not be able to trade with us," he added.
One of the cornerstone pro-Brexit arguments adopted by May, who campaigned to remain as the then Home Secretary ahead of the 2016 Brexit referendum, is the idea that the UK would be able to draw up its own free trade agreements with countries around the world.
MPs in the House of Commons are to cast a vote on the Brexit deal on Dec. 11.
The UK is on track to leave the EU on Mar. 29, 2019.