Advertisement

A new memoir titled "Becoming" by Michelle Obama was out, in which the former U.S. first lady revealed her family life, some thoughts about her husband's successor Donald Trump, as well as her reflections on various challenges in her personal life…reports Asian Lite News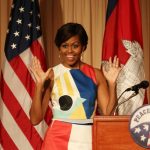 The book is already No. 1 among best sellers on Amazon.
Her comments about Trump include accusations that his "birther" conspiracy put her family in danger and that she "stopped even trying to smile" at Trump's inauguration ceremony on Jan. 20, 2017.
"I had to share my vulnerability and also learn to love differently," she wrote about some bumps during her marriage with Barack Obama, including a period she felt frustrations over being "a working full-time mother with a half-time spouse."
The couple once attended marriage counselling and Michelle miscarried before giving birth to her two daughters through in vitro fertilization, according to excerpts of the book revealed by local media reports.
Michelle administered the IVF shots herself while her husband was away serving in state legislature. Local media said the candid talk helps dispelling the taboos around such struggles.
She also said of her discomfort of being a hyperaccomplished woman only recognized through her connection to a powerful man, and deep frustration of being misunderstood and labelled as an "angry black woman."
"I hate when people who are in the public eye — and even seek the public eye — want to step back and say, 'Well, I'm not a role model. I don't want that responsibility.'" she explained in an interview with Oprah Winfrey why she revealed such details of her private life in the new book.
"Too late. You are. Young people are looking at you. And I don't want young people to look at me here and now and think: Well, she never had it rough, she never had challenges, she never had fears." said the former first lady.
Michelle signed a joint book deal with Barack for a reported $65 million deal soon after they left the White House last year.