Advertisement

First Indian origin kids flagged off on the Arctic Circle expedition on 13thOctober 2018. The team of Mum Bharulata Patel-Kamble  and her children two children will cover 14 countries in 20 days driving around 10,000 kilometres….reports Asian Lite News. The expedition aimed to raise cancer awareness in 'Indian and South Asian females'. The expedition would also promote ongoing campaign 'Save Girls, Educate Girls' (Beti Bachoa, Beti Padhao). This would plastic free expedition and 'Says No to Plastic' and probably the first such plastic free expedition so far
Bharulata Patel-Kamble is not new to arduous road journeys, but this time she is on a unique road journey with her two kids Priyam (13) and Aarush (10). This trip is unique as Bharulata commences the expedition in just over two months after her life changing cancer surgery. Bharulata Patel-Kamble Born in Navsari district of Gujarat and married to a surgeon (Urologist and Robotic Surgeon) of Maharashtrian origin from Mahad in Raigadh district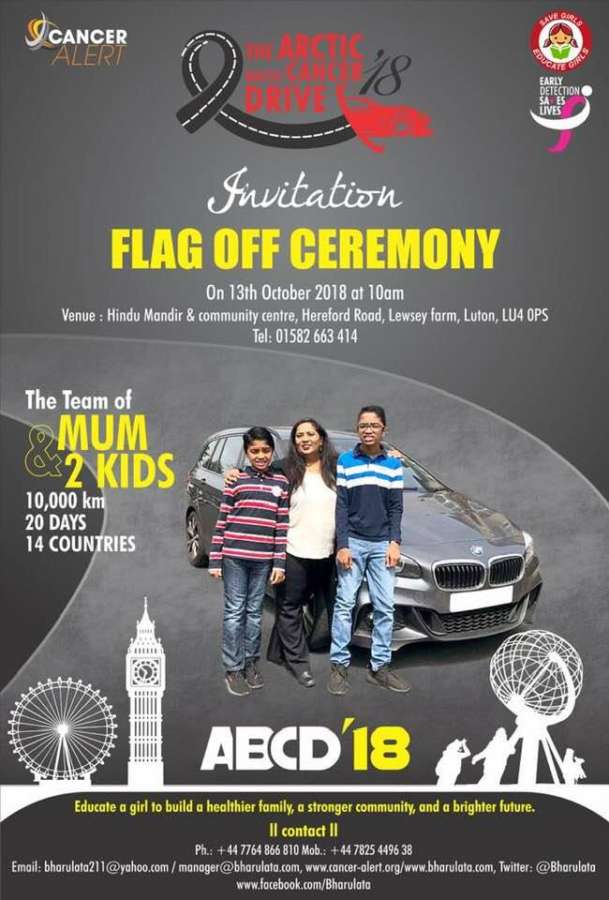 The team is flagged off from Luton Temple and Community centre on 13thOctober 2018. The flag off ceremony was attended by many prominent personalities and community leaders such as MP Mr Kelvin Hopkins, Deputy Mayor of Luton Mr Mark Rivers, Deputy Mayor of Ampthill Mr Ian Titman, Rotary club was represented by Mr Pual Dinton, Ms Harsha Jani represented (HSS) The Hindu Swayam Sevak Sangh, Cllr Rachel Hopkins and many other personalities.
The trio (team of mum and kids) will cover 10,000 kilometres in 20 days through the Arctic circle and 14 countries and will return via Baltic Landscape. This would be the first such expedition in the world of mum and children, and the children will become the first children on the Arctic expedition. The trio will hoist the flag of India and the Union Jack at Nordkapp in the Arctic Circle (northern most drivable mainland point).
The expedition aimed to raise cancer awareness in 'Indian and South Asian females'. The expedition would also promote ongoing campaign 'Save Girls, Educate Girls' (Beti Bachoa, Beti Padhao). This would plastic free expedition and 'Says No to Plastic' and probably the first such plastic free expedition so far.
This expedition is an enormous undertaking and contagious thirst for discovery of the grandness of all that is possible in the world, so that other humans are inspired to discover and fulfil their utmost potentials. It is showing the power of an individual, and what we are all proficient of doing, if we follow our heart through our action.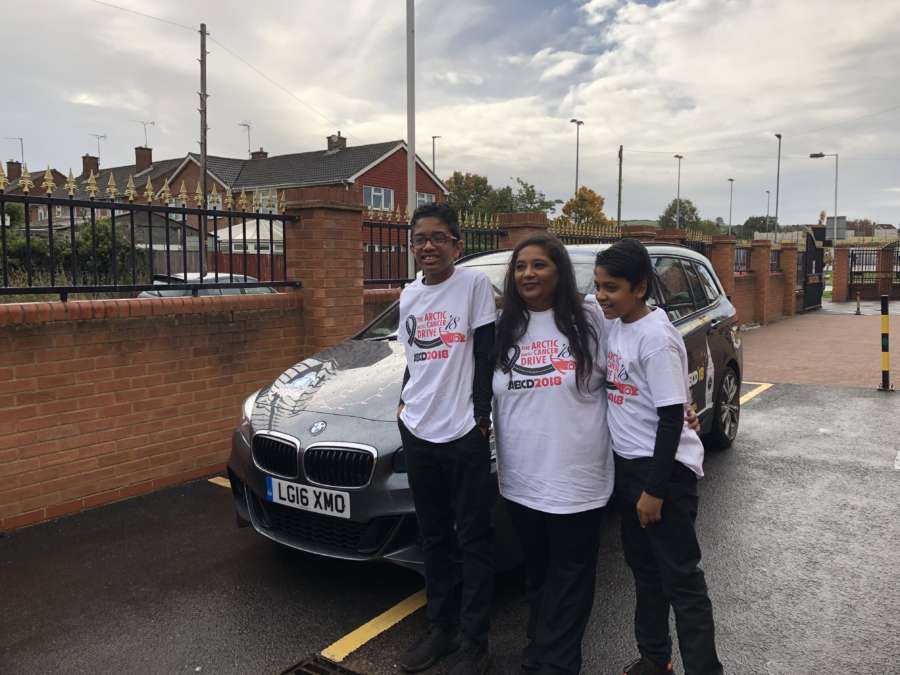 Bharulata is well known for her successful solo drive through the Arctic Circle and 32 countries in 2016 covering the distance of 35,383 kilometres. She is the first woman in the world to drive solo through the Arctic Circle and 32 countries combined and the first women in the world to drive solo, driving the longest distance in the Arctic Circle covering 2792 kilometres in just 39 hours. She is also the first Indian woman to hoist the flag of India in the Arctic circle.
Bharulata did not stop with the feat and also been part of number of driving challenges. In August 2017, she completed the gruelling non-stop journey of 1500-km from Lands' End in southwest England to John O Groats in northeast Scotland in 14 hours 33 minutes promoting 'Save Girls, Educate Girls' campaign and celebrating 70thIndependence Day of India. She set a record as the first women ever to drive solo non-stop in one day to two extremities of UK. She is also the first ever Indian to hoist flag of India at the two extremities and two most major landmarks of UK for the first time in history of Indian settlement in UK. She is also the initiator of longest female rally out of India for a social cause called 'Saree in a Gadi', in which 120 females wearing red saree drove from London to Leicester for "Save Girls, Educate Girls" Campaign in a car rally organised and lead by Bharulata. The event aimed to mobilize Non-Resident Indians (NRIs) to act as ambassadors for the cause and influence their natives in India and elsewhere to support girl children and their education.
Bharulata has been felicitated by numerous international honours and awards.  On 20thJanuary 2018 Bharulata, received a national honour by the Hon President of India and was felicitated by the Hon President of India at Rashtrapati Bhavan, New Delhi, India amongst 112 Indian women who are the first in their fields. The government of India recognised and prepared a list as way of a book with profiles of 112 exceptional achievers "First Ladies" of Indian origin who are the first in their field and who set a bench mark.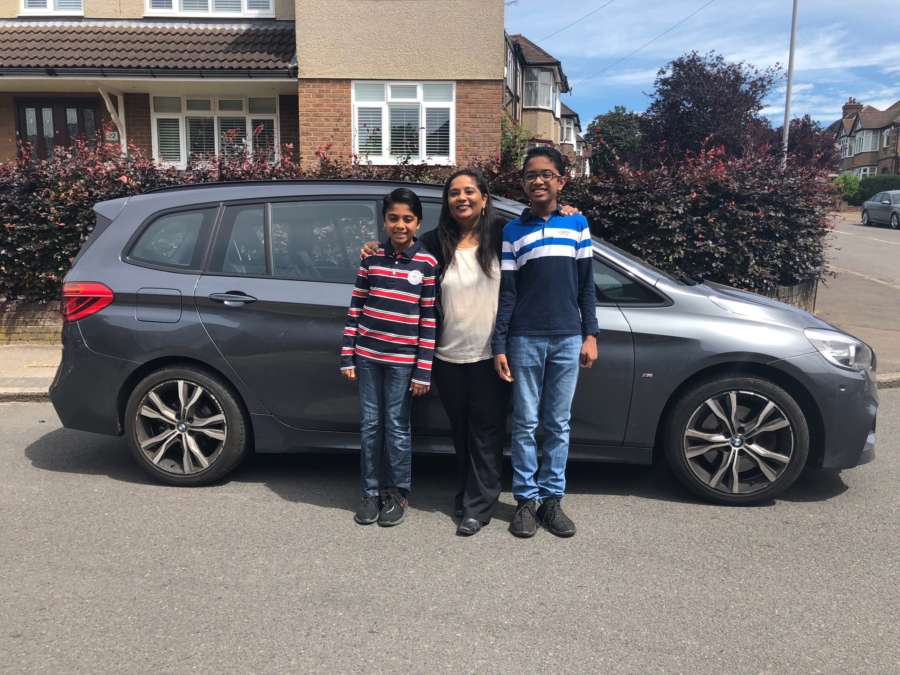 Be bold and be the change' is the motto that drives Bharulata Patel-Kamble, she feels inequality will continue as long as we allow it to continue, and women need their own space and equal rights to achieve their goals and conquer the world.
On 12thSeptember 2017, Bharulata launched a project to embark on a journey covering 50 countries as solo female driver spreading 'Save girls, Educate Girls' campaign. The launch was attended by many prominent personalities of Indian diaspora such as Lord Bilimoria, Lord Loomba, Lord Dholakia, The Baroness Flather, The Baroness Verma, MP Seema Malhotra, MP Virendra Sharma, MP Kelvin Hopkins, MP Gavin Shuker, MP Bob Blackman and many more. With her ongoing cancer surgeries and treatment, the drive though 50 countries have been put on hold until mid 2019.