Advertisement

Israeli Prime Minister Benjamin Netanyahu has praised US President Donald Trump's decision to re-impose "most severe" sanctions on Iran…reports Asian Lite News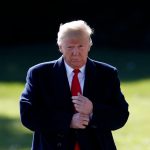 Netanyahu's remarks came in the wake of Washington's move to restore all sanctions lifted under the 2015 nuclear deal signed between Iran and the world powers during Trump's predecessor Barack Obama.
Speaking in the Israeli parliament, Netanyahu, a long-time vocal opponent of the nuclear deal, hailed the move as "a historic day", according to a statement by the prime minister's office
He thanked Trump for re-imposing the "most severe sanctions on Iran since the beginning of the efforts to stop its aggression".
The first wave of sanctions, re-imposed by Trump in August, already shows "impact on the ground," while the new sanctions, which mainly target Iran's energy, shipping and banking sectors, "will add a very severe blow to Iran," Netanyahu added.
As a long-time rival of Iran, Israel has carried out deadly airstrikes on Iranian targets in war-torn Syria, where Iranian troops have been fighting along the forces of Syrian President Bashar al-Assad.