Advertisement

Revellers attending New Year's eve celebration on Times Square are advised to wear waterproof shoes and raincoat to keep dry and warm as there is a chance of rain in New York city when the calendar year changes at midnight…reports Asian Lite News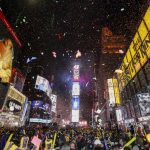 According to local weather forecast, Monday evening's weather will be dramatically warmer than one year earlier though rain may soak hundreds of thousands of people who are expected to flock to Times Square to witness the annual ball drop.
The ball will descend in 60 seconds down a specially designed flagpole, beginning at 11:59 pm on Monday and resting at midnight to signal the start of the next year.
During the celebration, the New York City Police Department (NYPD) plans to use a drone on Monday night to watch over Times Square while about 7,000 police officers are on duty for the event.