Advertisement

EU's chief negotiator for the UK's withdrawal from the bloc said there was still no agreement on a Brexit deal…reports Asian Lite News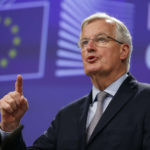 Michel Barnier addressed EU foreign ministers gathered in Brussels. "Barnier explained that intense negotiating efforts continue but an agreement has not been reached yet," an EU statement cited by Efe news said.
"Some key issues remain under discussion, in particular, a solution to avoid a hard border between Ireland and Northern Ireland."
Brexit negotiations between Brussels and London faltered over disagreements on exactly how to maintain a soft Irish border once the UK leaves the bloc, which is scheduled to officially take place in March 2019.
The EU has asked the UK government of Prime Minister Theresa May to include a so-called Irish backstop in its Brexit plans, which would act as a kind of insurance policy to ensure the border remains open even in the event of a no-deal Brexit.
Brussels also proposed that Northern Ireland remain in regulatory alignment with the Republic of Ireland, an EU member state, after Brexit.
But May said such a deal could, in effect, place a customs border down the Irish Sea.
The Democratic Unionist Party, a hardline Northern Irish party that props up May's minority conservative government, is staunchly against such a policy saying it would leave Northern Ireland effectively carved off from the rest of the UK.
Ministers gathered in Brussels expressed their support for Barnier in the discussions.
"In these final stages of the negotiations, ministers showed again today that we are determined to keep the unity of the EU27," said Austria's Arts and Culture Minister Gernot Blumel.
"We have reconfirmed our trust in the negotiator. And we support his efforts to continue working towards a deal," he added.
Some 52 per cent of the British electorate voted in favour of leaving the EU in a referendum held on June 23, 2016.