Advertisement

In an apparent reference to China, US Vice President Mike Pence  called for an open Indo-Pacific region free of "imperial aggression"…reports Asian Lite News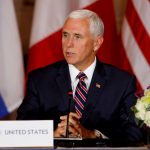 At a joint press conference here with Singapore Prime Minister Lee Hsien Loong, Pence reiterated similar themes to those he promoted during the annual Asean Summit in Singapore.
Praising the US-Singapore's "shared vision of a free and open Indo-Pacific", Pence said "empire and aggression have no place in the Indo-Pacific; this is a region where every nation, large and small, must be permitted to prosper and thrive", in a thinly veiled reference to China's regional foreign policy.
China is embroiled in territorial disputes over small islands and reefs in the South China Sea with several Asean members and has been accused of building infrastructure as part of attempts to establish military bases in the region.
Beijing claims complete sovereignty over the South China Sea and has on several occasions also strongly opposed the entry of US warships.
China and the Philippines have competing claims to the Scarborough Shoal and parts of the Spratly archipelago, which is also claimed partially or entirely by Brunei, Malaysia, Taiwan and Vietnam.
Pence said that "every nation is free to follow its own path and pursue its own interests, where the seas and skies are open to all engaged in peaceful activity".
The Vice President announced that the US and Singapore had finalised two new deals that will facilitate the bilateral exchange of tax information as well as a plan to collaborate on cyber security.