Advertisement

A UN envoy on Monday voiced concern about political challenges that he said might derail the parliamentary elections in Afghanistan next month…reports Asian Lite News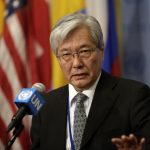 "Operationally and technically, the preparations are on track. Yet I remain very concerned that political challenges could jeopardize the tight timelines and derail the elections unless all political leaders engage constructively and peacefully to ensure that elections are held on time," Tadamichi Yamamoto, the UN secretary-general's special representative for Afghanistan, told the Security Council, Xinhua reported.
Security is also a serious concern, added Yamamoto, who is also head of the UN Assistance Mission in Afghanistan (UNAMA).
From a technical point of view alone, elections are possible, he said. "Candidates lists were finalized in time to enable the printing of the ballots to meet the deadline. The recruitment of the election officials is on track. The Independent Election Commission (IEC) announced that more than 9 million had registered to vote."
Many opposition parties, however, remain skeptical about the number of registered voters, citing both security concerns that would have prevented many people from registering and alleging fraud, said the UN envoy.
Several safeguards for the verification of the voters list and fraud prevention measures are being put in place. Despite these measures, skepticism remains, he said.
Over the last few days, supporters of a coalition of political parties started to block several provincial election commissions demanding that additional safeguards be put in place.
"These actions hinder the work of the IEC and jeopardize the holding of the elections on time. Political concerns must be addressed through institutional mechanisms and not through blockades," said the UN envoy.
The parliamentary elections will undoubtedly be a major test for Afghanistan's young democratic institutions, he said.