Advertisement

US Secretary of State Mike Pompeo has spoken with Iraqi Prime Minister Adil Abdul Mahdi, underlining the US-Iraq partnership to defeat Islamic State (IS)…reports Asian Lite News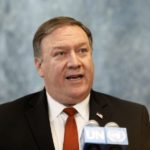 Pompeo, during the telephonic conversation, noted the US-led coalition would continue to work with Iraqi Security Forces to defeat the IS remnants, according to the State Department statement.
He also reiterated his support for the continuation and deepening of the US-Iraq partnership.
The two officials also discussed the territorial defeat of the IS in Syria, which was the rationale behind the Donald Trump-led US administration's decision to pull out US troops from Syria.
The pullout decision also led to speculation about possible adjustment of US military presence in Iraq.
Earlier this month, Iraq celebrated the first anniversary of full liberation of all Iraqi land from the IS militants.
Some observers noted that the influence of Iranian-allied factions in Iraq's political and security arenas might result in continued US military presence in the country.
There are 5,200 US troops currently deployed in Iraq's capital of Baghdad and the country's north and west.