Advertisement

The US State Department has said Secretary of State Mike Pompeo will travel to North Korea for further talks concerning the country's denuclearization…reports Asian Lite News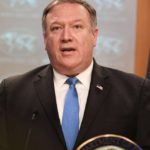 In a press briefing, State Department spokesperson Heather Nauert said that Pompeo will talk with North Korean leader Kim Jong-un
Pompeo would also travel to Japan, South Korea and China on October 6-8 to brief them about his visit, she added.
Noting that Pompeo is making his fourth trip to North Korea in less than a year, Nauert said, "we have quite a ways to go but we look forward to the next steps in this conversation."
Refusing to say that talks with North Korea has been stalled, she said "the secretary and the president said we're not going to set arbitrary deadlines in the interim. We're hopeful."
She added that "among the things that the secretary discussed were security assurances," referring to Pompeo's agenda in North Korea.
Nauert also said that "obviously these conversations are going in the right direction."
North Korea had earlier demanded the US take steps to secure Pyongyang's trust before its denuclearization.
"Without any trust in the US there will be no confidence in our national security and under such circumstances there is no way we will unilaterally disarm ourselves first," North Korean Foreign Minister Ri Yong Ho told the UN General Assembly.
Speaking before a meeting with South Korean President Moon Jae-in in New York recently, Trump announced that himself and Kim will hold a second summit "in the not too distant future".
After a meeting between Pompeo and Ri on the sidelines of the UN General Assembly on Wednesday, the State Department announced that Pompeo will travel to North Korea to discuss the second Trump-Kim summit.
In his speech at the UN General Assembly, Trump thanked Kim "for his courage and for the steps he has taken." But he added that much work remains to be done and that the sanctions against North Korea will stay in place "until denuclearization occurs".