Advertisement

At a recently held round table in London, Portugal strongly committed to strengthening partnership with Indian business, says Prime Minister António Costa….reports Asian Lite News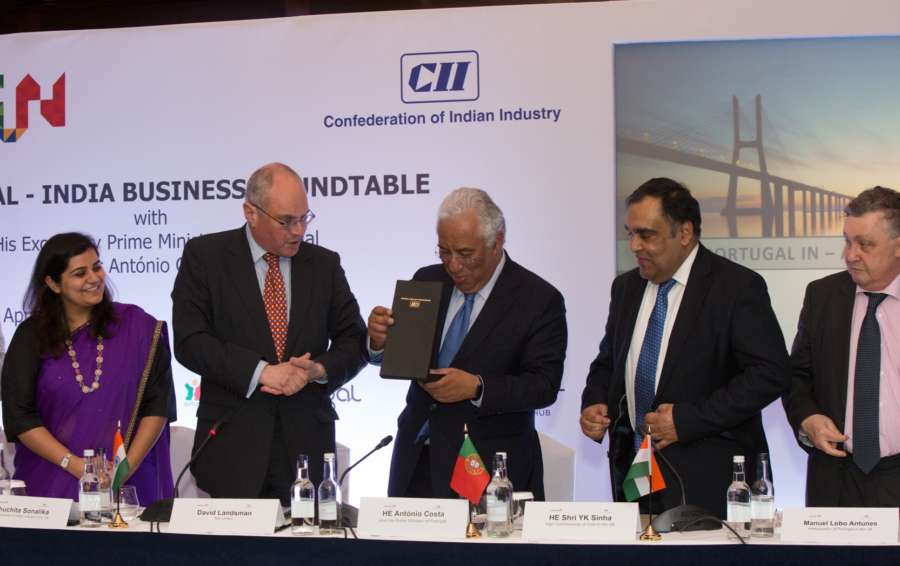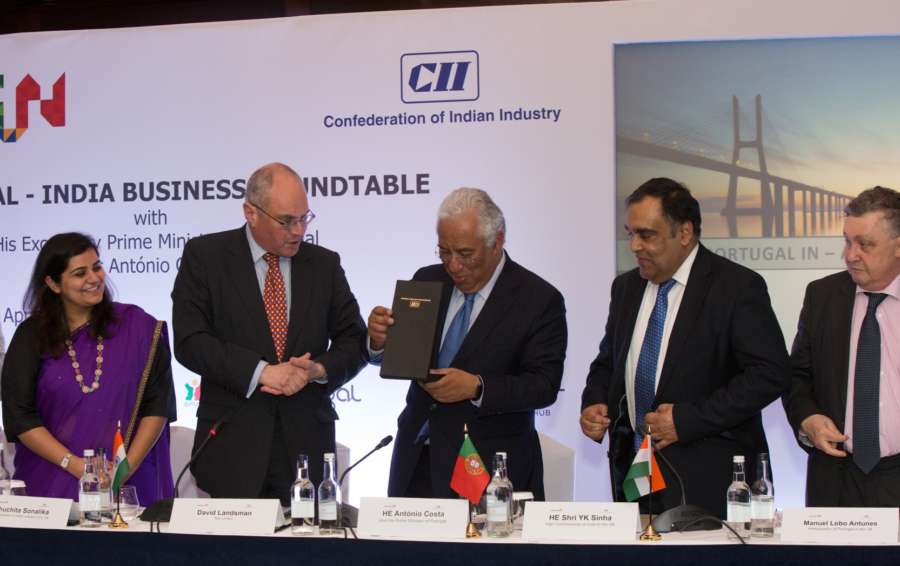 In a first of its kind interaction, a Portugal-India Business roundtable was held on 11 April 2018 in London with nearly 40 top Indian companies based in the UK with interests across Europe. A large Portuguese government and business delegation comprising of over 40 members, participated in the roundtable, which was addressed by His Excellency António Costa, Prime Minister of Portugal.
The Portuguese government delegation comprised of Mr Manuel Caldeira Cabral, Minister of Economy, Ambassador Manuel Lobo Antunes, Ambassador of Portugal in the UK, Mr Eurico Brilhante Dias, Secretary of State for Internationalization, Ms Rita Faden, Head of Cabinet of the Prime Minister, Mr Bernardo Trindade, Executive Director, Portugal In, and Ms Chitra Stern, Executive Committee Member, Portugal In.
A diverse range of major Indian-headquartered companies and Indian-owned entities were present at the interaction including the Hinduja Group, Tata Consultancy Services, Tech Mahindra, Wipro, ICICI Bank, L&T Infotech, Cox & Kings, Grange Hotels, Golden Tours, Taj Hotels, East End Foods, Dabur, Ty-Phoo, Piramal Pharma Solutions, Global Gene Corp, Usha Martin, Zee TV and others.
"India is a world leader in many areas but the strongest shining star is undoubtedly new technologies. Portugal too is leading Europe in new technologies, with many multinational corporations choosing our country as their digital, tech and innovation hubs in Europe. This sets the stage for deeper economic engagement between the two countries and to make Portugal even more attractive for Indian companies" said Prime Minister Costa.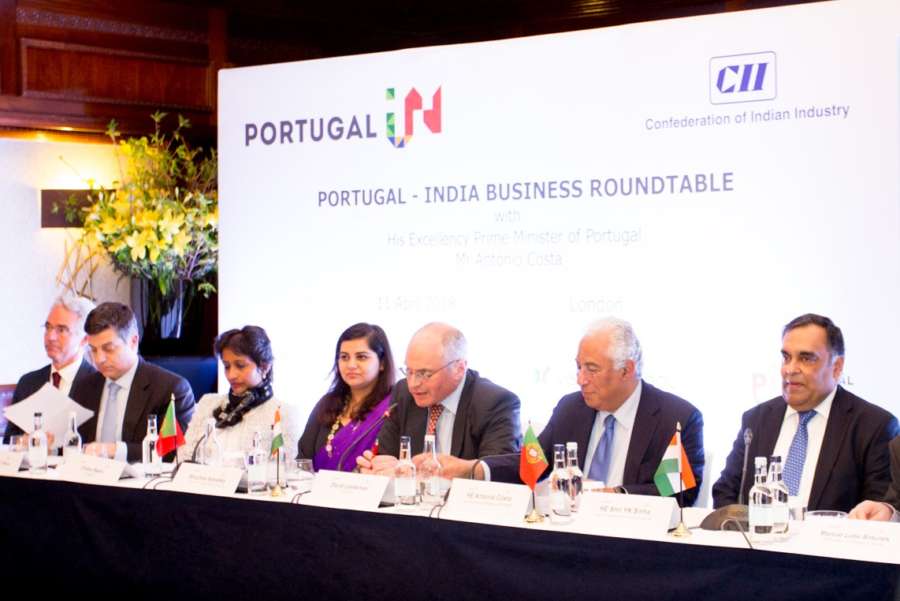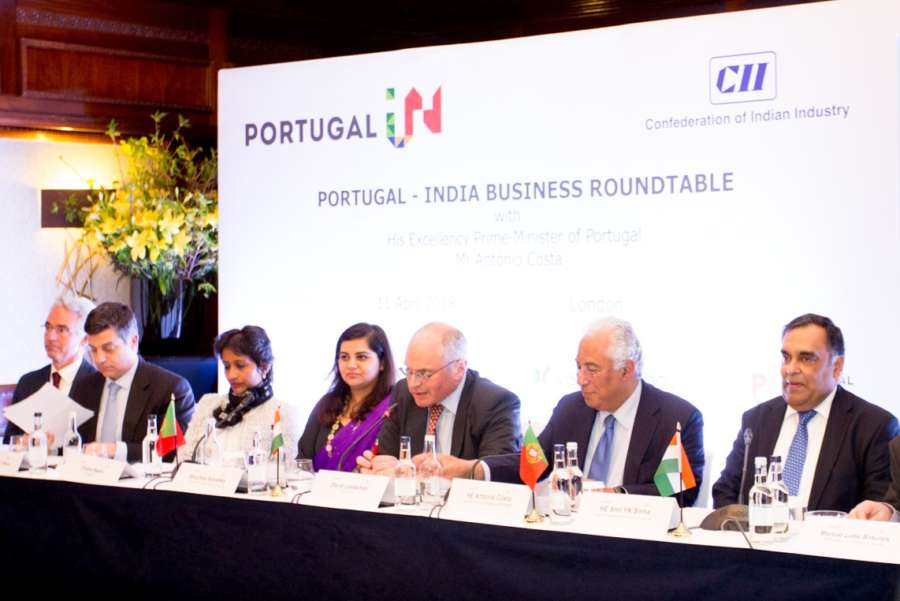 We are strongly committed to strengthening the partnership between the EU and India, based on a spirit of cooperation, reciprocity and mutual benefit, and I am delighted that PortugalIn and the Confederation of Indian Industry come together to facilitate collaboration between Indian and Portuguese companies", he added.
High Commissioner of India to the UK, Mr Y. K. Sinha, spoke about the warm and friendly relations between India and Portugal. High Commissioner highlighted the existing opportunities in India, the world's fastest growing large economy, and the various initiatives taken by Prime Minister Modi's government to boost India's economic growth. He emphasized that it was the right time for not only for Indian companies to enhance partnerships across Europe, but also for Portuguese companies to explore doing business in India.
The interaction with Indian companies was chaired by Dr David Landsman, Chair, CII India Business Forum (UK) and Executive Director, Tata Limited. "India is among the fastest-growing economies and Portugal is increasingly looking to the emerging economies for new opportunities, so both countries have an active interest in deepening economic engagement. After a few slow years, 2017 saw real growth in bilateral trade. Major Portuguese investors in India operate in the metals and manufacturing sectors, industrial machinery, construction and infrastructure.  Portugal's Golden Visa scheme to attract non-European investors has facilitated several important Indian investments, especially in the hospitality, renewable energy, IT and food sectors.   There's huge scope to do more together: the Prime Minister's visit and the time he has given to interacting with Indian businesses present a great opportunity to explore how we take the relationship to a new level," said Dr Landsman.
"We are deeply honored to organize this interaction for Indian industry in London with the Portuguese business and government delegation led by Prime Minister Costa, and appreciate his commitment to strengthening ties with India. The wide-ranging of interest in enhancing business between Portugal and India was evident in sector representation at the roundtable, including Information and communication technology, pharmaceuticals, financial services, and indeed, hospitality and tourism, food and beverage and fashion," said Ms. Shuchita Sonalika, Director, CII.