Advertisement

Anil Doshi, a London-based businessman and his wife Alka jointly laid the foundation stone of a new building for village primary school in Gundala (Jas) village of Rajkot district in Gujarat. This is the 84th project by Project 'Life' to help a school construct its new buildings and one more step by the non-governmental organisation towards accomplishing its mission of extending such help to 108 schools in the state….reports Asian Lite News


Mr Doshi and his wife Alka who were in Dubai for business reasons specially flew to Gujarat for the ceremony. The couple were joined by their family members and Shashikant Koticha, the managing trustee of Project 'Life' at the ceremony to lay the ceremonial foundation stone of the proposed new school building near Bileshwar, a shrine of Lord Shiva on the bank of river Goma in Gundala (Jas) village.
The Doshi couple, Mr Doshi's paternal uncle Kantilal Doshi and their other family members—Vijayaben Jasani, Vasantbhai Badani, Jitendra Jasani and Jayesh Badani— and office bearers and staff of Project 'Life' were warmly welcomed by village sarpanch Bharat Jejariya and Himmat Gohil, the head teacher of Shree Gundala (Jas) Village Primary School. The guests were seated in two richly-decorated tractor-trollies and were fondly carried in a kilometre-long procession from the entrance of the village to Bileshwar as villagers and students danced all the way to the tune of DJ music. The enthusiasm of the village residents and students apparently rubbed on Mr Doshi as he joined them in dancing while riding the tractor-trolley. Mrs Doshi, Project 'Life' joint executive trustee Meetal Koticha Shah, chief project officer Rushikesh Pandya and other staff members of the NGO also shook a leg while sharing the joy of the villagers.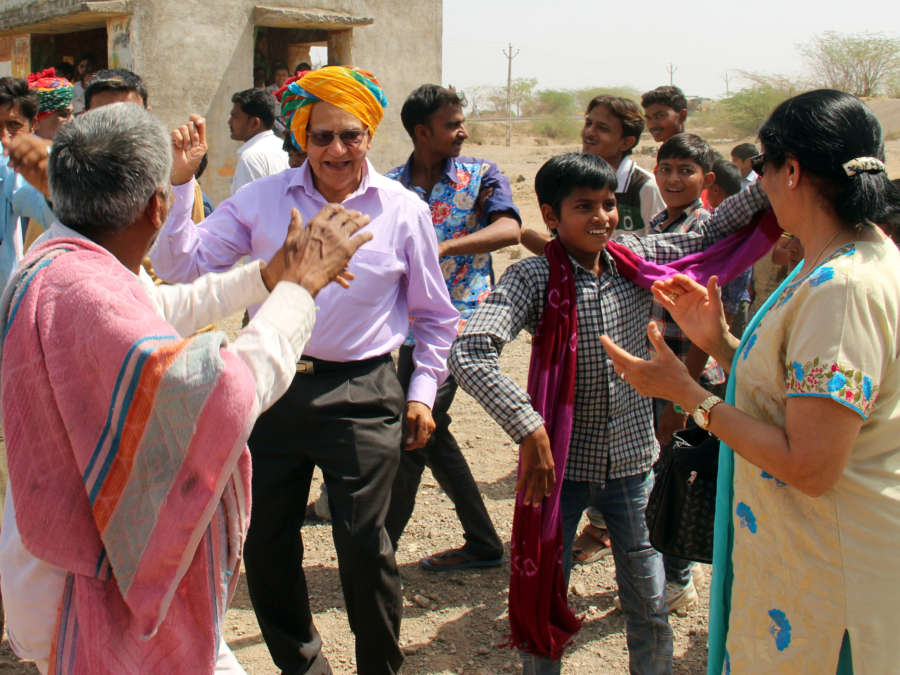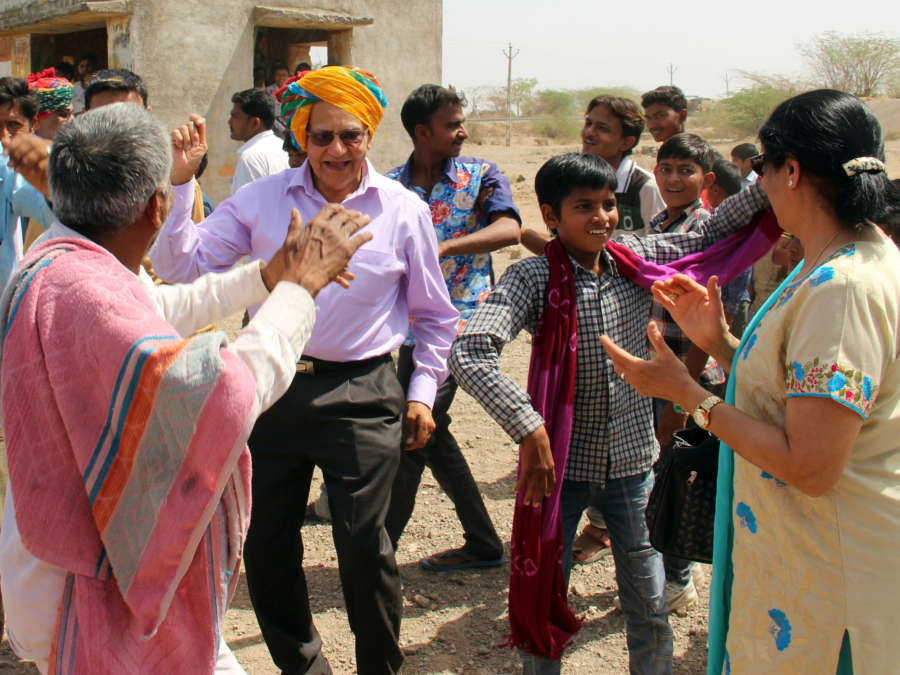 The procession culminated in a raas, a traditional folk-dance of Gujarat, on the campus of Government Secondary School at Bileshwar and joyous youth carried Mr Doshi and other guests on their shoulders as they revelled in an unbridled manner. It was one of the biggest and most important events in the history of the village, residents said.
After around 90 minutes of singing and dancing, the guests were seated on the stage set up for the foundation laying ceremony. Kantilal Doshi, the 93-year-old uncle of Mr Doshi presided over the ceremony where Vijyaben Jasani and Vasantbhai Badani were chief guests. Jitendra Jasani and Jayesh Badani, the family members of the Doshis were guests of honour.
Addressing the gathering, Shashikant Koticha said the project of constructing building for 84th school was unique for Project 'Life'. "During our long years of service in the field of education, I have never seen such a place where some intervention is required so desperately. I am happy to note that our school building project here will benefit 331 students, the highest any single project of the Project 'Life' has ever catered to. It has also been a revelation for us that notwithstanding lack of facilities, there is so much enthusiasm vis-à-vis education in such a remote village. I thank and bow my head to Anilbhai and Alkaben for selecting this village and pledging generous donation to support education of these children," said the managing trustee.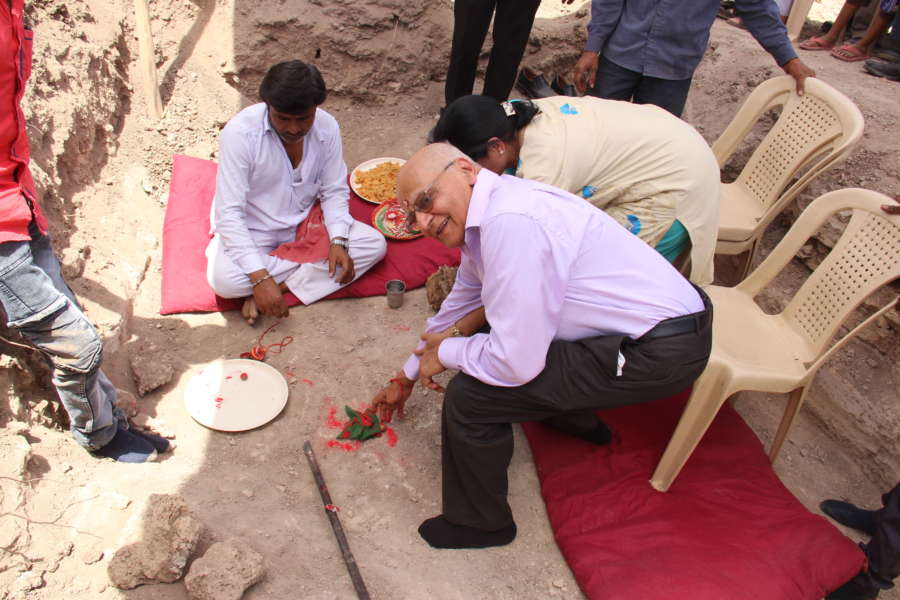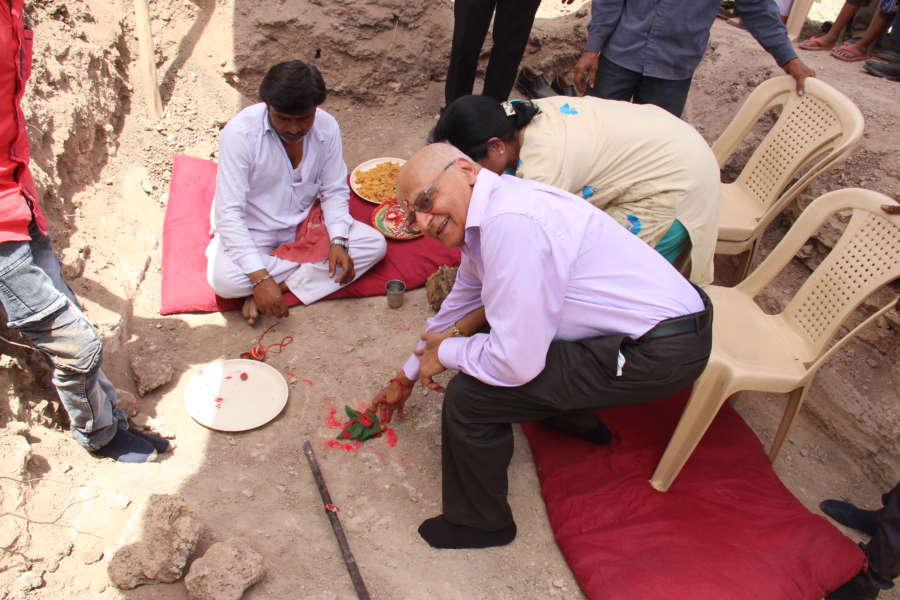 Mr Koticha appreciated the enthusiasm of team of young teachers of the school and promised to complete the construction of the new school building by winter. He also asked village elders to keep an eye on the activities of the school for overall welfare of students.
Meetal Koticha Shah appealed village residents to not discriminate against girls in matter of education and said that they were equal to boys in every respect.
In his brief address, nonagenarian Kantilal insisted on dedicated work. "In my life, I have worked for a number of organisations in various capacities but I have hardly made any speech ever. I am not adapt at making speeches and therefore don't propose to make one here either. All I want to tell you is to work with dedication and have spirit of service," said Kantilal who is living in Rajkot.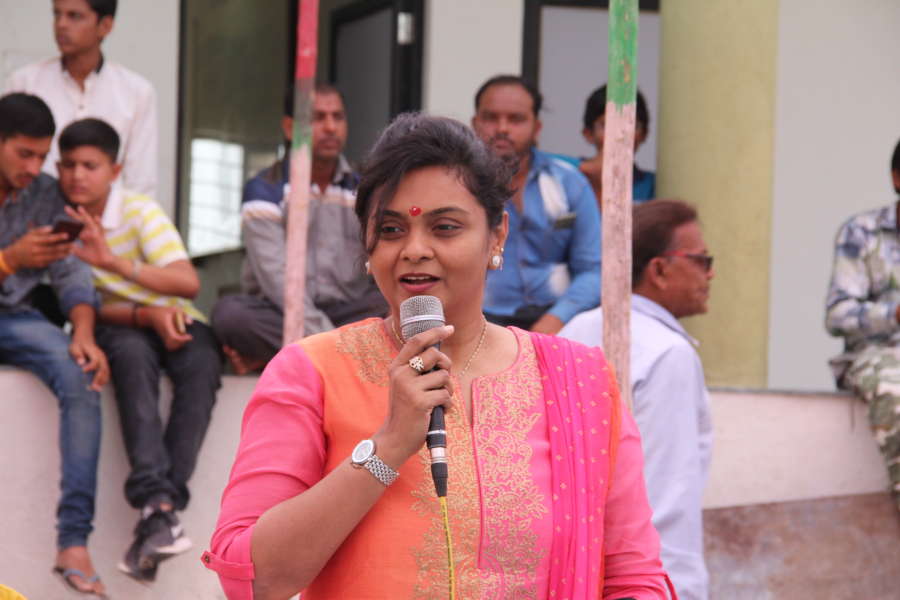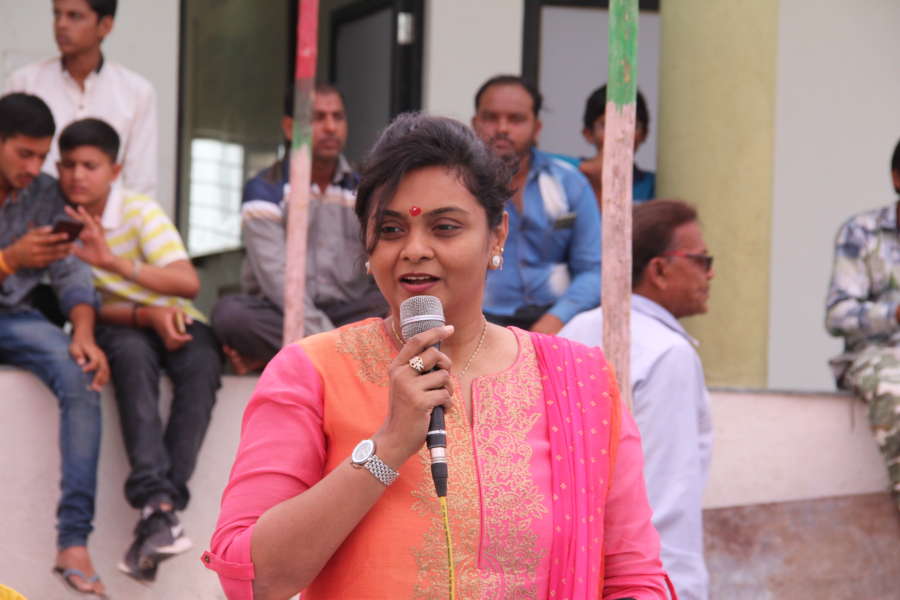 While expressing his views, Mr Doshi said he was very impressed by performance of girl students to the tune of popular Gujarati folk-singer Kinjal Dave's hit tane char char bangadiwali gadi lai dau (I shall buy you four-bangled car (of Audi brand) during the cultural programme. He borrowed goggles from his wife and tried to copy moves of the little girls, drawing a huge round of applause form the gathering. "Education is very important but equally important are educators—the teachers and I am impressed by the enthusiasm of teachers here. If they manage to transmit that enthusiasm to these children, I think you all will do very very well and my late parents will bless you," said Mr Doshi, himself a qualified chartered accountant, while addressing parents, students and teachers.
The 73-year-old businessman traces his roots to Amreli district in Saurashtra region of Gujarat though he was born in Sudan, the country his parents had immigrated to. He is a British citizen settled in London.
Mr Doshi also praised Project 'Life' for its services in the field of education in Gujarat. "There are lots of donors but very few people who work with dedication and ensure that donations are used judiciously and for right causes. Project 'Life' is doing fantastic work by taking up such projects and deserves accolades," he observed.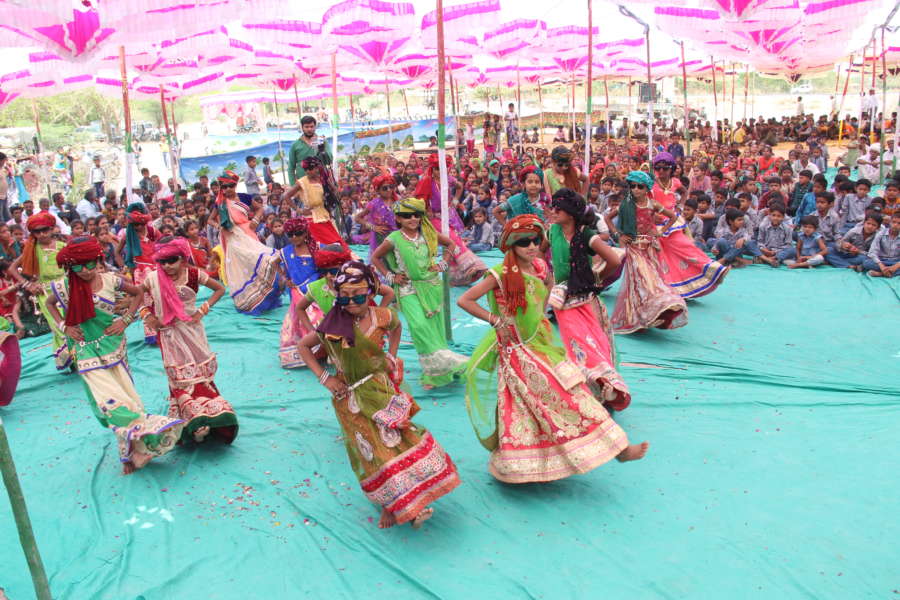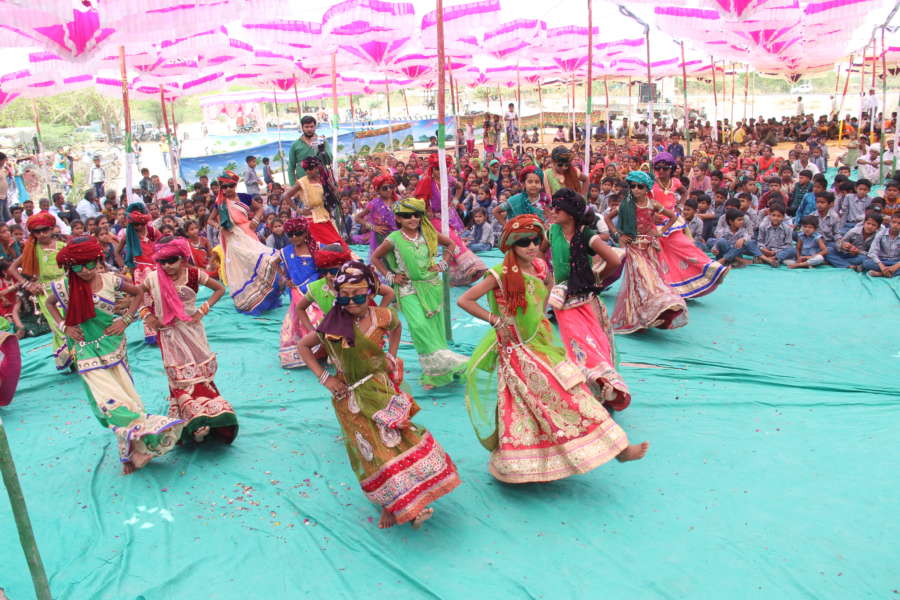 Later in the morning, the Doshi couple performed pooja of the ceremonial foundation stone in the presence of their family-members, Project 'Life" managing trustee and village residents. Mr Doshi sought blessings of this uncles and aunts before laying the foundation stone. "This is for you, my parents! Please bless us…"  Mr Doshi said as he turned emotional while jointly laying the foundation stone with his wife amid a long round of applause and chanting of mantras.
He urged students, teachers and parents to work hard and promised to continue his association with the school beyond the construction of its building. "You work hard and we shall take care of you via Shashikantbhai and his team and provide you opportunities," he said while citing his own example of how he opportunities to study and then to do business and grow in his life.