Advertisement

Russian Energy Minister Alexander Novak has accused the US of destabilising the global oil market, urging for wider cooperation between OPEC and non-OPEC producers to reach long-term stability…reports Asian Lite News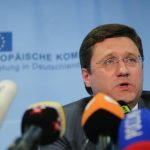 "The sanctions and the trade wars imposed by some powers will have an impact on the global economy and therefore on the oil market," Novak said  in his opening notes at the 10th OPEC and non-OPEC Joint Ministerial Monitoring Committee (JMMC) in Algiers, the capital of Algeria.
The Russian Minister was referring to the sanctions imposed by the US on Iran, a key oil producer, while "the trade wars" were referring to the ongoing trade conflict between the US and China.
Novak also said that when the production cut-off agreement reached in Algiers in 2016 expires at the end of 2018, "it will be necessary to think carefully to expand our cooperation to meet the rising challenges we face today and in the future."
"While oil markets are, for the moment, better off for both consumers and producers, we still have to avoid challenges that affect both parties," he said.
"All market stakeholders, either producers or consumers, are expecting from us to consolidate our solidarity and the approach we have created in order to maintain a long-term global market balance," the minister concluded.
The JMMC, co-chaired by Saudi Arabia and Russia, comprises four OPEC member countries, namely Algeria, Saudi Arabia, Kuwait and Venezuela, and two non-OPEC member countries, namely Russia and Oman.
It aims to ensure the achievement of the objectives of the Declaration of Algiers on reducing oil outputs by 1.8 million barrels a day to adjust production in the range of 32.5 to 33 million barrels per day to boost plunging prices.
Algiers meeting is expected to extend the 2016 agreement to an additional period to maintain prices at the current level.