Advertisement

Saudi Arabian Foreign Minister Adel Al-Jubeir  insisted that Crown Prince Mohammed bin Salman "absolutely" had nothing to do with the murder of journalist Jamal Khashoggi…reports Asian Lite News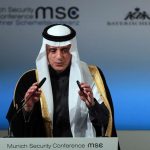 Al-Jubeir made the statement at a press conference in Riyadh, hours after Saudi Public Prosecutor requested death penalty for five key suspects involved in Khashoggi's murder in the Saudi consulate in Istanbul, Turkey on October 2.
The kingdom is committed to holding those involved in the murder accountable through the judiciary, and investigations into journalist's killing will continue until all questions are answered, Al-Jubeir said.
He highlighted that the defendants and the victim in the Khashoggi case are Saudis and that the incident took place on Saudi land.
The top Saudi diplomat said that there has been an attempt to politicize Khashoggi's case, which is regrettable.
"The Qatari media has launched an organized campaign against Saudi Arabia and are exploiting Khashoggi's case," Al-Jubeir noted.
Riyadh has cut ties with Doha since June 2017, citing Qatar's support to terrorism and extremism and close ties to Iran, Saudi's top rival in the region.
Saudi Public Prosecution revealed the details about the murder of Khashoggi, saying that he was murdered with an injection of a drug and his body was dismembered, after an altercation with a group of Saudi agents inside the Saudi consulate in Istanbul.
Khashoggi, a journalist for The Washington Post and a strong critic of Saudi government, disappeared on Oct. 2 after he entered the Saudi consulate in Istanbul to get documents for his marriage, sparking an investigation by the Turkish government and international pressure on Riyadh to reveal his whereabouts.
After initial denials, Saudi authorities admitted late last month that Khashoggi was murdered inside the consulate and 18 individuals in relation to the case were arrested.
Asked about possible international sanctions on Saudi Arabia for the Khashoggi case, Al-Jubeir said there is a difference between imposing penalties on those accused and holding the Saudi government responsbile.
At the same time, US Treasury Department announced sanctions on 17 Saudi officials over the murder of Khashoggi.