Advertisement

Saudi Arabia's Energy Minister Khaled al-Falih said that the Organization of the Petroleum Exporting Countries (OPEC) and its allies have agreed to reduce oil supply by 2019 to some 1 million barrels per day…reports Asian Lite News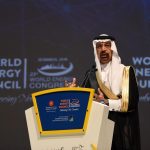 Al-Falih, who made his remarks at the Abu Dhabi International Petroleum Exhibition and Conference held in the United Arab Emirates (UAE), pointed out that the technical analysis reviewed showed the reduction was required to rebalance the market.
The Saudi Energy Ministry said on Sunday that Al-Falih appreciated the cooperation of all producers to ensure the "stability of the markets" and that there were "sufficient supplies".
For his part, Suhail bin Mohammed Faraj Faris Al Mazrouei, the UAE Energy Minister and President of the OPEC Conference in 2018 — said the member countries of OPEC, mainly the UAE and Saudi Arabia, were prepared to meet the needs of the world crude market in case of a fall in supply for political reasons.
The OPEC previously pointed to rising oil prices, while the experts of the organization pointed to geopolitical tensions, in reference to sanctions imposed by the US on Iranian crude since November 5.
Washington adopted the "strongest sanctions" it has ever imposed on Iran after US President Donald Trump decided in May to withdraw his country from the 2015 nuclear agreement signed with Tehran. The sanctions affect the sale of Iranian oil and companies around the world that buy Iranian oil.