Advertisement

Reiterating his support for Supreme Court nominee Judge Brett Kavanaugh, accused of sexual misconduct, President Donald Trump has said it is a "difficult" and "scary" time for young men in the US…reports Asian Lite News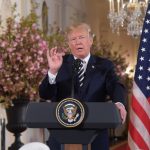 Speaking to reporters at the White House, Trump said: "My whole life I've heard, 'you're innocent until proven guilty', but now you're guilty until proven innocent. That's a very, very difficult standard.
"It's a very scary time for young men in America when you can be guilty of something that you may not be guilty of."
A vote to confirm Judge Kavanaugh has been delayed as the Federal Bureau of Investigation (FBI) probes the claims made by several women, which the judge denies.
Trump said he believed the Senate would approve the judge. His appointment would be expected to tilt America's top court in favour of conservatives for years to come, the BBC reported.
At a rally later in Southaven, Mississippi, Trump mocked last week's Senate testimony by Professor Christine Blasey Ford, without mentioning her by name.
Ford said Judge Kavanaugh, 53, assaulted her when they were teenagers.
The audience laughed as the president said: "Thirty-six years ago this happened: I had one beer! Well, you think it was…? Nope! It was one beer.
He mocked her saying that she did not remember any details — place, time, how she got home, — all that she could tell was that she had one beer. "That's the only thing I remember…. And a man's life is in tatters."
Trump then criticised those who he said was manipulating the accusers for political reasons. "They want to destroy people," he said. "These are really evil people."
As the crowd chanted: "We want Kavanaugh! We want Kavanaugh!" Trump said he was waiting to see what would come out of the FBI probe into his top court pick, and that he did not want to "interrupt" anything.