Advertisement

SEVA Trust UK awarded educational grants to low-income student girls of village Barundi District Ludhiana in Punjab. Handicapped boy Kamaljit Singh of village Sahauli received special support package….reports Asian Lite News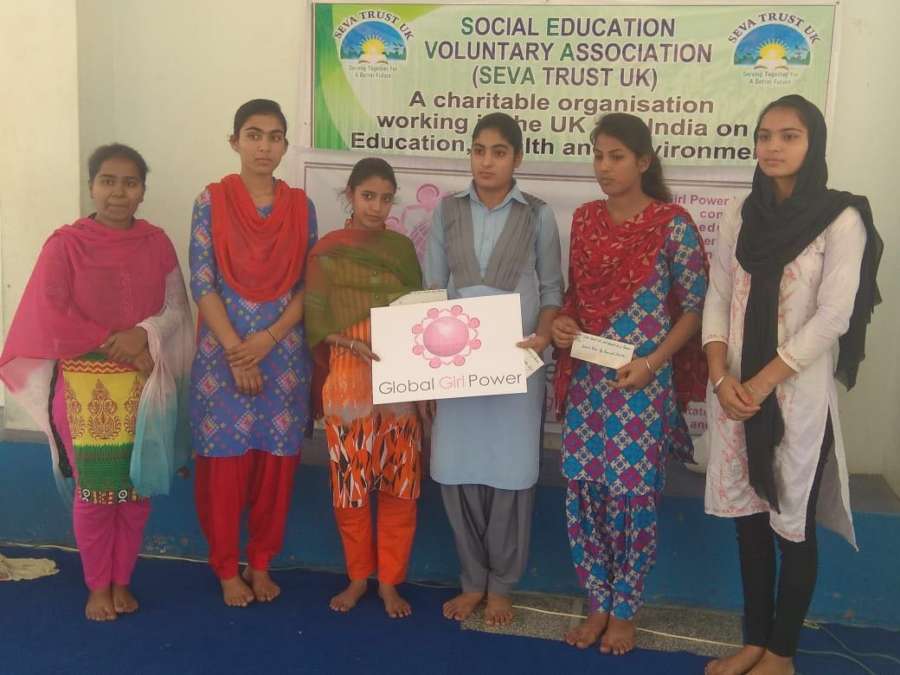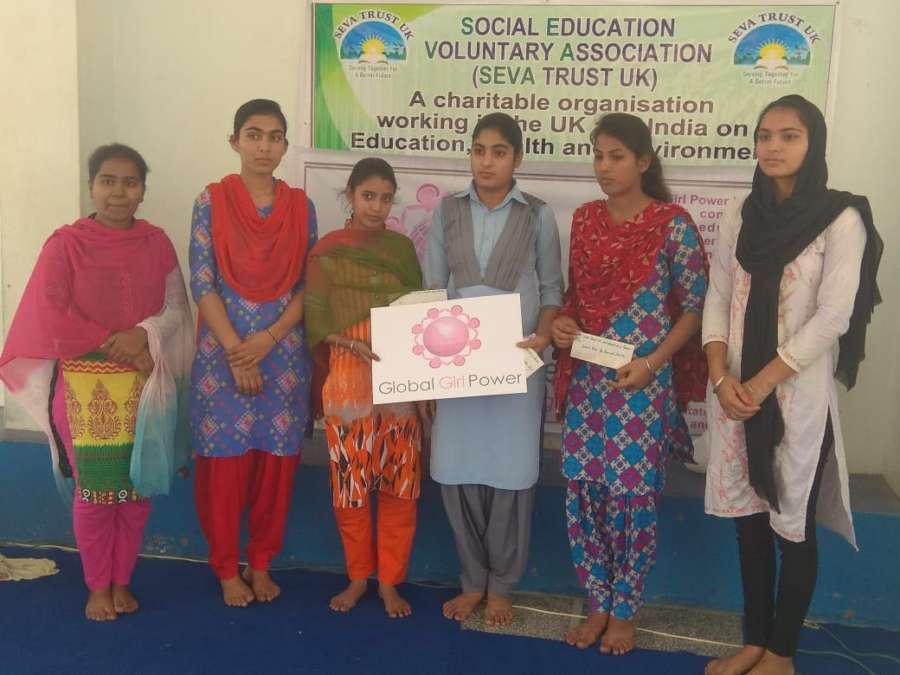 Social Education Voluntary Association (SEVA) Trust UK, an international charitable organisation working in Punjab and Haryana for the betterment of education, health and environment awarded educational scholarships and grants to low-income students. These grants were awarded to cover educational costs for a group of girls of village Barundi who are academically strong but unable to cover their costs due to very poor economic circumstances of their families. Manpreet Kaur, Prabhjoyt Kaur, Sapna Rani and Manprit Kaur received special grants to support their degree courses.
Kamaljit Singh of village Sahauli who is in 6th class and uses his feet to write due to severe disabilities that has affected his arms and legs, he also received special support package for his educational and medical needs. He topped in 5th class and became an inspirational role model of determination for all proving how to face hard life challenges. He also enjoys poetry and singing and shared a beautiful poem at a special function organised by SEVA Trust UK Team at Patti Sekhon in village of Barundi that was attended by The Sub Divisional Magistrate (SDM Raikot) Dr Kanu Thind PCS, SEVA Trust UK's Ludhiana Distt. Coordinator Kulwant Singh, Social worker & Retd Headmaster Narinder Singh, NGO Global Girl Power (GGP) officer Baljodh Singh Sidhu, students of rural schools, their families, teachers, rural community and social workers and Sekhon Patti Gurdwara management committee members.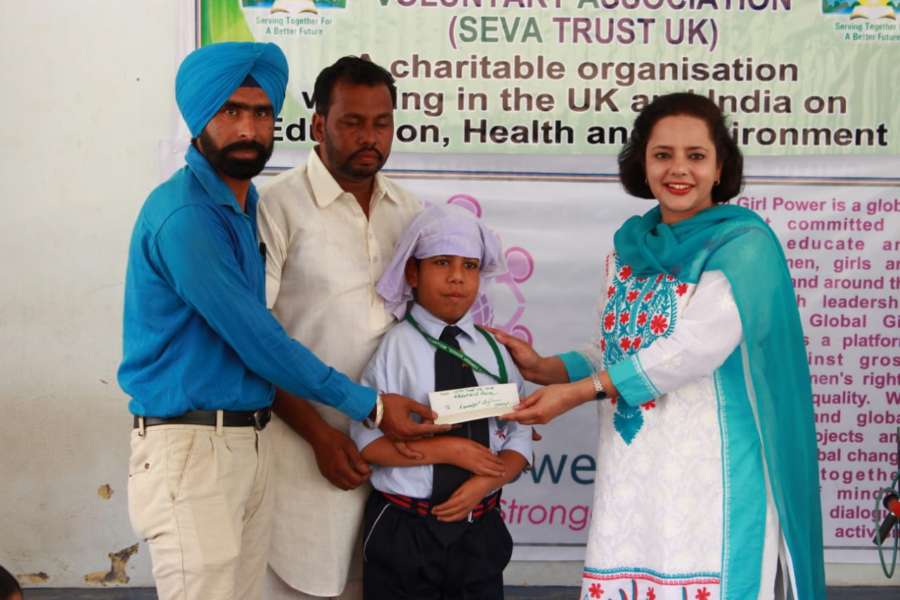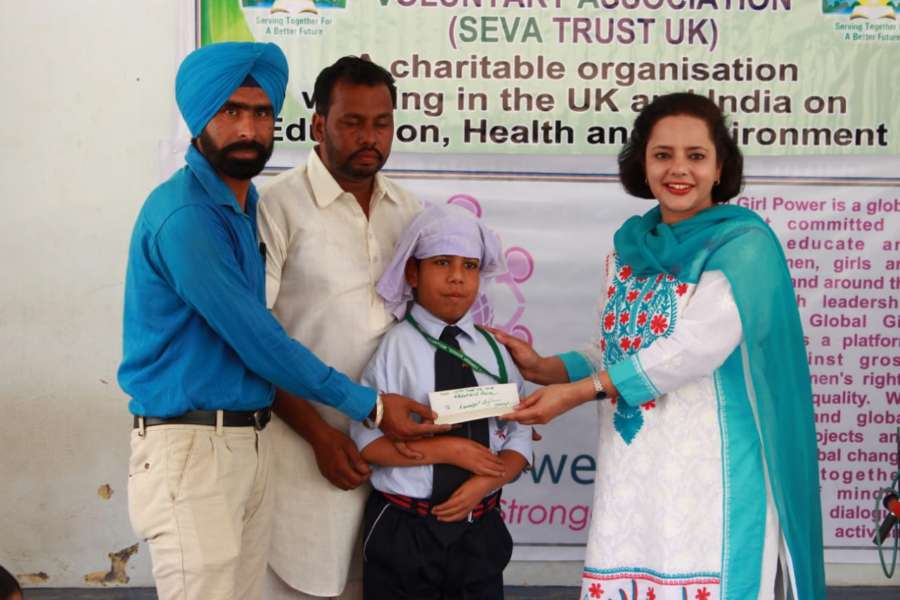 On behalf of SEVA Trust Kulwant Singh welcomed the guests and shared a message from the founder and chair of SEVA Trust UK Charan Kanwal Singh Sekhon who established SEVA Trust to support rural low income students. The Trust was launched in November 2016 in a function held at the UK parliament and received strong support from many British MPs, Community and Business leaders, Indian High Commission in the UK and UK's Deputy High Commissioner to India who was present at the launch. SEVA Trust is also playing an important role on many issues affecting Indian and Punjabi communities in the UK including London Amritsar direct flights campaign. Mr Sekhon said that key factor in selecting students by the Trust was their exceptionally challenging and tough family circumstances. In rural villages girls often pay the price of family hardship who ask girls to stop their education but with great support from Global Girl Power which is Canada Based NGO founded by Lucky Kaur Gill, SEVA Trust and Global Girl Power were jointly able to support these bright students. He said that since November 2016 when SEVA Trust started their projects in Punjab, various grants and financial support packages have been allocated to rural areas that has already helped 65 students.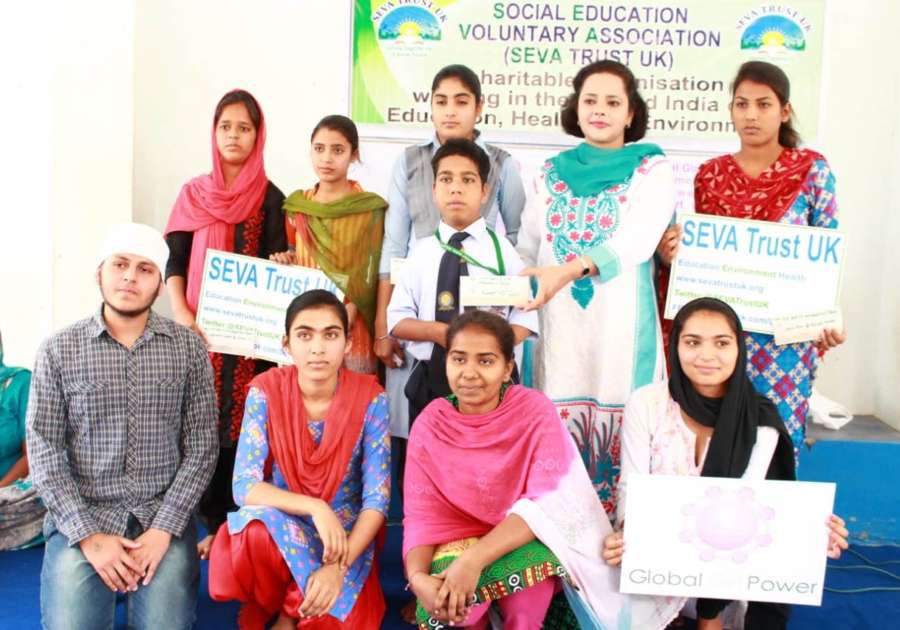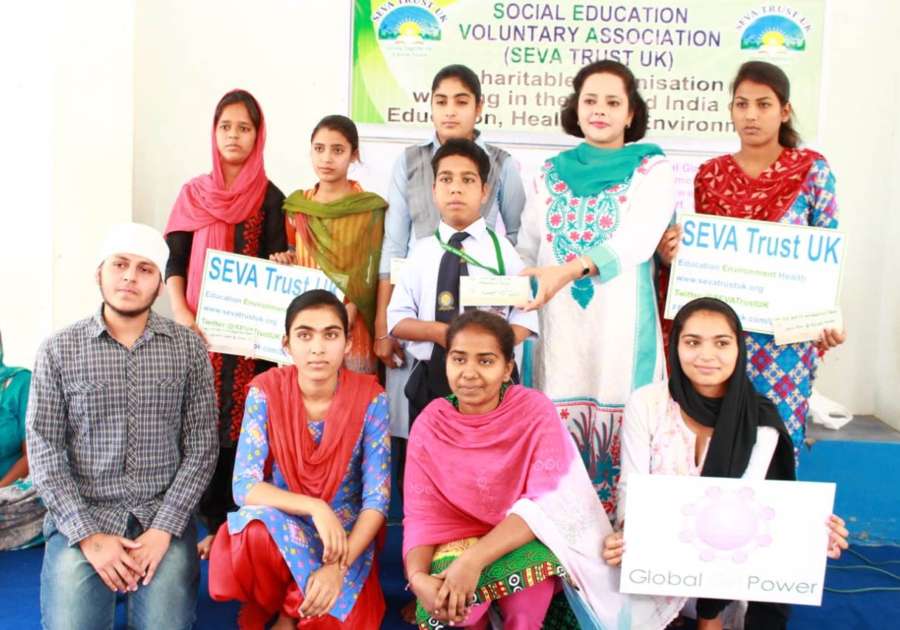 In April 2018 SEVA Trust and Global Girl Power (GGP) supported a victim of brutal acid attack, a 15 years old girl Anjali Rani of Ludhiana who suffered 50% burn. Both NGOs helped Anlaji's family for her medical treatment. Sekhon said both SEVA Trust and GGP will continue to work together to promote education and women empowerment in rural areas of Punjab. He said that education is the only tool that can reform our societies and SEVA Trust UK is working at grassroots levels with underprivileged families and students. He thanked Lucky Gill and GGP team for supporting the cause and working in partnership.
The chief guest SDM Dr Kanu Thind PCS disturbed the cheques and she said this a great initiative by SEVA Trust and Global Girl Power teams who are playing an important role for the betterment of rural students especially the girls and low income communities. She said she was really pleased with these efforts in her area and would be happy to support similar projects for future. She asked all students to work hard and said she will monitor their progress.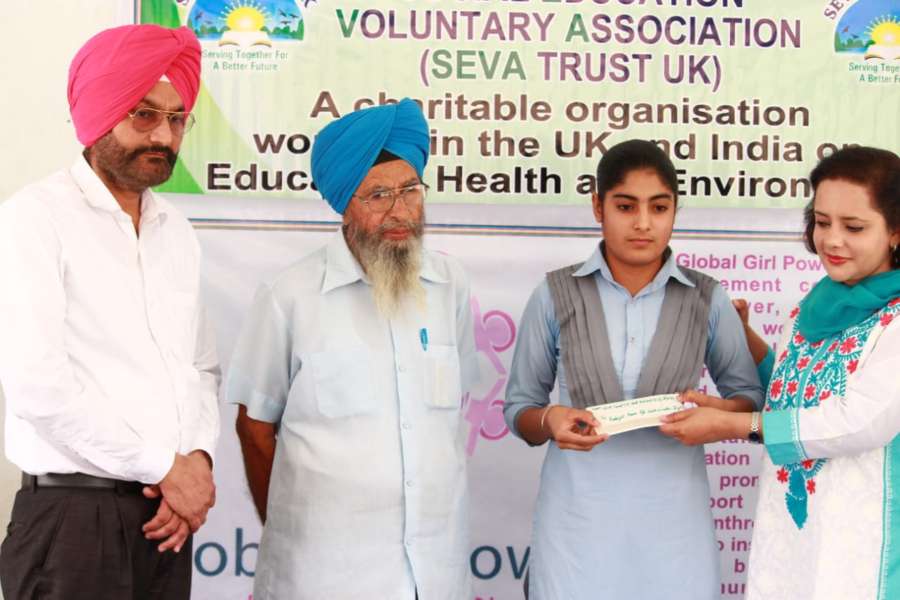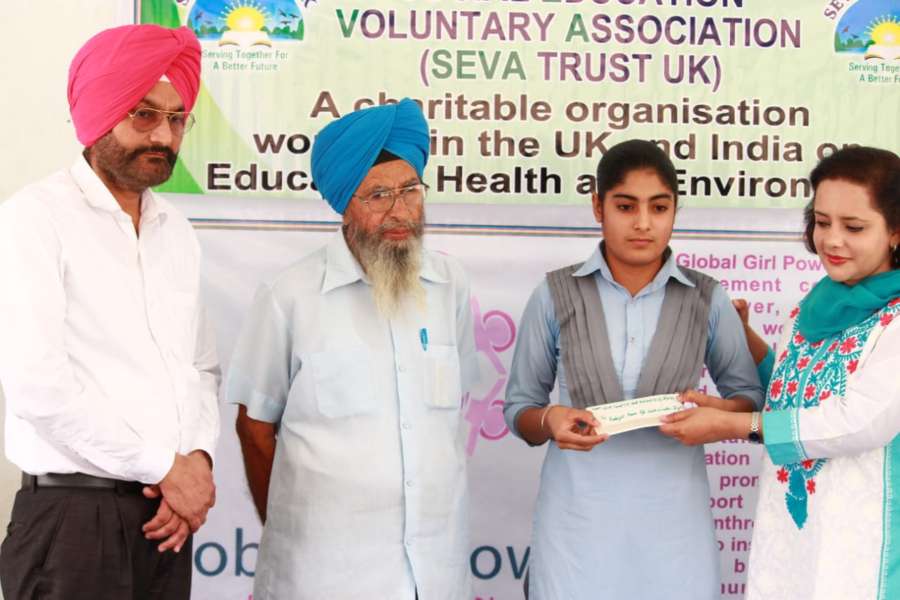 Retired Headmaster renowned social worker Narinder Singh Sekhon of Barundi who played key role in supporting many low income students of rural villages, thanked all the guests. He said that the Government schools are offering good education, parents should not only focus on private schools instead all communities need to work together to strengthen our current education system and every child should have a full and equal opportunity for best education at grassroots level.
The key highlight of the function was focused approach to help the needy families and it was a very simple function. Talking to the media SEVA Trust UK Ludhiana Coordinator Kulwant Singh said that all SEVA Trust UK team members are unpaid volunteers trying to serve the communities in best possible way. We do not wish to waste a single rupee on lavish functions or VIP gatherings. Every rupee received in donation goes to help the needy children. We all cover all our travel and personal costs form our own pockets and whenever any members of our UK SEVA Team visit Punjab, they all cover their own costs to ensure Trust costs are kept to a bear minimal and all donations are used for the cause not administration of the Trust. I am truly proud to be part of this noble cause said Kuwant.