Advertisement

Columnist Riccha Grrover in an exclusive interview with Supperclub hostess Deepa Nair who is a Foodie/Chef at The Gutsy Chutney and recently hosted an Onam Sadya Supperclub to donate all proceeds to Kerala Flood Relief.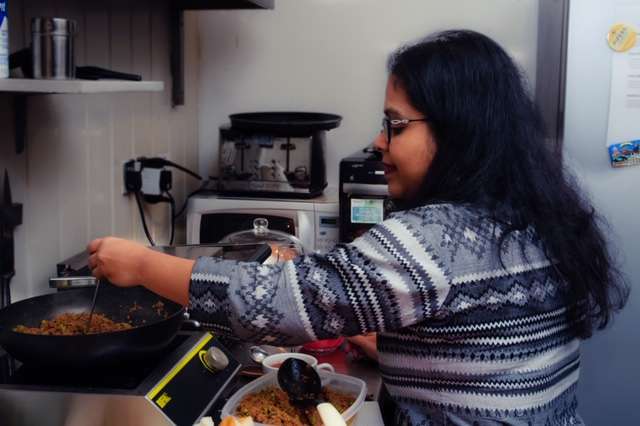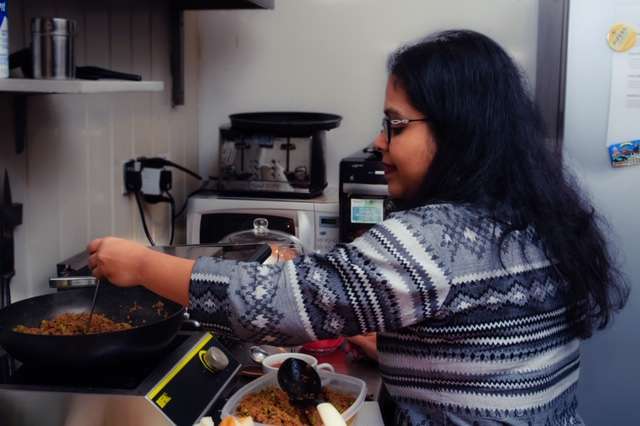 RICCHA GROVER- When did you set up Gutsy Chutney and start doing supper clubs? What made you decide to join in The Supperclub bandwagon which is very thriving in UK?
My first supperclub was on June 29th 2016. I attended a supperclub for my birthday in January that year and came out thinking 'I can do this, so I am going to give this a go'. I have always loved entertaining friends and family at home and this seemed like a natural progression.
RG-What's your favourite cuisine? What are your favourite eating jaunts in London? Do you incorporate some inspiration that you collect from these in your cooking and presentation? 
It is more favourite dishes rather than favourite cuisines for me and for me food is like a mood board, my favourite for 'I am too tired to cook' is Lebanese, favourite for 'I need a pick me up' is buttermilk fried chicken and so on. My husband says I don't talk about anything else apart from food these days! so everything from movies, books and restaurants I am looking for inspiration for my supper clubs.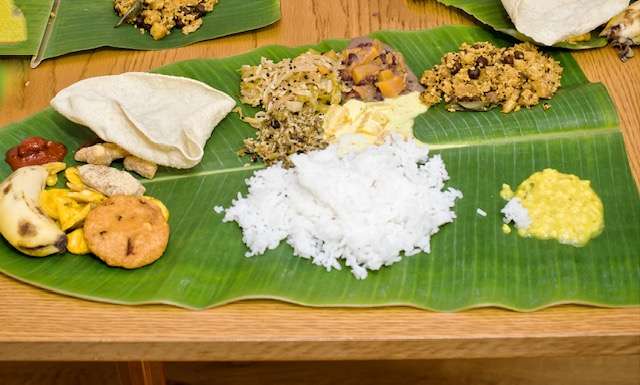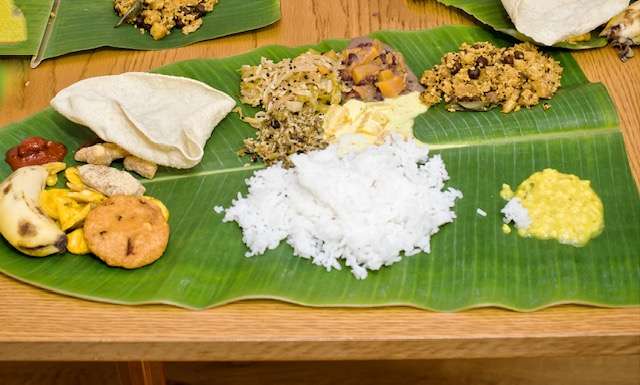 RG-Tell us all about your Onam Supperclub which is also supporting the cause of donating profits to kerela flood victims?

I have always done Indian tapas dishes for my previous supperclubs which was Indian in taste, but global in presentation. My friends have always said I should do one for the traditional Hindu festivals like Onam, Vishu, Diwali etc..this one was planned before the floods struck Kerala…I was thankful that none of my family were affected but contributing to the relief work seemed like the least I could do. Onam is one of the biggest festivals in Kerala, revolving around copious amounts of food and festivities, but this year the celebration in Kerala was absent or very muted so I wanted to do my bit…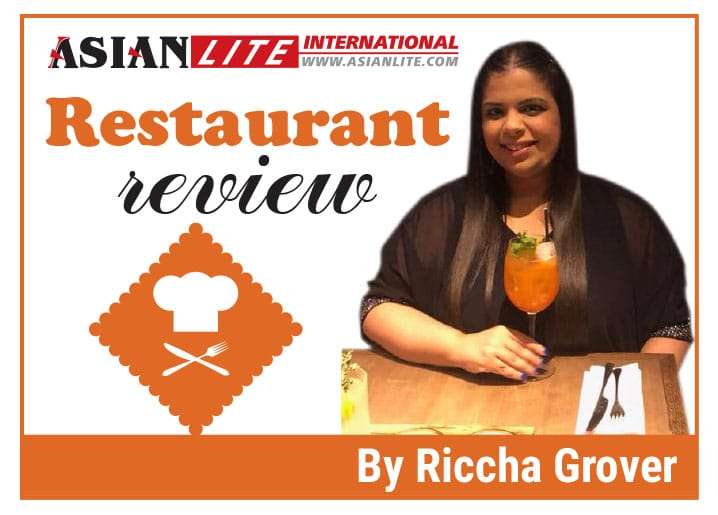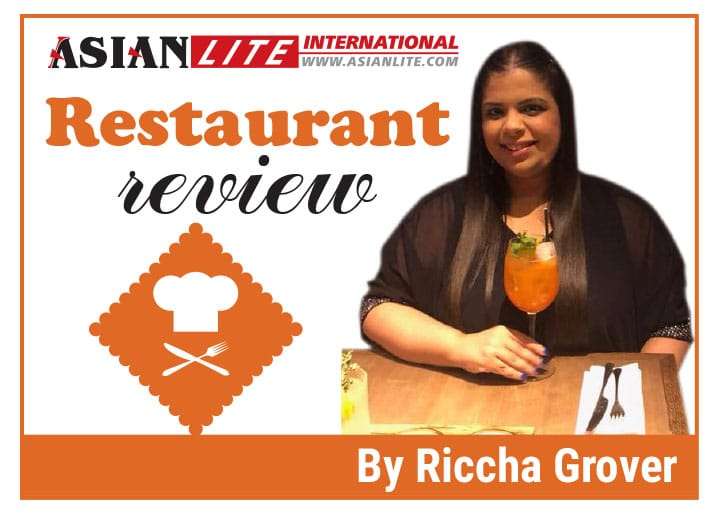 RG- How many Supperclubs old are you? What are the ones in pipeline in future that diners can look forward to? 
I host my supperclubs along side holding a full time job within the NHS and managing two toddlers (and a super busy husband!)..so I aim to host the supperclubs around their commitments roughly every 6-8 weeks or so. I have done over 10-12 now.
I have two events coming up in the next few days. An expectant mums supperclub with the National Childbirth Trust charity on Oct 3rd and a Yoga brunch at the Siobhan Dance studios on October 14th. So lots to look out for!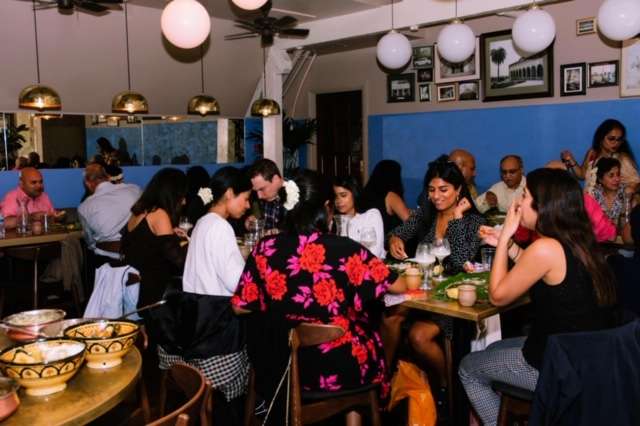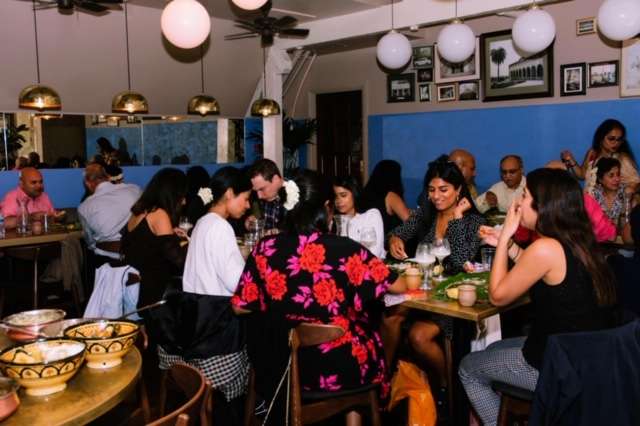 RG-What have been you high points that keep you motivated to host your Supperclubs? What would you say are the challenges involved in hosting these? 
The appreciation from the guests and the repeat customers are the greatest motivations for me. Comments like 'oh wow that's super yum' and 'I have been eating Indian for so many years but have never tasted this' from a full room of happy tummies makes the preparation and hard work worthwhile. I host all my events at restaurants or outside venues so it requires an extra level of preparation to ensure you have everything you need, you might need, and even what you might not need with you at the venue! You don't have the comfort of your home kitchen to fall back on and that takes a bit of planning and getting used to.
RG- How do you manage your career, family life and regular Supperclubs? What goes into preparation towards your events timewise in terms of planning and other resources? 
I tell all my friends I run my life on an Excel spreadsheet, sounds boring I know but that's the only way it is possible. I have times of the day associated for each aspect of my life and I try to stick to that to do justice to everything and everyone in my life.There is a lot of preparation ahead of the event, although I must admit 2yrs of doing it and it has become a well rehearsed routine. I only work on my supperclub or charitable interests after my kids are in bed, and before they wake up in the morning, so they get my time as well. And I am grateful to the flexibility afforded by my job that allows me to take time off to pursue my passion alongside. I hosted a supper club for my team once, after an all day team meeting, that was one of more stressful supper-clubs but it gave them an appreciation of what I did in my 'spare time'.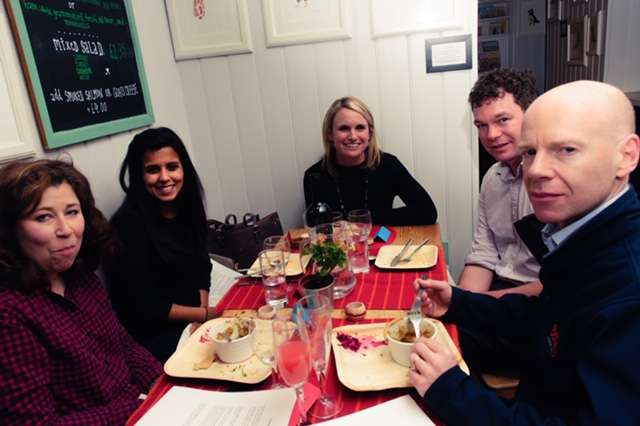 RG- How do you decide on a menu? Is it always a fixed menu on a particular theme Supperclub or do you vary it over time? Do you cater to your guests dietary needs if specified or logistically it's not easy to take varied requests bookings? 
My supperclubs are always worked around a theme, a different theme to suit the weather or a festival or both. The menu is then decided on that basis. There have been a few favourites that my repeat guests have said I dare not remove, so that stays on the menu, but I make sure there is something new to try every time. ALL dietary needs are catered for, it may not be easy but that doesn't mean its not possible. I catered for a 23 member film crew last year for 3 days, and the dietary requirements for that was on a very complex Excel spreadsheet ranging from 'no egg, wheat, white meat' to 'everything except coriander and cucumber' but it was possible, and everyone loved the food!!
RG- Tell us about food presentations, table decor, theme planning – do you do all of this yourself or do you have a team of helpers to support with different tasks such as these? Also how important is the overall feel and look of a Supperclub for you when it comes to hosting? 
I am a one-woman band at the moment, so cooking, décor, planning, plating its all me!! My husband and my 7yr old son are my chief tasters and critics and they definitely keep me grounded… A few months ago, when I made my dish pepper chicken tacos for the first time before adding it to the supperclub menu I gave it to my son with a smug 'I think this is pretty good' look on my face. His response was "Mummy its great for food to look good, but that's no use if it doesn't taste right, so let me taste it before you become so confident!!".. For me the overall experience at a supperclub is as important as the food itself…the décor and the venue needs to have a warm welcoming feel to it…A supperclub is an experience for all the senses, good company, good food, good venue all contribute to creating the feel.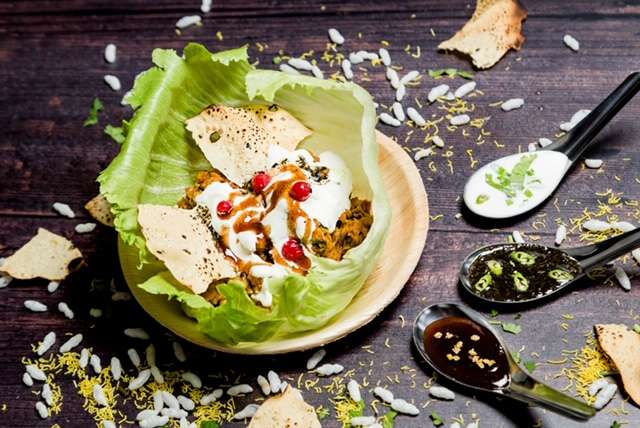 RG: What are your future plans- Any plans of venturing into a restaurant business? Do you also ever host cooking masterclasses or any such plans? 
I have huge respect for people who have ventured into the restaurant business from hosting a supperclub, the leap is big and the changes required are incredible. We are hosting our Onam sadya in one such incredible success story. To be honest I don't think I have enough experience of running supperclubs to make the leap yet, but never say never. Cooking masterclasses – now there's an idea, why not?!
RG- What would you say is the reason of the continued success of your Supperclubs? 
Honest good food, in smaller bites as well as educating people that there is more to Indian food than chicken tikka masala!
RG- Any words of advice or inspiration to budding enthusiasts for hosting their own Supperclubs?
Start small, plan the event to every little detail, and stay true to your taste buds…
#CookForKerelaSadya
Follow Deepa Nair Supper-clubs on https://m.facebook.com/thegutsychutney/