Advertisement

Myanmar State Counsellor Aung San Suu Kyi appealed to members of the Association of Southeast Asian Nations (Asean) to invest in her country…reports Asian Lite News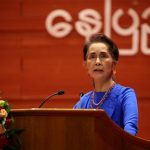 Suu Kyi, who called Myanmar the "last frontier of Southeast Asia", was delivering the keynote speech to the Asean Business and Investment Summit being held in Singapore.
"Reform measures have been undertaken to create a more attractive, investor-friendly environment in Myanmar," Suu Kyi said, describing her country as a "very new player in the market economy scene."
"We are very concerned with responsible business, because as a country that was under an authoritarian system for more than half a century, responsibility was something that many people were unaware of, because everything was taken care of by the authorities," she added.
The Nobel Peace Prize laureate highlighted the host nation Singapore's rapid development as an example for her country to follow and aspire to, but cautioned that it would take decades before Myanmar would start to see similar results to the city state's or other countries in the region.
Her appeal for foreign investment came amid widespread international criticism over her handling of the Rohingya refugee crisis, which has seen over 700,000 members of the mostly Muslim minority flee a military crackdown in western Rakhine state to neighbouring Bangladesh.
The two countries agreed to begin the repatriation process later this week, but international groups, including the UN, warned that conditions for their safe return were not met.
Suu Kyi, who was detained by the military dictatorship in Myanmar for over two decades, led her National League for Democracy party to power in 2015 to bring the dictatorship to an end.
Once seen as an icon for democracy, she has been widely criticized for her government's handling of the Rohingya crisis, which the UN has called "genocide" and "ethnic cleansing".