Advertisement

Former prime minister Tony Blair called on the British government and the European Union to prepare for the eventuality that Brexit could be pushed back in favour of further negotiations or a second referendum…reports Asian Lite News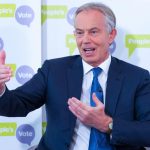 Blair, the former leader of the Labour Party, currently in opposition to the Conservative Party, made his comments in London at an event organized by the "People's Vote" campaign group, which was pushing for another vote on the UK's withdrawal from the EU.
"Between now and the 21st of January, we should see whether it is possible to find a majority consensus for any form of Brexit in Parliament," Blair said during a speech.
"In the meantime, we should prepare for the eventuality that there isn't such a consensus. Politicians should debate and discuss the different options."
"Europe should prepare for the possibility, now morphing into the near probability that Britain will require an extension of time to the Article 50 process, either to negotiate further, or more likely to conduct a new referendum, a people's vote," the former Prime Minister said.
According to Blair, the decision to leave would be "regretted by future generations" and he argued that Brexit was "manmade" and could therefore be "unmade by man".
The UK is on course to leave the EU on March 29, 2019, after the electorate narrowly voted in favour of such a move in June 2016.
Prime Minister Theresa May triggered Article 50 on March 29, 2017, setting in motion a two-year period of negotiations on the terms of her country's withdrawal from the EU.
A deal reached between EU and May was scheduled to be put to a vote in the UK Parliament, but the leader ditched the vote over fears it would be defeated.
She later turned to Brussels in a bid to secure assurances over the so-called Irish backstop — a mechanism that would come into force to prevent a hard border between Northern Ireland and the Republic of Ireland in the event of a no-deal Brexit scenario.
The EU, however, said there was no room to renegotiate the deal reached with the UK on its terms of leaving.
The backstop has become one of the main sticking points throughout the negotiations.