Advertisement

Canadian Prime Minister Justin Trudeau has said the US-Mexico-Canada Agreement (USMCA) is a good deal for the three countries…reports Asian Lite News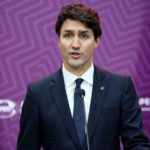 The USMCA came in the final hours before the deadline for Canada to come on board a re-negotiated trilateral deal. It will replace the North American Free Trade Agreement (NAFTA) once fully ratified.
At a press conference in Ottawa on Monday, Trudeau described the USMCA in principle as a preservation of many aspects of the NAFTA, Xinhua news agency reported.
He said the USMCA will modernise and stabilise the economy for the 21st century, and guarantee a higher standard of living for Canadians for the long term.
Striking the deal was no easy feat and Canada got there by maintaining its focus and collective resolve, Trudeau said, defending his negotiating team's concessions on the dairy sector, and promising to address the "anxiety" with adequate compensation for affected farmers and to protect the supply management system.
Noting that the agreement must still be ratified by the three countries, Trudeau said the tentative deal means economic stability for the continent.
Before the press conference, Trudeau and Canadian Foreign Minister Chrystia Freeland, who led the Canadian team of negotiators throughout the trilateral talks, spent Monday morning briefing premiers of Canadian provinces about the details of the new agreement which is expected to have an impact across industries and regions of the country.
On Monday morning, Trudeau spoke on phone with US President Donald Trump and Mexican President Enrique Pena Nieto.
In the talks, according to the Canadian Prime Minister Office, Trudeau and his North American counterparts praised the deal, and stressed how the deal will bring the countries closer and enhance North American competitiveness.
The leaders of the three countries are expected to convene before the end of November to sign the deal, which will allow outgoing Nieto to sign the new agreement before his successor Andres Manuel Lopez Obrador takes office in December.