Advertisement

US President Donald Trump has spoke about the possibility of not levying another round of tariffs on China — this time on $267 billion worth of imported Chinese goods — as the next step in the trade war he is waging against the Asian giant…reports Asian Lite News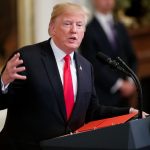 In a statement to reporters at the White House, the president said that Beijing "wants to make a deal" with Washington to resolve the trade dispute, which has led to the mutual levying of tariffs worth billions of dollars. He added that any deal would have to be "reciprocal."
Trump also said his government is weighing the possibility of not imposing a third round of tariffs on Chinese products worth $267 billion, a threat the president made last September and which would be in addition to the two previous rounds totaling $250 billion.
"We've put on tariffs on $250 billion worth of goods, and we have another $267 billion to go, if we want to. We may not have to do that. China would like to make a deal," he said.
The president also announced that this week Beijing sent a list of the changes it would be willing to make in the field of trade to answer Washington's requests.
Trump praised that "large list," though he said it's still "not acceptable to me yet," but expressed his optimism that "at some point" the trade dispute will be resolved.
The US president's statement about the chances of an agreement with China had an immediate impact on the Dow Jones Industrial Average, which scored a 200-point surge for its top increase of the day.
The subject of a trade war between the two powers will occupy part of the meeting planned between Trump and his Chinese counterpart, Xi Jinping, at the G20 Summit to be held in Buenos Aires from November 30 to December 1.