Advertisement

US President Donald Trump launched a global campaign against the "scourge of drugs" with links to terrorism and asked for coordinated action to "save the lives of countless people in all corners of the world"…reports Asian Lite News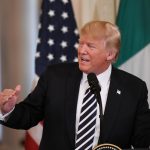 India is one of about 130 countries that have signed the pledge to fight the drug menace that was drafted by Trump to launch his campaign.
The signatories commit to developing national action against drug addiction, block at their borders and strengthen international cooperation against drug trafficking.
"Illicit drugs are linked to organized crime, illegal financial flows, corruption and terrorism," Trump said in a brief speech at the High-Level Event on Counter-Narcotics convened by him on the eve of the annual UN General Assembly meeting that brings together world leaders.
UN Secretary-General Antonio Guterres backed him with a call for "targeting the links between drugs, corruption, arms, human trafficking and terrorist networks" and "improved intelligence-sharing and analysis across the entire drug supply chain".
"Denying safe haven to drug traffickers – and better cross-border cooperation to pursue kingpins and dismantle networks," was essential, he added.
While Trump has been a critic of the UN, this time he gave it some credit, saying" "The UN has plenty of potential and that potential is being met, slowly but surely."
On Sunday, Syed Akbaruddin, India's Permanent Representative to the UN, told reporters that India was an early cosponsor of the pledge and noted that drug trafficking was used to finance terrorism, which impacts India horrendously.
Highlighting the magnitude of the problem, Guterres said that about 450,000 people die every year from drug overdose and 31 million people around the world required treatment for addiction.
According to US government data, 72,000 people died from drug overdose, mainly due to opioid use.
Fighting addiction is a personal crusade for Trump who has said he does not even take alcohol after seeing his brother die of alcoholism.
Moreover, his primary voter base of white working and lower middle class people are bearing the brunt of the opioid crisis in the US from the misuse of pharmaceuticals.
Some international leaders boycotted the meeting and refused to sign the pledge.
New Zealand Prime Minister Jacinda Ardern, who is among them, said that her country preferred an approach more suited to her country and one that emphasised a health-based approach.