Advertisement

US President Donald Trump struck a political tone during a Thanksgiving call with American service members stationed around the world as he steered the conversation toward controversial political topics…reports Asian Lite News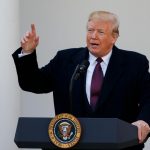 Speaking with a US general in Afghanistan, Trump likened the fight against terrorists to his efforts to prevent a group of migrants from illegally entering the US, and he assailed federal judges who have ruled against his administration.
The President also pressed the commanding officer of a Coast Guard ship in Bahrain on trade before touting his trade policies and arguing that "every nation in the world is taking advantage of us".
US Presidents have traditionally called troops stationed abroad during the holidays to boost morale and remind the country of their service.
After the call wrapped, Trump entertained more than two dozen questions from reporters and once again discredited a CIA assessment about the killing of Washington Post journalist Jamal Khashoggi.
Trump also drew on US men and women in uniform to justify his controversial deployment of nearly 6,000 US troops to the southern border.
Without evidence, he painted Air Force Gen. David Lyons as a proponent of his hardline immigration policies after Lyons said US troops are fighting in Afghanistan to prevent terrorists from reaching "our shores again".
The topic brought Trump to another familiar airing of grievances, as he complained over the phone that the Ninth Circuit Court of Appeals has "become a big thorn in our side".
"It's a terrible thing when judges take over your protective services, when they tell you how to protect your border. It's a disgrace," Trump said.
Trump also defended his daughter, Ivanka, after it emerged earlier this week that she had used a private email account to discuss or relay official White House business.
He called her use of personal email — which appears to have violated federal records laws — "very innocent".
At one point, Trump was asked what he was most thankful for on this Thanksgiving, CNN said.
"For having a great family and for having made a tremendous difference in this country," Trump said.
"I've made a tremendous difference in the country. This country is so much stronger now than it was when I took office that you wouldn't believe it."