Advertisement

US President Donald Trump on Tuesday praised the work of Argentine counterpart Mauricio Macri in the face of an economic crisis, and expressed his support for Buenos Aires's request to accelerate the disbursement of an approved IMF credit…reports Asian Lite News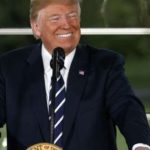 "President Macri is doing an excellent job with this very difficult economic and financial situation," Trump said in a press release, adding that he had spoken by telephone with the Argentine head of state.
Argentina's central bank has raised its benchmark interest rate to 60 percent in a bid to stop the peso's plunge against the dollar.
"I have confidence in President Macri's leadership, and I strongly encourage and support his engagement with the International Monetary Fund to strengthen Argentina's monetary and fiscal policies to tackle the country's current economic challenges," Trump said.
The White House released the Trump statement hours after the Argentine government disclosed the conversation between the two heads of state.
During the conversation, which lasted 15 minutes, Trump said that "he is aware of the juncture" and welcomed Macri's proposal for a state visit November, during the G-20 Summit in Buenos Aires, the Argentine government said.
The conversation took place the same day that the team helmed by Argentine Economy Minister Nicolas Dujovne met in Washington with IMF head Christine Lagarde to renegotiate the accord signed in June on a $50 billion stand-by credit line for Argentina.
On Aug. 31, the White House officially announced Trump's visit to Argentina for the Nov. 30-Dec. 1 G-20 Summit.