Advertisement

President Donald Trump said he will take charge of writing the real book about his government in response to the new publication about the White House by respected journalist Bob Woodward, who has been very critical of the current head of the state…reports Asian Lite News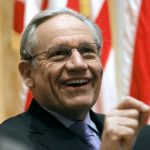 "The Woodward book is a Joke. Just another assault against me, in a barrage of assaults, using now disproven unnamed and anonymous sources," Trump said on Twitter
"Many have already come forward to say the quotes by them, like the book, are fiction. Democrats can't stand losing. I'll write the real book!" he added.
Since last week when several extracts were revealed of the book titled "Fear: Trump in the White House" which goes on sale this Tuesday, the President has repeatedly blasted the journalist whose work he describes as a "scam," Efe news agency reported.
The book pictures the White House as a "Crazytown" ruled by the erratic behaviour of the President.
In one of the scenes described in the book, soon after taking office, Trump asked the Pentagon for a plan to launch a preventive military strike against North Korea, while criticizing the high cost of protecting South Korea.
Defence Secretary James Mattis left a meeting with Trump about that request "exasperated and alarmed," and told people in the President's inner circle that he had "acted like – and had the understanding of – 'a fifth- or sixth-grader,'" according to Woodward.
Woodward, whose 1974 reporting of the Watergate case in the Washington Post led to President Richard Nixon's resignation, said he based his book "Fear" on interviews with witnesses to the hidden secrets of the White House, who spoke on condition of anonymity.