Advertisement

US President Donald Trump again criticized Europe's unfair military relations with his country and said its nations can either pay Washington for military protection or protect themselves…reports Asian Lite News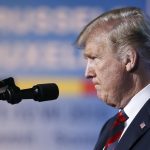 "Just returned from France where much was accomplished in my meetings with World Leaders. Never easy bringing up the fact that the US must be treated fairly, which it hasn't, on both Military and Trade," Trump tweeted.
The President said the US pays for "LARGE portions of other countries military protection hundreds of billions of dollars, for the great privilege of losing hundreds of billions of dollars with these same countries on trade."
"I told them that this situation cannot continue – It is, and always has been, ridiculously unfair to the United States…It is time that these very rich countries either pay the United States for its great military protection, or protect themselves," he added.
Trump returned Sunday night from France, where he took part in the commemoration of the 100th anniversary of the end of World War I (1914-1918) and displayed once more his tense relations with European leaders.
His arrival started with a controversy – he had no more landed Friday in Paris when he tweeted that he considered it "very insulting" that Macron proposed mounting a European army "in order to protect itself from the US, China and Russia."
Later the two leaders had a bilateral meeting in which they lowered the tone and insisted on cooperation between the transatlantic allies.
"I think we had a very clear discussion. He is in favor of a better burden-sharing within NATO. I agree with that. And I think that in order to have a better burden-sharing, all of us do need more Europe," Macro said in an interview on CNN.
Though the French president avoided describing the US president's message on arrival in Paris as a mistake, he did say that "I always prefer having direct discussion or answering questions (than) making my diplomacy through tweets," Trump's favorite form of communication.