Advertisement

US President Donald Trump has slammed Attorney General Jeff Sessions for deigning to indict members of his own party just weeks before the midterm elections…reports Asian Lite News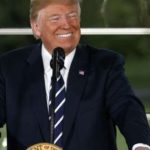 President Trump blasted Sessions and lamented the indictments of Duncan Hunter and Chris Collins who were his earliest supporters in the Congress during the 2016 election, suggesting they should not have been charged because they are Republicans.
"Two long running, Obama era, investigations of two very popular Republican Congressmen were brought to a well publicised charge, just ahead of the Mid-Terms, by the Jeff Sessions Justice Department," Trump tweeted.
"Two easy wins now in doubt because there is not enough time. Good job Jeff…"
New York Congressman Collins was charged with insider trading in August — he made a possibly incriminating phone call on White House grounds.
While California's Hunter is accused of engaging in graft over many years, which includes disguising personal purchases as benefits to military veterans, the Time said.
The comment on Monday was the latest indication that Trump, who ran on a pledge to "drain the swamp", believes his political allies should be immune from prosecution, regardless of the evidence stacked against them, the CNN said.
The Justice Department declined to comment on the President's tweets.