Advertisement

US President Donald Trump on Monday said that he had an "excellent" telephone conversation with Brazilian President-elect Jair Bolsonaro, with whom he promised to work "closely" on trade and security…reports Asian Lite News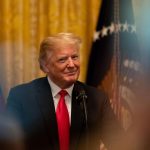 "Had a very good conversation with the newly elected President of Brazil, Jair Bolsonaro, who won his race by a substantial margin. We agreed that Brazil and the US will work closely together on Trade, Military and everything else!" Trump said on his official Twitter account.
"Excellent call, wished him congrats!" he added.
State Department spokesperson Heather Nauert also on Monday discussed the Brazilian presidential run-off election and confirmed in a statement that the US and Brazil, "as two of the largest democracies and economies in the world, … are working together to address the 21st century's most pressing global and regional challenges."
"The US and Brazil share a vibrant partnership based on our mutual commitment to promote security, democracy, economic prosperity, and human rights," she added.
Bolsonaro, an ultrarightist lawmaker, on Sunday won the run-off election garnering 55 per cent of the votes, soundly defeating his progressive rival Fernando Haddad, with the Workers Party, who obtained 44 per cent.
The president-elect said that he wants his foreign policy to do away with "ideological trends," bring Brazil closer to the more developed nations and recover "international respect."
In the commercial realm, he called for trade with "the entire world" but "without prejudicing the interests of our businessmen and our industries."
Ideologically, Bolsonaro has adopted radical stances including defending the military dictatorship that governed Brazil from 1964-1985 and repeatedly making macho, racist and homophobic statements.
The 63-year-old Bolsonario, who was stabbed in the abdomen during a campaign event and spent more than three weeks in the hospital during the final stretch of the first-round race, will take office on January 1, succeeding Michel Temer.