Advertisement

UK Parliament marked International Women's Day by flying a flag in its honour above Portcullis House. 2018 marks 100 years since The Representation of the People Act 1918 extended the right to vote to all men over 21 and the first women, making this one of the most important centenaries in British democratic history…..reports Asian Lite News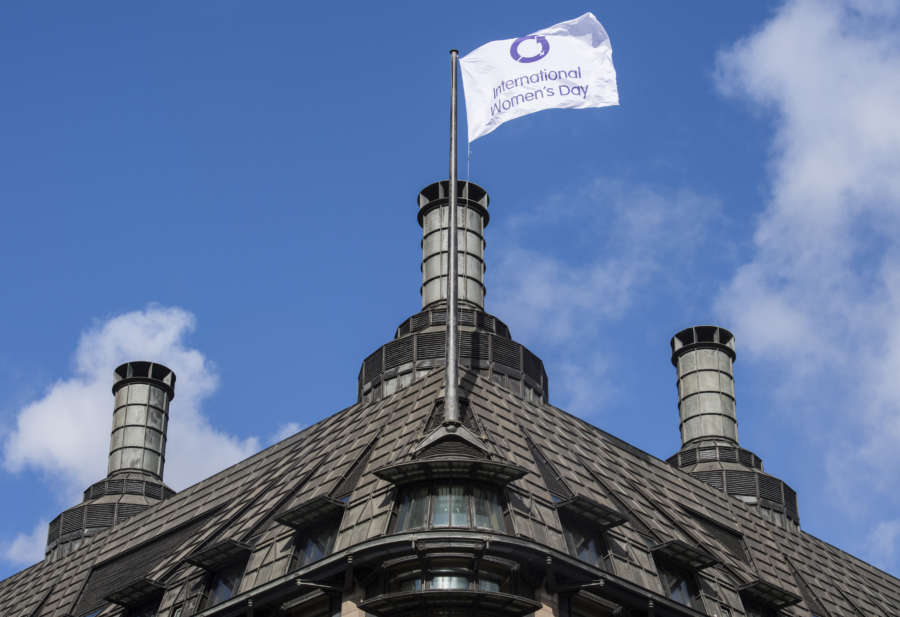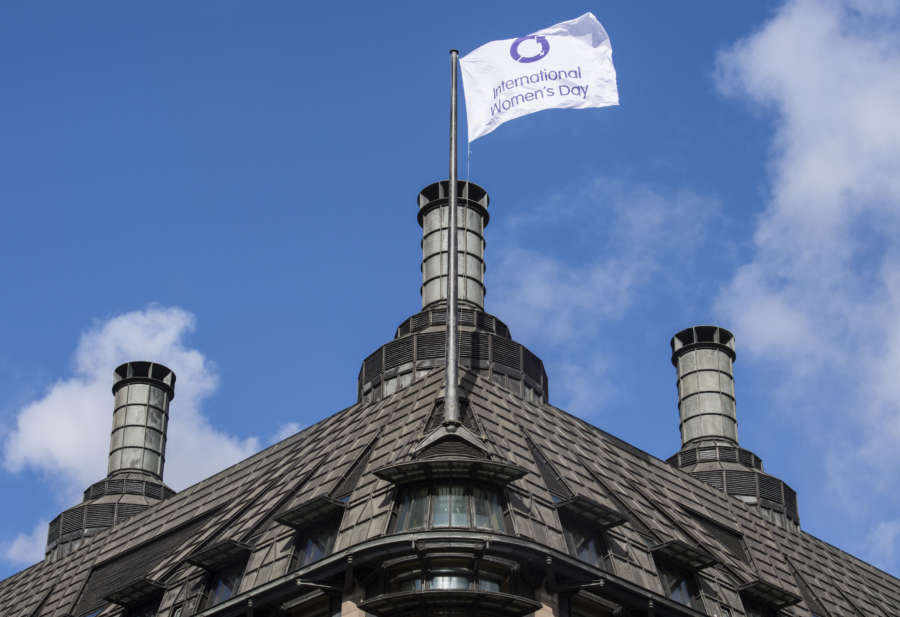 It came on the day the House of Commons and Lords host debated on Vote 100 and International Women's Day.
2018 marks 100 years since The Representation of the People Act 1918 extended the right to vote to all men over 21 and the first women, making this one of the most important centenaries in British democratic history.
Rt Hon John Bercow MP, The Speaker of the House of Commons, said: "It is absolutely right that Parliament is flying the International Women's Day flag, to celebrate the achievements of women across the globe.  Although the current House of Commons contains more women MPs than at any point in its history, it is timely to acknowledge that there is still much to do, in the political realm and more widely, in order to achieve gender equality."
Dawn Butler MP, Shadow Secretary of State for Women and Equalities, said: "I am delighted that we are raising the International Women's Day flag on the roof of Parliament. I would like to thank the Speaker for working with me to ensure that the Houses of Parliament leads the way in celebrating the achievements of women around the world. This flag will be an important symbol of how far we have come in the fight for equality, while also recognising how far we still have to go, and I look forward to working with colleagues and others to bring about this fairer and more equal society for all."
Rt Hon Andrea Leadsom MP, Leader of the House of Commons, said: "In this centenary year of women's suffrage, it's great to see how far women have come. There is so much to celebrate but there's also so much more to do – which is why we must never stop trying to make Parliament an increasingly diverse and inclusive place."
The House of Commons Library publishes new research and statistics on women in Parliament and politics
The House of Commons Library has also published new research and statistics on women in Parliament and politics to mark International Women's Day. The research shows that:
208 women were elected to the UK Parliament in 2017, a record high of 32%. In January 2018 there were 206 female peers, 26% of Members of the House of Lords.
There are currently six women in Cabinet including the Prime Minister, 26% of the total 23 permanent Cabinet posts.
Just over one-third (36%) of members in the Scottish Parliament are women, compared to just over two-fifths (42%) of members of National Assembly for Wales and 30% of Members of the Northern Ireland Assembly. Following the 2014 European Parliament elections, 41% of UK MEPs are women.
Penny Young, House of Commons Librarian, who has written a reflection on the role of women in research, said: "Our Research and Information team is well represented by women. I'm the third female House of Commons Librarian. Around 60% of our section managers or directors are women, and in the team as a whole, 42% staff are women. It's a family friendly place to work. We offer flexible working, the option to work from home, compressed hours and part time working. Women in research are fortunate to benefit from early pioneers. The first full-time female clerk in the Commons Library started in 1946. Another female clerk who started in 1962 only got the job after it was unsuccessfully initially advertised as open to men only – which seems incredible to us now."
UK Parliament has a packed programme of events to mark Vote 100
2018 marks the anniversaries of three significant milestones in the fight for universal suffrage. They are:
Representation of the People Act 1918, which gave all men over 21 and women over 30 who met a property qualification the right to vote. (100 years)
Parliament (Qualification of Women) Act 1918 – allowing women to be MPs (100 years)
Equal Franchise Act 1928 – giving women the vote on the same terms as men (90 years)
Life Peerages Act 1958 – allowing women to sit in the House of Lords as life peers (60 years)
These acts followed years of campaigning, with the first petition to Parliament asking for votes for women presented to the House of Commons on 3 August 1832.
UK Parliament has a packed programme of events to mark these important milestones for democracy, it has also released a series of hard-hitting films to highlight how four key acts changed the lives of women as part of its Your Story, Our History series.
Four women have agreed to speak directly to camera in highly personal interviews about the difference the Female Genital Mutilation Act (2003), National Health Service Act (1946), Abortion Act (1967) and Representation of the People Act (1918), have made to their lives.
Sarian Kamara's story looks at the Female Genital Mutilation Act 2003 from a personal perspective. Born in Sierra Leone, Sarian, a community development worker and lead FGM campaigner talks about how the Act has protected her and her children from FGM since moving to the UK.
Sarian commented: "Living in the UK now I feel amazing that my new born daughter will be protected…. I want every corner of the UK to hear about the Female Genital Mutilation Act, that can protect women and girls from going through what we are going through now."
It is the third instalment of Your Story, Our History film series, which explores how the UK Parliament's legislation changes lives.
UK Parliament is also inviting everyone to take part in EqualiTeas, which will take place between 18 June and 2 July.
Historically, tea parties were hotbeds of political activism. It was one of the few ways women could meet without men to discuss and plan. The leading suffrage organisations used tea parties and tea shops as central elements in their campaigning, to increase awareness, discuss tactics and raise money. Events do not have to be a tea party, just an event or activity that brings people together to discuss equality.
David Clark, Head of Education and Engagement at UK Parliament, said "Whether it's chatting about the issues over a cup of tea, or engaging with one of the many exciting events as part of this year's UK Parliament Week, there are many opportunities for schools, workplaces and community groups to get involved in these key anniversaries.
"We can only work towards a more equal society by communicating with each other and building stronger communities, so please sign up for EqualiTeas to share the things we have in common and debate the changes we would like to see."
As part of Vote 100, Westminster Hall, the oldest part of Parliament, will host a major free public exhibition "Voice and Vote: Women's Place in Parliament" which will open on 27 June 2018.  The story of women and parliament will be told through immersive and interactive technologies to help recreate lost historic spaces that were used by women in the Palace of Westminster. It will include key historic objects from Parliamentary collections and significant loans from around the UK.
Melanie Unwin, Co-curator of the Voice and Vote exhibition, said: "This exciting exhibition should really give the public a sense of the barriers that women had to overcome to participate in democracy. For the first time, we are able to recreate the sounds and atmosphere of those spaces which women were confined to – it is incredible to see how much campaigners and early women MPs achieved despite the limitations placed on them."
There is an exciting programme of talks and tours in Parliament, and a number of UK-wide events, such as UK Parliament Week 2018.